By Elyse Glickman
Summer's here and the time is right—for a little something sweet. "Grown up" frozen dessert-inspired drinks (think spiked milkshakes, ice-cream sodas, and iced coffee confections) bring a blast of fun to summertime bar menus, from beachfront and pool restaurants to white tablecloth bistro patios and old-school steakhouses to, yes, dive bars and tap rooms.
Better still, as using beers and ciders for cocktail bases is still trending and a variety of innovative new products are hitting the market, much of the effort required to whip up a sweet treat for a customer is done for you.
"At all of our locations, including Lylo Swim Club (Rise Uptown Hotel), Bitter & Twisted, and Little Rituals, we want to have fun creating recipes and sorbet flavors in-house and helping customers remember happy things from childhood without getting too much into the sugary-sweet aspect of it," explains Ross Simon, Phoenix bartender/entrepreneur and founder of the Phoenix Chapter of the United States Bartenders Guild.
This season's trends also take maximum advantage of the influx of high-quality, plant-based ice creams, fro-yos, and lower sugar sorbets, bringing in a growing number of health-conscious customers to the party. "Drinks with sorbet and ice cream bases have existed in restaurants and higher-end bars probably longer than any of us have been alive," says Ben Rojo, Don Papa Brand Ambassador, with a smile, noting his all-time favorite cocktail is the classic Grasshopper.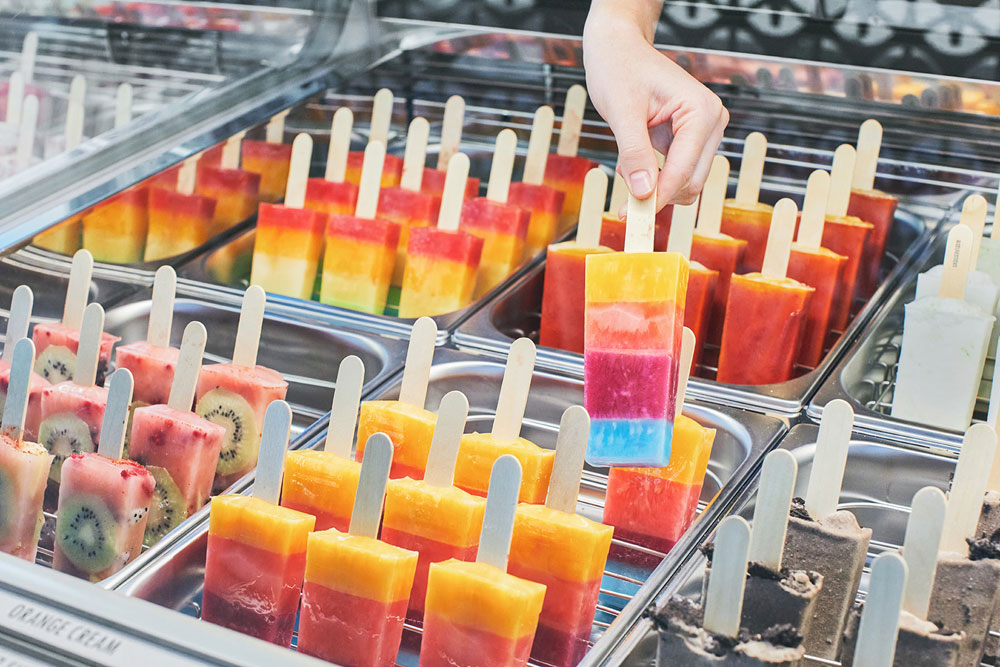 "What's new is the uptick in the quality of dairy and non-dairy alternatives, including plant-based milk and frozen desserts, [as well as] more culinary technique and intention incorporated into many everyday bar programs," he says. "Furthermore, I think incorporating flavors from around the world is not just helping keep ice cream and sorbet cocktails relevant as a cocktail component, but also making it more engaging as time goes on. This is why you see [bartenders] doing new riffs on familiar flavor profiles or keeping those flavor profiles intact, but giving them a different texture, look, or feel."
"Over the past 15 to 20 years, we have experienced so much significant growth and innovation in the world of both culinary and beverage that it feels we've almost seen it all," agrees Andrew Pollard, Beverage Innovation Director at Monin, which produces syrups that  are staples at many bars and coffee houses. "However, there is always room for more, and for me, 'sophistication' is the thoughtfulness of how one individual delivers it. Thoughtfulness, as it relates to this subject, can be taking something basic that everyone understands and building it out to a memorable experience. In this case, sometimes less is more, but a balanced recipe, great ingredients, elevated glassware, and creative presentation tells a story in itself."
Pollard notes that as dessert-inspired cocktails may not have the panache of others in some places, they provide a sense of comfort and a memory one can't put a price tag on. And once you've created that experience, you've upsold that guest for life. Sticking to the "less is more" philosophy, Brianna Gunter, a Cicerone-Certified Beer Server-Mixologist working in-house at Tavour.com, cautions that while dramatic presentation can make these cocktails an easier upsell, having too many on a menu at once can overwhelm customers and dissipate that specialness. However, it's always a good idea to have a whole gamut of dessert cocktails at your fingertips, especially with so many dairy-free alternatives allowing customers to customize their order.
"When a customer inquires about something they see on the menu, it's easy to tell the customer it can be made another way," she says. "This makes the customer feel special because they stumbled in on this secret, while you get to make something extra fun and perhaps upsell in the process. Although (many venues I worked at) didn't list ice cream cocktails on the menu, I got the sense customers might enjoy them based on the questions they asked me and the flavors they told me enjoyed. I then let them know I could whip one up for them. I don't think I ever got a single 'no' to that."
Cool New Ideas for Sophisticated Palates
Sophistication is in the eye of the beholder. Monin's Pollard says what makes something "sophisticated" is objective. Gunter says the appeal of perennials such as the Brandy Alexander and the Grasshopper is not what it once was, adding she could "count on one hand" the number of times customers ordered them over her ten years of bartending. She acknowledges, however, that she's seen Grasshopper shakes in different bars and that a Brandy Alexander can be deliciously updated and elevated.
"With today's customers, it's about appealing to both modern taste trends and, more importantly, the specific service setting," she continues. "When I worked at a casual bar in a largely residential neighborhood of Seattle, The Pub at Third Place (focused on craft beer), customers looking for a creative dessert went nuts over just a scoop or two of gelato topped with one of the stouts we had on draft. However, I also worked for several years at Devil's Thumb Ranch, an upscale mountain resort in Colorado where that simplification wouldn't suffice. When I did ice cream-based cocktails there, they needed to be a flavorful fusion of multiple layers. One time, I created one with bourbon, cointreau, bitters, and orange zest over a scoop of house-made vanilla ice cream. It was essentially an old fashioned cocktail float, which adhered to both the cocktail's modern resurgence in popularity and the setting."
Pollard counter argues that the Grasshopper (his favorite dessert cocktail)—along with customer favorites like Old Fashioned, Hot Chocolate, and Irish Coffee—can be a starting point for something new. For example, by updating a basic Grasshopper with Fernet Branca amaro, the saga continues on his menu with a "Young Grasshopper."
"I think you just need to get your inspiration from the final product or drink you're wanting to achieve," says Simon, adding that it's also a wise practice to keep recipes on file that were successful in the past. He points to his personal favorites, from his take on a Bellini, to indulgences inspired by trendsetting places abroad (i.e., London-based Coupette's Champagne Colada) to the "Green Chapulin," his Mexican-inspired update of the Grasshopper, blending Ancho Reyes Verde Chile Poblano Liqueur, Creme de Menthe, Fernet Branca Menta and dark chocolate bitters.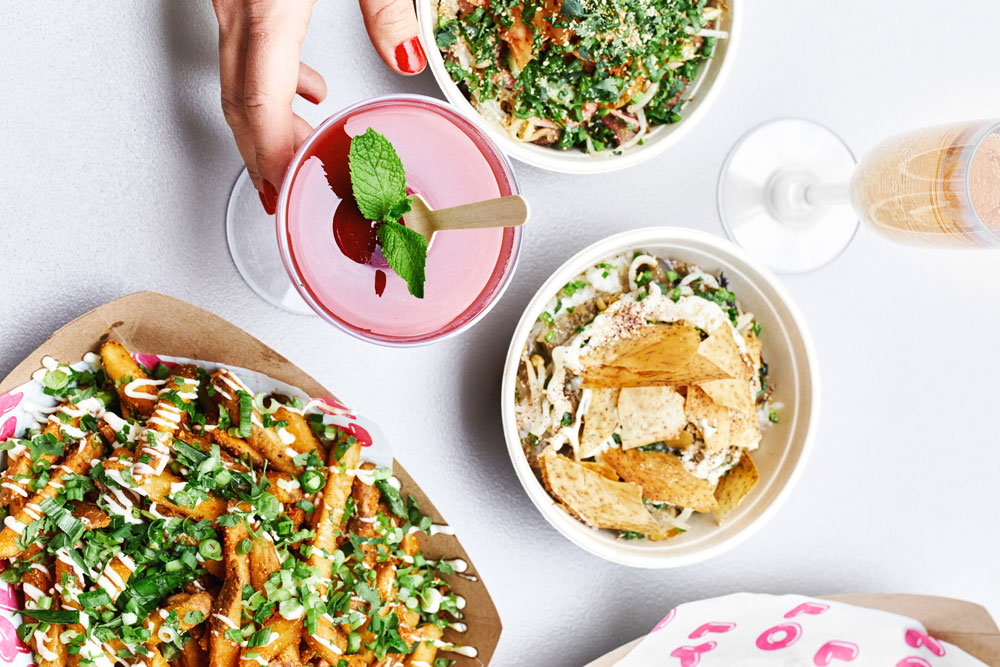 "We dial up the sophistication by using other ingredients such as tinctures, aperitifs, digestifs, bitters and other components that can elevate the final cocktail," Ross says. "While these drinks make customers 'feel like a kid again,' and may even be based on a classic dessert recipe, they are elevated into something different with unexpected flavor profiles. For this reason, I like building in more exotic, less familiar fruit with the other ingredients."
Tanya Ponder, pastry chef at New York City's SoHo House and founder of the "Sundae Fundae" bakery, personally prefers to stick with fruit-based cocktails as her inspiration when developing a summer cocktail menu. She will use a margarita or a Pimm's Cup as her barometer as a way of keeping the final cocktail "dish" sophisticated and avoiding a result that, "resembles something from an amusement park."
"While deviations from the original are our creative right, you want to be mindful of keeping the final product recognizable," Ponder advises. "I've built quite a few adult soft serve sundaes around this idea. For instance, the 'Mandarin Mezcalita' was a mandarin soft serve sundae spiked with Ilegal Joven, which I chose because it's light on smoke and has a hint of vanilla. This gave the final dessert a nostalgic nod to the Creamsicle while keeping it squarely in the realm of a frozen margarita. The garnish can also make or break your attempts at sophistication. For the Mezcalita, I settled on mandarin orange segments, a light sprinkle of Morita chile powder and a pipette of extra mezcal, to give the guest some control over the ABV level."
From a culinary standpoint, Ponder says that if she tried to make a soft serve base with enough alcohol for it to truly be called a cocktail, it would never freeze. However, adding extra alcohol through an interactive element such as a pipette, or something unexpected like a popsicle, heightens the presentation. Her "Garden Party," meanwhile, carefully walked the line between dessert and cocktail as she began with a Pimm's Cup recipe and then flipped the components.
"I made a Pimm's Cup with a lower-than-normal ABV and poured it into mini popsicle molds with fresh sliced cucumber," she says. "While that froze, I made a soft serve base with fresh mint leaves and a classic London Dry gin. I lined the bottom of the sundae dish with fresh watermelon cubes, lightly salted, along with a spear of cucumber. Next, I filled it with the soft serve base, and then topped it with a Pimm's popsicle and a fresh sprig of mint. The result was light and refreshing. Much like the original cocktail, it was the perfect complement to a sweltering summer day."
Omar Torres, Bartender and Food & Beverage Director at Bonsai, Hilton Pensacola Beach, FL, says he and his team dial up the sophistication by using the finest ingredients such as premium pure chocolate with infused liquors. "We use the latest techniques and create new techniques as we evolve the concept of ice cream-based cocktails," he explains. "We do a spin on Brandy Alexanders by infusing ice cream with real Maracaibo +65% cacao. We make truffles with a variation of chocolates and amaretto as a floater garnish that compliments the cognac and we use a high-end Torres 30 Jaime I Brandy."
The Cream of the (Dairy-Free) Crop
"We live in a time of exploration, having exposure to more flavors and ingredients than ever," says Pollard, of the dairy-free ingredient revolution. "It is really a treat—no pun intended—to play with all of the new 'toys' available. I utilize these ingredients just the same as I would [Monin] flavorings or anything else, depending on what I am looking to achieve."
Clearly, non-dairy frozen desserts, cream and milk are not seen as an accommodation or compromise for a small group of customers, but a way to expand creative options for the bartenders and the customers.
"It's been fun to witness the explosion of plant-based dairy alternatives, even in the retail sector, and how they can translates into what we do at the bar," says Ben Rojo, New York City bartender (Angel's Share, Freehand) and Don Papa Rum brand ambassador, who collaborated with Aubi & Ramsa (Nevada and Florida-based boutique ice cream shops selling cocktail-inspired flavors to 21+ customers) to create Manila Mai Tai. This summer, he created the Don Papa Ube Colada, a Southeast Asian take on a classic Latin American colada.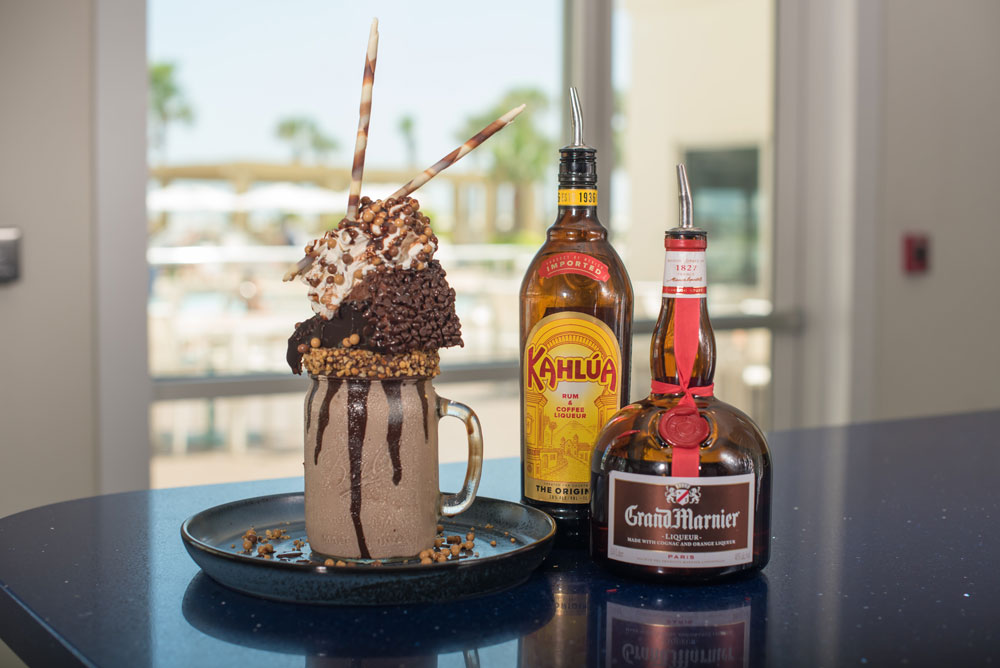 "While the intention behind them is the same, they often end up producing varied results when they are subbed out for dairy in a recipe," says Rojo. "I have had success using coconut milk, as the fat content is substantial and makes for a mixture sometimes even more decadent than if you were to use traditional dairy ice cream. We've also had good luck with oat milk, particularly Oatly, which originated in Sweden and is one of the best commercial oat milks on the market. Cashew milk, meanwhile, has like a bit more of a savory profile, because of its composition of fats and oils. Bringing these (ingredients) to the bar is something that will really resonate with customers because there are more people dealing with gastrointestinal or digestive issues tied with dairy products. My goal is often to create a better version of something that would normally require dairy to make the result available to a wider set of people."
In a similar vein, Bonsai, Hilton Pensacola Beach's Torres says he tries to accommodate all guests' unspoken wishes by developing a diverse menu to satisfy all palate expectations as well as address health-related sensitivities. "I build my updated Brandy Alexander recipe and several others around the plant-based ice cream as it is the main ingredient. I make the ice cream from scratch with a flavor that is designed to be protagonist of the cocktail, like a Junmai Daiginjo sake ice cream with nutmeg."
Ponder, meanwhile, admits she was once daunted by the prospect of having to develop vegan dishes, but now says that because there are so many options on the market today, recipe development has become easier, citing that The Garden Party would work with either dairy or plant based milk in the background. Her preference for the base is oat milk as she found it to be the most flavor neutral. However, as hot and cold temperatures kill flavor, she suggests sticking to naturally bold-flavored ingredients like mint, citrus, passion fruit and raspberries.
"If you start out with something that's mild in flavor, like a peach, by the time you finish adding oat milk, sugar, and stabilizers and freeze it, the final product is going to taste like a vaguely fruity ice cream that no one can pin-point," she warns. "There are, of course, extracts and artificial flavor additives, but I've never been a fan of those ingredients as they tend to remind me of bad candy."
Gunter advises paying attention to how the individual ingredients will react with one another. When working with vegan or plant-based "ice cream" goes, she recommends focusing on the dairy-free ice cream first, building your recipe around the other ingredients.
"Depending on the non-dairy products used in it, the underlying 'plant' flavor can be rather strong or barely noticeable," she explains. "In my experience, ice cream made with oat milk or cashew milk work quite nicely in that they don't overwhelm, so they really do work well with a huge variety of flavors. Feel free to go nuts there. On the other hand, coconut milk-based ice cream, almond-based ice cream, or rice milk-based ice cream can have stronger aftertastes, and so it's important to select cocktail ingredients that are going to pair well. The actual flavor of ice cream you have is also a key consideration, of course. A vegan horchata ice cream is going to be a totally different beast than, say, a vegan blueberry ice cream."
Gunter also notes that plant-based "ice cream" is harder than traditional ice cream because it contains less fat and more ice crystals. "As a result, it can melt in a frustrating way that seems both fast and slow," she says. "The melted part is a bit watery while the rest of it (becomes) an ice rock your spoon can't break up, creating an imbalance of flavors in your glass. If you're making a cocktail with it, it's often better to put it in a blender with the rest of your ingredients and create a shake rather than a float to ensure flavors become better immersed." 
What's Shakin'? Whatever "Floats" Your Boat!
According to Pollard, what will make a customer happy and even nostalgic for the past in a certain setting or even geographic area can override what's trendy. He points to the Brandy Milk Punch Milkshake at Stanley, a popular restaurant in New Orleans where Tales of the Cocktail staged its closing brunch. On a personal level, the drink brings up memories of his enjoying the last hours of the festival with friends and colleagues. New York Egg Creams and Frappes recall cold dessert traditions from a century ago but in this time, also register as complex and decadent cocktails with less guilt than milkshake cocktails.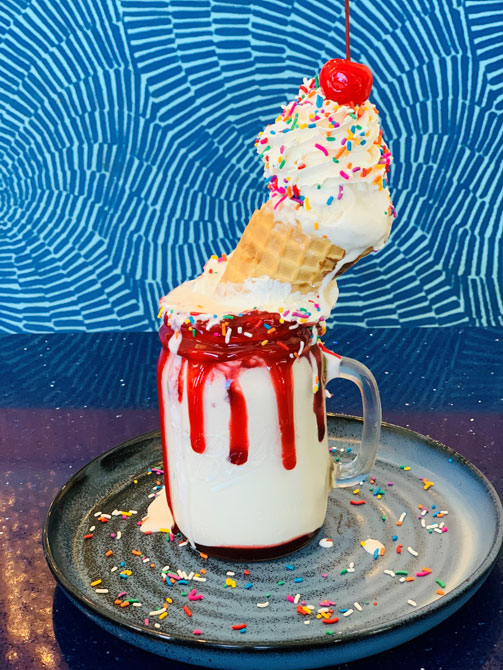 Gunter observes spiked milkshakes are still very successful on bar menus. However, specific flavors and types of ice cream involved will vary depending on the location. "One of the great things about the modern bartending scene is that it's far from one size fits all – there's a niche for all tastes," she says. "A restaurant in an upscale neighborhood is going to have more success when they offer something like a gin fizz float with locally-made ice cream and a colorful gin like Empress, ginger beer, and mint leaves. If the joint prides itself on being health-focused, it's very easy to scale down the portion sizes or build the recipe around a vegan product. A straightforward beer float with all the fixings, meanwhile, will be a big hit at a more casual spot that has at least one all-American greasy burger on the menu."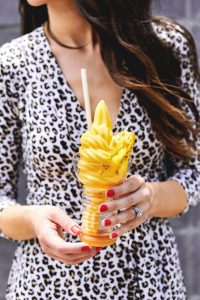 To create a more balanced summertime menu, Simon suggests offering a light, fruit-based sorbet, popsicle or granita cocktail for every rich ice cream and frozen dessert drink listed. "These not only cleanse but cool down the palate while delivering a zesty, colorful nod to childhood, evidenced by the popsicle stand at Rise Uptown Hotel's check-in," he says. Guests can dive right in with his rainbow-hued cocktail twists on the Mexican paleta, with such flavors as his Mango Margarita. "Our version of 'Dole Whip' for Lylo may remind some of Disneyland, but it also has a nice healthy dose of dark rum," he says on the bar's more "grown-up" take.
Customers also appreciate ingredients made-in house at their favorite bar, and Lylo is no exception when meeting those elevated expectations. Unlike others that outsource frozen desserts from elsewhere (even if it happens to be France), Simon takes pride in the fact the coconut sorbet is made in house to ensure the right coconut milk with a high fat content is used to get a result that is superior to competitors doing the same type of drink.
As sorbet is often fruity and sweet, Gunter says it offers a nice contrast to dry alcohol flavors like champagne, Prosecco and gin. In the beer category, gose, sour ale or weiss brews as well as cider balance out the intense sweetness of some sorbets. She gets that point across with the recipes for "Berries 'n Cream Weiss Float" with Crane Brewing's Berry Weiss and strawberry sorbet, a "slushie-like creation" built from Evil-Twin Brewing's Sour IPA and a "beergarita" using B52 Brewing's "Cerveza" lager.
"If you do want to opt for something less sugary than sorbet, I suggest using granita," she says. "It's essentially a less dense version of sorbet that's flaked ice fruit puree. However, be aware that it will break apart and become mixed faster with the liquid ingredients. When serving in a bar or restaurant, it could actually be more appealing serve it to a customer so they can pour the alcohol/liquid mixture over the granita themselves."
"Sorbet cocktails are great options as long as the sorbets are made in-house in order to balance the sugar content," agrees Torres. "However, there are other excellent options such as smoothie based cocktails with less sugar and calories. You are able to be very creative, (whipping up such things as) a strawberry-blueberry smoothie with Prosecco or a coconut-rum twist to a creamsicle."
New York hospitality veteran Stratis Morfogen, meanwhile, created "Frosé" cocktails (mixing real berries or lychee with rosé wine) for his Brooklyn Dumpling Shop's innovative quick service/zero human interaction eatery paying homage to early 20th Century "Automat" restaurants. The Frosé drinks fit snugly into Morfogen's literal grab-and-go format, and have caught on with customers to a point where orders to residences have skyrocketed. However, he adds that the product and national name recognition of his brand provides a way for pool bars, neighborhood hangouts, and other establishments to reconcile customer demand for artisanal cocktails with convenience and safety—via pouches or a slushie dispensing machine.
"Any dessert cocktail is going to be an eye-catcher," affirms Gunter. "People see those whisked past on trays, and they're going to ask their server what it is. Think about when Moscow Mules first started becoming trendy. People saw the copper mugs and commented, 'What is that? I want one!' They remain such a treat not just because they look cool in a glass, but also because the addition of ice cream–that "extra" ingredient, implies that the bartender put in more work and care making it than they normally would with a regular cocktail."
To see frozen dessert and ice cream recipes mentioned in this article, visit our National Ice Cream Day Recipe Round-Up.