J.J. Corry Irish Whiskey announces the release of the highly anticipated Batch No. 3 of The Gael in the United States, through Manhattan-based wine and spirits Importer Trinity Wine and Spirits (TWS). Founded in 2015 by Louise McGuane, J.J. Corry Irish Whiskey celebrates the lost art of whiskey Bonding, creating unique and remarkable whiskeys with spirits sourced from Irish distilleries as the first modern Whiskey Bonder in Ireland.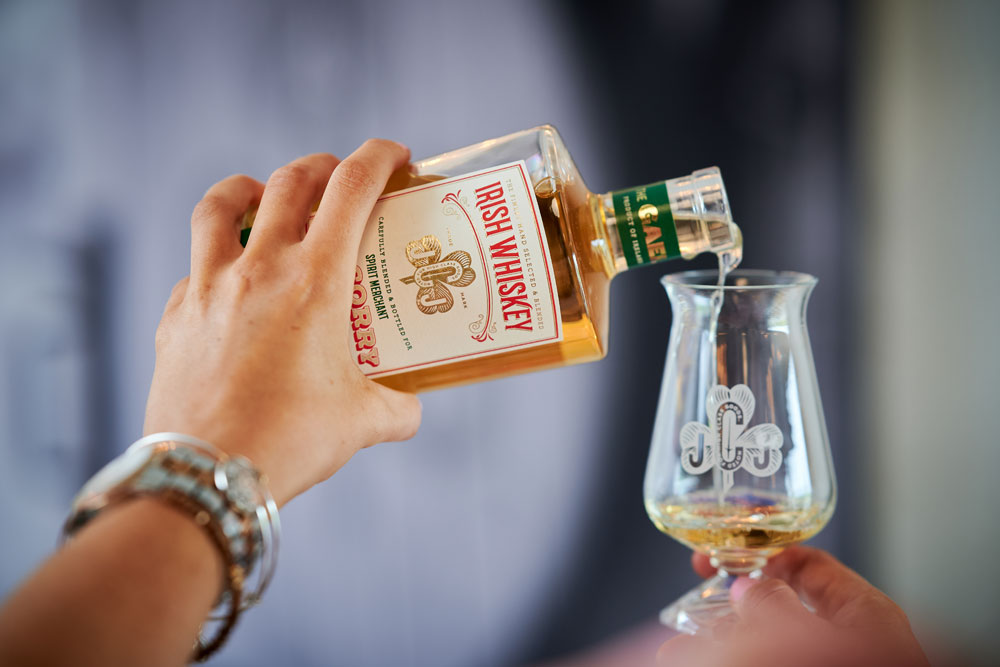 The Gael (SRP: $80.00) is a 60% Malt, 40% Grain blend of some of the oldest whiskeys J.J. Corry has in stock ranging in age from 7 to 26 years old. Batch No. 3 of the flagship release represents the fruit bomb house style with layers of complexity, with hints of fresh bergamot & beeswax and a taste of ripe white stone fruit & lime with minerality and pink pepper corns. The blend has a medium length finish with dried grapefruit and apple notes.
"Our whiskies are a celebration of the breadth and variety of Independent Irish Whiskey today, and a reflection of the lost tradition of Bonding that inspires us," said Louise McGuane, Founder of J.J. Corry Irish Whiskey said. "We are excited to share this time-honored Irish tradition with the world."
J.J. Corry is rooted in deep Irish tradition. In the 19th and 20th centuries, Bonders were responsible for blending and bottling whiskey. These individuals ranged from publicans and merchants to independent bottlers, who sourced new make spirits from distilleries which they aged in their own casks, before blending and bottling for local customers. J.J. Corry was an acclaimed local Whiskey Bonder and merchant in the parish of Cooraclare. In the 1930s, the Irish Whiskey industry collapsed and with that, Irish Whiskey Bonding became virtually extinct.
While looking to create her own Irish Whiskey brand, Louise McGuane came across an old label from the 1890s from Whiskey Bonder J.J. Corry. Unfamiliar with the Bonding process, she delved through historical documents and was fascinated by the lost part of the Irish Whiskey industry. Launching J.J. Corry Irish Whiskey, McGuane became the first Whiskey Bonder in Ireland in well over 50 years, restoring the name and time-honored tradition. Today, McGuane and her all-female team source whiskey from throughout the island of Ireland, building unique blends derived from their unparalleled library of Irish Whiskey flavors, all brought together at the McGuane Family Farm on Ireland's Wild Atlantic Way.
Other offerings from J.J. Corry currently available in the U.S. include The Hanson (SRP: $60.00), a blend of Irish Grain Whiskeys carefully sourced from different distilleries, comprised of varying ages of whiskeys in ex-bourbon barrels. The Hanson is a bright, fruit-forward Irish Whiskey, mellowed with toasted coconut and notes of rich vanilla fudge.