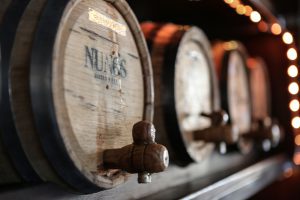 When does a marketing strategy with visual appeal transcend into something lasting? When the resulting product ends up being better than the sum of its parts. And this is true of barrel-aged cocktails.
Or, as Doug Chippewa, Senior Beverage Manager for all Wolfgang Puck Fine Dining Restaurants, puts it, "The barrel-aged cocktail is a great conversation piece, as it can be utilized in any bar or restaurant concept, [is] cost effective, and almost always results in the most popular cocktail on the menu. Barrel aging enhances and brings new complexity to that specific cocktail, while mellowing out any harshness of the original recipe."
While most on-premise promotions can help raise the bottom line for a limited amount of time while a new spirit, technique, or flavor profile is relevant, barrel-aged cocktails buck trends.
"People are interested in cocktails that are different, and they like to pull back the curtain and see how things are made," says Jake Larowe, Manager of Birds & Bees, a 1950s-inspired underground lounge in downtown Los Angeles. "A barrel sitting on the back bar is a great way to hit both those points. When customers can see the barrel, it gets them excited about what you're doing as a bartender."
Ramon Aguirre, Bar Manager at Nuno's Bistro & Bar in Upland, California, can attest to this. His program, launched in 2014 with the restaurant's opening, is on full display along a wall lined with ready-to-pour cocktails contained in 50 American Oak barrels attained from his vendors. He predicts the barrel count will double by late 2019 or early 2020, especially as there is a waiting list of spirits companies wanting in on the program.
"After we started with one barrel-aged cocktail, it occurred to me that it made sense to offer many barrel-aged classics like Manhattans and Sidecars," says Aguirre. "Initially, our spirits distributors did not believe in the idea, and we put in almost as much time getting them interested as we did developing our recipes. However, our regular customers loved it, and new customers came in through word of mouth. Now, those distributors and many others want to be a part of what we're doing."
A Counter Offer Guests Can't Refuse
Barrel aging ensures your cocktails will be different from those offered by other bars. "Barrel aging allows a bartender to take familiar flavors and add more layers of flavor and texture," says Larowe. "Another really interesting thing about barrel aging cocktails in-house—especially for the customer—is that as time progresses, the flavor will continue to change. A bar could have three or more barrels of the same cocktail going at different times, allowing guests to taste them side-by-side to truly experience the effect that aging time in wood has on them."
When Sherry Barrow of Glencoe Distillery, a Ruidoso, New Mexico-based artisanal spirits producer, and her partners (husband Glen, Master Distiller Will Ponder and his wife, Rebecca) considered whether the best way to showcase the distinctive qualities of their hand-crafted barrel-aged spirits was alone or in a cocktail, they wanted every sip to be grounded in a sense of place.
"We try to utilize ingredients we have locally when possible and appeal to all of the senses, even touch," she says.
"We also want to maintain an ongoing conversation with our customers about the aging tasting process of our spirits both on their own and in a barrel-aged cocktail that enhances the original flavors. These customers become our Glencoe Distillery ambassadors, creating word of mouth and demand for whatever we may be doing next."
John McAuliffe, General Manager of Hyatt Regency Sonoma Wine Country, had been working with barrels for the last eight years at various venues. However, he observes the practice took off "in waves" over the past two years, and he introduced it to his current place of business back in October with the hook that everything that makes Sonoma County a destination is in the barrel.
"As many classic cocktails are booze forward, especially the Manhattan and the Last Word, barrel aging takes a cocktail forward, leaving the components intact but providing the cocktail a rounded-off finish," says McAuliffe.
"It's similar to comparing cheap wine to higher-end wine. The final drink will rise or fall based on the care you give it while you were making it—especially if you allow it to age in the right place."
Advice in Stor(age)
There is a consensus that the biggest misconception about barrel aging is that once you put a mix in the barrel, you are done. Those we spoke with emphasized that as aging is continuous, the cocktail needs to be tasted at least once or twice a week. Just as wine can be over-oaked or barrel-aged beers can be aged too much, a cocktail can age past its prime.
"It's a complex drink, and at some point, you need to pull it out of the barrel and put it in another container such as the glass jars we use once (the recipe) has reached its prime," says McAuliffe. "From there, we start a new batch from scratch."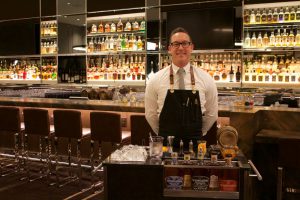 Another myth debunked is that brown spirits are the best base for barrel-aged cocktails. Nuno's and Glencoe Distillery regularly prove that summery cocktails made with gin, agave spirits, or vodkas can be just as complex and interesting with the proper ingredients and aging.
At Birds & Bees, Larowe will age a London dry gin for a month or two in a little barrel to later use for gin and tonics, noting the bright herbal flavors of the gin blended with the tonic's bitter flavors are the perfect foil for the oak's tannic flavor.
Jonathan Dahl, Co-Owner of the recently opened Redondo Beach cocktail bar Georgia, says barrel-aged cocktails with white spirit foundations are a natural for warmer months. He points to his riff on the Paper Plane, which unites the botanicals of gin with the smoothness of bourbon. Adding elements of cinnamon and vanilla beans, meanwhile, can bring an original twist to older recipes.
"If you are doing something with aging vodka or gin, you'll want to leave out some of the bright, fresh tasting components until the customer orders the drink," says Dahl. "For summer drinks, you'll only want to alter part of the cocktail, in contrast to a heavier cocktail like a Manhattan where you will alter almost everything inside the barrel when you age it."
McAuliffe illustrates this idea with a Mezcal-rita he created for a former venue where he put a clear mezcal and orange liqueur in the barrel to refine the smoky, scotch-like bite that some people don't like. When making the cocktail fresh, one adds the fresh orange and lime to make the finished drink light enough to enjoy by the pool.
Larowe, meanwhile, seasoned a two-liter barrel with absinthe for a month then drained it and refilled it with rye whiskey, Peychaud's Bitters, and a Demerara simple syrup. What came out after a month was a ready-to-drink Sazerac with a hearty kick of absinthe infused throughout the drink.
Larowe, Chippewa, Dahl, and Barrow agree that the combined ingredients of a recipe should sit for the first week of aging. From there, one should taste it every few days until it starts to taste right. Once the cocktail reaches the perfect flavor and mouth feel, drain the barrel and rebottle the aged spirit so it doesn't get any more barrel notes.
Doing "test barrels," meanwhile, can also pay off. "You can tinker with it like a barbecue, experimenting with the woods on which you char your meat to impart different flavors," adds McAuliffe. "Barrel aging inspires creativity because the barrel finish and length of that finish, definition, and depth of the oak, or the char that impart complexities from the different types of wood—all those things can be altered depending on the barrel you get, whether its French Oak, New American Oak, or used American Oak."
Dispensing Advice
Chippewa notes that the approach at Puck's CUT restaurants is "less is more," which has helped keep the tableside presentation program relevant to its choosy clientele for the past six years. However, the "how many" question depends on the property, as evidenced by Nuno's approach of being a destination for all things barrel aged.
Larowe suggests that, when deciding whether or not to add a barrel-aged cocktail to the menu, a good first step is to determine how adding a barrel to the bar would benefit the bottom line and fill gap within the existing cocktail program. From there, do a series of test runs until the cocktail is perfected.
"I would recommend getting two or three small barrels and do some test runs," says Larowe. "When you have perfected a recipe, then move up to larger, more sustainable barrels for aging. Once you have the larger barrels, you can batch out the recipe, put it in the barrel, and let it sit."
McAuliffe says barrel-aged programs rise and fall based on how effectively a bar can sell the concept to customers. "Our bartenders are great storytellers (who can) sell customers on the fact that we have two Manhattans—one made on the spot and the other barrel aged. Just like a wine flight, a customer will enjoy comparing two cocktails made with the same ingredients in two different lights, between 90 days and a freshly made cocktail."
The easiest way to get a barrel program rolling is to approach vendors and distributors of spirits (especially bourbon and whiskey), as Nuno's did. However, if your barrel-aged cocktail program is well-established or customization is critical (like the program at the Hyatt Regency Sonoma Wine Country), websites like barrelsonline.com allow you to select the desired barrel's wood, char, and the color of the band outside of the barrel, as well as upload an image to the site with your desired brand or logo to be emblazoned on the side.
"If you decided to go with a barrel program, my ultimate suggestion is to use your imagination as a chef would," says Dahl. "See what flavors balance with different spirits and how aging will expand the possibilities within different cocktails."
Preparing Your Barrels
When sourcing barrels, Barrow says a white oak barrel source is a good investment
of time and money. She also recommends getting barrels with various "toasteds"
(i.e., light, medium, and dark char).
Chippewa sums up the barrel preparation process: First, rinse the barrel three times with hot water and then rinse to remove any large pieces of wood or char that could possibly cause the barrel to clog. Second, cure the barrel by filling it with hot water and letting it sit for three days. This allows the wood to seal itself and prevent leaking. Third, when the three days have passed, empty the barrel and begin the process of making the cocktail for that barrel.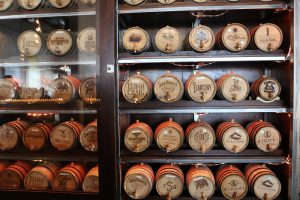 McAuliffe suggests completely submerging your barrels in water for 48 hours as it prevents the wood from absorbing any of the cocktail or liquor because the cracks filled up with the water, keeping the barrel full.
When preparing the barrel soak, be sure that the water has no chlorine or iron content, which can turn a whiskey black. Barrow also advises against using a mallet to install the spigot because the wood in the spigot may crack and leak.
Barrow will rotate the casks in and out of the storage cabinet one week at a time. She says the difference in temperature and humidity allows for more interaction between the cask and the liquid.
By Elyse Glickman
Photos (top to bottom): Nuno's Bistro & Bar, Wolfgang Puck Fine Dining Restaurants, Nuno's Bistro & Bar