National Coffee Day is on September 29th, and we've got some coffee cocktails with a caffeine buzz to add to your bar's cocktail menus.
Peanut Butter Espresso Martini
Ingredients: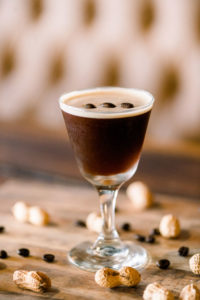 1.5 oz.  Skrewball  Peanut Butter Whiskey
½ oz. Coffee Liqueur
1.5 oz. Freshly Brewed Espresso
Directions:
Shake ingredients vigorously and strain into martini glass. Garnish with three espresso beans.
Chivas Mizunara Iced Coffee
Ingredients:
2 parts Chivas Mizunara
1 part sweetened condensed milk
1 part fresh espresso
1 pinch(es) of salt
Orange zest, to garnish
Grated hazelnut, to garnish
Directions:
Add Chivas Mizunara, sweetened condensed milk, and salt to a glass with ice. Stir all ingredients together. Add espresso and stir again. Grate orange zest and hazelnut over the top of the drink.
Skrewed Up Irish Coffee
Ingredients: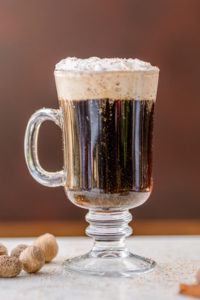 1 ½ oz.  Skrewball  Peanut Butter Whiskey
4 oz. hot coffee
Directions:
Mix ingredients and top  with fresh whipped cream and a sprinkle of cinnamon.
Velvet Espresso Martini
Ingredients: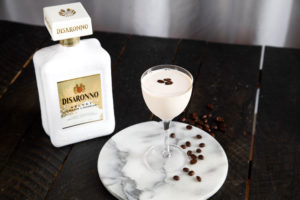 1.5 oz Disaronno Velvett
0.5 oz Tia Maria Cold Brew Coffee Liqueur
0.5 oz Vodka
Chocolate Flakes or Coffee Beans
Directions:
Shake and strain ingredients over ice. Garnish with chocolate flakes or coffee beans.
Recipe courtesy of Disaronno.
The Café Crimson
Ingredients: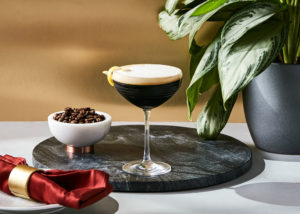 1.5 oz Ketel One Vodka Family Made Vodka
1.5 oz Black Cherry Kenyan Cold Brew*
.5 oz unrefined coconut sugar syrup (1:1 ratio sugar to water)
.25 oz St. George Raspberry Liqueur
15 drops saline solution (1:5 ratio salt to water)
GARNISH
Salted-Vanilla Oat Milk*
Lemon Twist
*Black Cherry Kenyan Cold Brew
Chill 60g coarse ground coffee steeped in 500ml black cherry juice for 24 hours in the refrigerator.
Strain and keep refrigerated.
*Salted-Vanilla Oat Milk
500ml Oatly Oat Milk, Full Fat (about 2 cups)
¾ tsp Vanilla Extract
¼ tsp salt
Whisk oat milk, vanilla extract, and salt together in a cold bowl until creamy.
Directions:
Combine ingredients in a shaker with ice and shake well. Strain contents of shaker into a chilled coupe glass. Carefully layer salted-vanilla oat milk on top. Express oils from lemon twist and place decoratively on the rim of the glass.
Recipe courtesy of Ketel One.