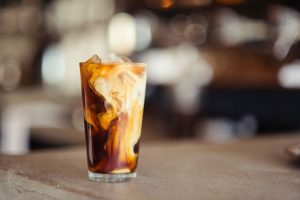 Coffee is having a moment. According to the 2020 National Coffee Data Trends report from the National Coffee Association, 62% of Americans drink coffee daily. It's no surprise that it's made the jump into cocktail culture.
"Bartenders love to take what's popular and put their own twist on the beverages they create," said Brian Loukmas, VP of Innovation for Monin. "As a result, it is only natural for different coffee products (syrups, coffee ice cubes, espresso-infused vermouths) to pop up in cocktails."
Also driving the fusion of cocktails and coffee is the ready-to-drink (RTD) market. "RTD coffee has experienced double-digit growth over the past five years, and the variety of RTD coffees have grown by 37% since January 2019," said Mary Chapman, marketing director for Geloso Beverage Group, which produces popular canned cocktail line Clubtails and Mad Bean Hard Iced Coffee.
Ami-Lynn Bakshi, Co-Founder & COO Cafe Agave, agrees, "Non-alcoholic coffee RTD sales alone are over $3.1B in sales. Coffee is the largest beverage category next to water. It was only a matter of time before it had it's debut in the bar industry."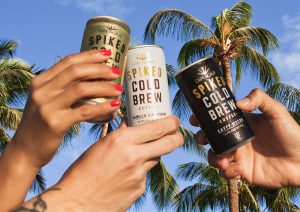 Another factor in the growth of coffee is the popularity of cold brew. "We think much of the recent spike in coffee has been due to the explosion of cold brew," says Bakshi. "Cold brew is higher in caffeine and less acidic than hot brewed coffee and has created a movement amongst coffee drinkers across the globe."
Chapman says cold brew and RTD products also pair well. "Consumption of cold brew and RTD skews younger (under 40), which aligns well with the flavored malt beverage (FMB) consumer," said Chapman.
Both Cafe Agave and Geloso Beverage Group offer coffee RTD products. Cafe Agave Spiked Cold Brew is available in four flavors: Caffe Mocha, Espresso Shot, Salted Caramel, and Vanilla Cinnamon. "Cafe Agave Spiked Cold Brew is a premium, spiked coffee cocktail made with 100% Arabica, Colombian cold-brewed coffee, real dairy cream, and agave-infused wine," says Bakshi. "It's 12.5% ABV and is equivalent to a full glass of wine and a ½ cup of coffee."
Bakshi, along with business partner and coffee expert Mark Scialdone, not only saw a way to capitalize on coffee's popularity, but also the occasions for drinking it, such as at pool bars, golf course bars, etc.
Bakshi says Cafe Agave Spiked Cold Brew is also a good fit for bars currently unable to fulfill the demand for coffee cocktails. "There are many bars across the country that don't have a coffee maker, or whose bartenders and staff don't have time to make espresso martinis or coffee cocktails requested by their guests," she says. "Cafe Agave Spiked Cold Brew can fill this gap with a delicious, pre-made, cocktail-strength cold brew martini. It can be served in the can in sports bars and other high-speed service venues, or establishments with more of a focus on craft who can make it on their own with the addition of a few alcoholic or non-alcoholic ingredients or garnishes. It also provides incremental sales during times such as brunch where someone may have just opted for a plain coffee instead."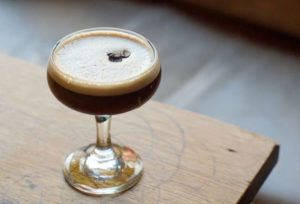 Geloso Beverage Group's Mad Bean Hard Iced Coffee is available in mocha and vanilla and clocks in at 4.5% ABV. "Our malt is triple filtered, which gives our product a clean taste that really allows the coffee flavor to come through," says Chapman. "The coffee is made from 100% Arabica beans, which is considered the highest quality coffee bean."
The appeal of RTD coffee products in the off-premise world is clear—portability and convenience rule the day. However, Chapman says they offer many benefits to the on-premise establishment as well.
"They should take advantage of being one of the first to bring in a product that is part of an untapped segment. Mad Bean will not compete with any of their current offerings, as it is an RTD beverage and not a spirit," she says. "Being an RTD coffee cocktail, carrying Mad Bean will help to cut labor costs, since it can just be opened and poured, no mixing required. Bars and on-premise establishments will experience less shrinkage from this product because there will be direct profits from every ounce."
Aside from RTD beverages, bars can get in on the trend with coffee-flavored products. Monin offers a variety of coffee concentrates and flavoring products. "Monin's Iced Coffee Concentrate (sweetened) and Cold Brew Coffee Concentrate (unsweetened) are both made with premium select coffee from 100% Arabica beans, highly concentrated, and very easy to use," says Loukmas. "We also offer a large variety of clean label flavoring products from our premium syrups to our concentrated flavors that customize coffee beverages. Concentrated Flavor is an especially unique product that is great to use in coffee cocktails because you can add as much flavor as you want without raising the sweetness level of the cocktail."

Coffee cocktails have gone beyond the espresso martini to include new twists on old favorites. "I've seen bartenders freeze coffee into ice cubes and used those when creating espresso boulevardiers or negronis. I've also seen bars using coffee syrups mixed with bourbon or rye for an updated Old Fashioned," says Loukmas, who notes he's even seen coffee cocktails on tap. "The coffee drink at the moment is the frozen Irish coffee. Erin Rose in New Orleans and Nickel City in Austin have the best frozen Irish coffees I've ever tasted, and when you go to these bars, most of the customers are drinking this frozen drink."
Coffee cocktails also pair well with the low-ABV trend. "Coffee mixes well with vermouth and amaros and will give any drink a nice pick-me-up," says Loukmas.
Bakshi says coffee cocktails fit into the wellness movement because of the consumption factor. "We see consumers enjoying one or two coffee cocktails in an evening and still being in control of their night," she says. "They can be sipped and enjoyed over a longer period of time."
Coffee is not only revolutionizing cocktail menus, it's also changing the way many bars do business. "Consumers love their coffee and want to extend the drinking occasion from morning to night," says Chapman. "We have seen some on-premise accounts changing their business practices to fulfill this need by being a traditional coffee shop in the morning and bar at night."
An example of a bar using this coffee-to-cocktails hybrid model is Bar Moxy, located on the ground floor of Moxy Nashville Downtown hotel. Bar Moxy is open for breakfast, lunch, and dinner and serves coffee beverages as well as a full menu of signature and classic cocktails and local beer.
"Guests can enjoy our coffee-to-cocktail program all in one with the Procaffeinator (recipe, left), which offers a taste of our local OSA coffee as a signature cocktail," says Leah Stumbo, Bar Manager at Bar Moxy. "Carefully crafted with local OSA espresso and Grey Goose Vodka, it wakes up your senses and gets you feeling good at the same time."
Stumbo says the popular cocktail is often enjoyed by guests before hitting the Honky Tonks on Lower Broadway.
Above all else, coffee cocktails are the perfect beverage for today's FOMO culture that doesn't want to miss a minute of the action. "This is the time for millennials, when people never want to stop and there isn't enough time in the day," says Stumbo. "Coffee-infused cocktails give you the boost you need to stay up."
By Ashley Bray
Photos (top to bottom): Demi DeHerrera on Unsplash, Cafe Agave, Reyka Vodka