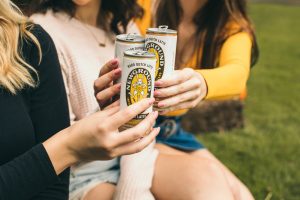 Ready-to-drink (RTD) alcoholic beverages are booming. Typically available in cans, RTD products include spiked seltzers, wines, hard coffee beverages, and more.
According to a recent report by Market Research Future, the global RTD alcoholic beverages market is projected to garner a 3% compound annual growth rate between 2019
and 2024. The same report says an increase in awareness about the RTD alcoholic beverages is likely to allow the market to reach a worth of $32 billion by 2024.
Growth Factors
A few factors are fueling this growth, and they can be categorized as three "Cs"—convenience, consistency, and consumer demand.
"Convenience is king," says Jordan Salcito, Founder and CEO of RAMONA, a line of canned sparkling wines and spritzes.
Phil Rooney, CEO of Newground, a line of RTD hard nitro coffees and lattes, agrees. "I think a lot of it has to do with convenience," he says, citing the ease of grabbing products like these on-the-go in the off-premise world, and the ease of serving them in cocktails or on their own in the on-premise.
Rooney also points to the consistent quality consumers get in a canned version as a boon for the products.
Consumer demand for higher quality drinks—and the RTD market's answer to that demand—has also led to an increase in sales, especially among smaller and craft brands. "Millennials' and generation Z's distrust of corporations is pretty high," says Rooney. "We are the little guy. We're not the big player. We are focused on product quality first, and we are confident we have the best product."
Salcito agrees. "We're seeing a transition from a 'push' to a 'pull' relationship between distributors and consumers right now," she says. "Today's consumer is more inclined to ask questions and more empowered to experiment and make choices that fit their lifestyle and preferences as opposed to letting a large advertising campaign tell them what they should be drinking.
"Consumers [have] a wide array of choices and the power to decide where innovation goes from here."
Newground
Within the RTD space, coffee is a big mover thanks to the popularity of cold brew as well as a demand for on-the-go alternatives to traditional energy drinks.
Launched this past July by Fundamental Beverages, LLC, Newground sought to capitalize on coffee's growing popularity. "Obviously the growth of RTD coffees was at the forefront of our mind in the non-alcohol sector, and we started experimenting with a couple different groups on developing a product that would match it in the alcohol sector," explains Rooney.
Newground saw a need in the alcohol sector for hard coffee products and sought to fill it. "You've seen the expansion of two of the most popular drinks in the world, coffee and alcohol, coming together and creating a fusion, and putting money behind this to make it a category," says Rooney. "When you have a concerted effort within the industry to create a product category, it's a rising tide that lifts all ships, and it will help educate the consumer."
The result was a line of high-quality malt beverages infused with real coffee or tea, Dutch cream, and alcohol. Imported from Holland, the product is made to EU standards, which Rooney feels helps to distinguish it. "We really focused on ingredients and having a top quality product," he says. "We searched globally for a high-quality malt base, and we found one in Holland."
Newground uses nitro technology for a perfect pour and smooth taste, and it comes in two varieties: Hard Dutch Cafe Latte and Hard Dutch Chai Latte. Cafe Latte is crafted with caffeine to provide an energizing jolt, and it features rich coffee flavors mellowed by a smooth sweetness. The caffeine–free Chai Latte balances vanilla notes, black tea, and natural spices, all complemented by the zing of alcohol. Both varieties are 5% ABV for sessionable beverages that can be enjoyed on their own or mixed with a harder spirit.
Currently available in five states, Newground will be rolling out distribution to other states and major cities throughout 2020.
RAMONA
As a James Beard-recognized sommelier, Salcito was well prepared to launch an RTD wine product. She's spent most of her adult life studying wine and being inspired by its ability to connect people. She's also spent over a decade working in wineries to understand how production decisions relate to quality and taste.
"I launched RAMONA [in 2016] because it became increasingly clear to me that beverages for casual moments unilaterally compromised on quality, and I didn't agree with that," she says. "As the beverage director for a national restaurant group (David Chang's U.S. Momofuku restaurants), I understood what was on the market and saw a void for a high-quality organic beverage brand that tasted delicious, met my standards, and didn't take itself too seriously."
RAMONA is made with the highest quality organic ingredients, sustainable production methods, and no gluten, artificial flavors, or added sugar.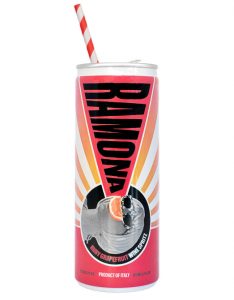 "We have always prioritized taste at RAMONA—it's something we spend countless iterations making sure we get right," says Salcito. "We source exclusively organic ingredients, and I think people appreciate the intention behind every decision we make with both the product and the brand, from the Constructivist-inspired label (that movement rejected the notion that fine art belonged only in elite circles in the way RAMONA rejects the same about wine) to sustainable farming practices."
RAMONA is distributed in most states and comes in four varieties. Ruby Grapefruit Wine Spritz features the flavors of citrus zest, stone fruit, ruby grapefruit, lime blossom, and Honeycrisp apple. Lemon Wine Spritz has the taste of fresh-squeezed lemons, green apple, cactus flower, and lime blossom. Blood Orange Wine Spritz combines citrus zest, raspberries, blood orange, and hibiscus. Dry Sparkling Rosé offers the flavors of tart cherries and hibiscus. The Rosé is 12% ABV, and the other flavors are 7% ABV. RAMONA hopes to add more flavors soon.
On-Premise Push
At first glance, a bar owner may think RTD drinks are just another option to add to the cans section of the menu. Think again. Both RAMONA and Newground can be mixed into cocktails.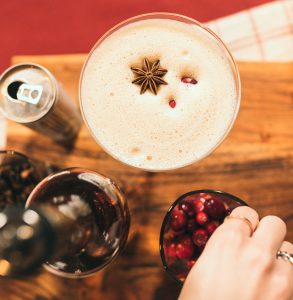 "RAMONA is very versatile and can be enjoyed on its own, as a modifier, or a base ingredient in a cocktail," says Salcito, who explains that a number of bars and restaurants have added RAMONA to their drink menus in various ways.
Rooney says that Newground lends itself well to cocktails like gin fizzes, brunch and dessert cocktails, and even mixed shots. "You get the benefit of the nitro, and so when you go to make something and you shake it over ice, A, it's not going to explode on you like a carbonated beverage, and B, you get that very soft, decadent mouthfeel that you get from a nitro coffee beverage," he says.
Rooney also points to the benefit of cost. "When you're on a per ounce basis, this is about half the cost of another cream liqueur," he says, explaining that bar managers are lowering costs without sacrificing quality.
The products' shelf stability also helps to eliminate waste. Since it doesn't need to be refrigerated, storing it is also easy.
Newground aims to create partnerships with high-end bars to help promote the brand and educate bar staff and consumers. "It doesn't matter how good it is if you can't get the consumer to try it, taste it, and understand the use case scenario," says Rooney.
The brand has hired a dedicated on-premise sales person in every major city where it has distribution. "We believe strongly that the on-premise is where a brand is built. It's where people can go to really enjoy themselves, have a good time, and have a positive memory with a product," says Rooney. "So we really believe strongly in supporting on-premise and focusing on on-premise first as we launch this product."
By Ashley Bray
Photos (top to bottom):