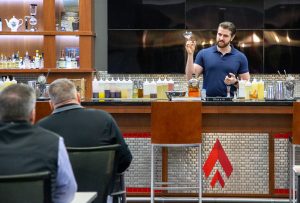 No matter what side of the bar you're on, there has been a greater focus on wellness.
Consumers are demanding healthier food and beverage choices that are lower in ABV, calories, and sugar. Bar staff members are also seeking healthier lifestyles through diet, exercise, and greater attention to their mental health.
All of this has led to a shifting hospitality landscape—read on to make sure your venue is on pace with the changes.
Consumer Demands
According to a July 16-18 Morning Consult poll of over 2,000 adults aged 21 or older, 31% of drinkers said they're drinking less compared to
one year ago.
One of the reasons for this decrease in drinking is that consumers have become savvier. "Younger generations are more informed because of their digital consumerism and direct access to any information they want from ratings to ingredients to its affect on the body," says Elonzo L. King III, Beverage Director at Beerhead Bar & Eatery, a craft beer bar that offers a rotating selection of more than 400 brands of locally and regionally brewed beer, wine, and other locally sourced beverages with locations nationwide. "This may play a part in less alcohol consumption for that group. But they are still consuming."
An attempt to make healthier choices is also a driver. "As a whole, Americans are trying to be healthier," says Beverage Development Specialist Adam Halyckyj at Breakthru Beverage Group, a leading North American beverage wholesaler. "People are taking a greater interest in what they are putting in their bodies."
What's on the Label?
According to Monin—which offers a wide variety of flavoring products like premium syrups, real fruit smoothies and purees, and organic syrups—as consumers pay more attention to what they consume, they are now questioning what's in their food, where the ingredients are from, and how it fits into their diet and lifestyles. As a result, low-calorie, low-sugar, and no-sugar products are in demand.
Monin has always offered products with no artificial flavors, colors, or preservatives, and the company has also recently added products like its new range of Zero-Calorie Natural Flavorings and its Monin Concentrate Flavor, which is made without sugar or artificial sweeteners.
"Monin has always been at the forefront of innovation through its flavor offerings, trend predictions, and inventive products," says Bill Lombardo, CEO of Monin Americas. "We know that consumers are looking for products free of artificial ingredients, and we are proud to deliver the best tasting, natural flavors."
Consumers are also turning to low-ABV or non-alcoholic beers and ready-to-drink products like spiked seltzers and flavored waters. In fact, according to Morning Consult's poll, 46% of the drinking-age population has tasted a non-alcoholic beer or cocktail. And notably, those who regularly drink are more likely to have bought a non-alcoholic drink than those who don't.
At Beerhead Bar & Eatery, low-ABV and non-alcoholic beers have been trending. "We have always had low-ABV options like session beers and Radlers, but most recently, we have been able to grow our N/A beer list and stay true to our identity by supporting independent craft producers like Brewdog and their Nanny State .5% ABV Hoppy Ale; Wellbeing Brewing (St. Louis, MO), who specializes in N/A beers; and several European N/A beers," says King.
King also notes that low-calorie beers are growing as well. "Michelob Ultra has become a leader in this category," he says. "At Beerhead, we have embraced the craft worthy counterparts—where the craft beer taste and credibility isn't sacrificed for these same low-cal options—such as Swipe Light by Southern Tier, Day Time IPA by Lagunitas, and Truly Seltzer by Boston Beer Company. Sales in this niche are increasing, and our guests no longer need to compromise on taste with all the options being released."
Fresh is King
Bars are also meeting consumer demand for healthier options by turning to fresh ingredients.
Monin says consumers look for products with natural, clean label ingredients and menu descriptions like fresh, clean, and handmade.
"We're seeing an increased use of natural sweeteners such as honey and agave nectar to replace simple syrup," says Halyckyj. "There is also a rising trend in using ingredients such as fresh ginger and turmeric, which have additional health benefits."
Andrew Abrahamson, Chief Operating Officer at bar group Pouring with Heart, also strives to use the best possible products. "We are mindful about everything we source, and we make as much of what we serve in-house as we can," he says. "From all of our fresh juices and syrups to the fresh unpasteurized beer our breweries serve, guests coming to our bars can be sure that what they are ordering is something that we ourselves would drink."
Low-ABV Cocktails
Fresh ingredients are paramount when it comes to crafting low-ABV cocktails, which have been in higher demand from consumers.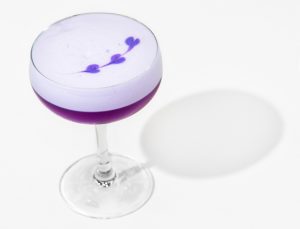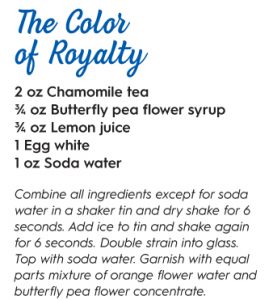 "The quality of ingredients right now is key. There is no reason you can't apply the same level of creativity to a non-alcoholic drink as you would to a complex craft cocktail. My recommendation is to open yourself up to new ideas and explore different flavors," says Halyckyj. "Use fresh, locally sourced ingredients and unique flavor profiles. People are still willing to pay for something even if it is low alcohol/no alcohol if the quality shines through."
Halyckyj recommends starting with what you have on hand and what's already on your menu. "The possibilities of unique styles and flavor profiles for non-alcoholic drinks are endless, and odds are you can make a really good non-alcoholic version of some of the cocktails you are already offering without having to bring in or prep extra product," he says. "That way, guests don't feel like they're 'missing out' on that drink when they can experience all the same flavors as their friends."
Above all, it's important to keep the guest experience at the top of mind when making any changes to your bar's menu.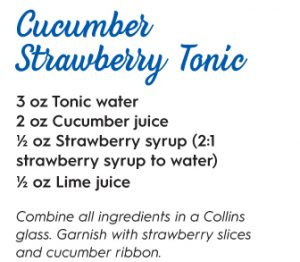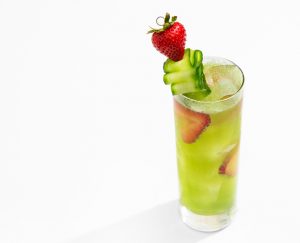 "Offering non-alcoholic and low-ABV options is about making the whole experience more user-friendly," says Halyckyj. "You're not relegating people to the world of lemonade and soda water with a lime—they can have an interesting experience as well, just sans alcohol.
"When you don't treat it as a trend and just make it part of the everyday environment, you will find an audience that embraces it."
Behind the Bar
As the industry has changed, so too have the outlooks of bar staff, and the health and wellness movement has made its way behind the bar.
"I think this movement is driven by a mindset shift in bars and restaurants that this is not just a job, it's a career," says Halyckyj. "This simple switch has industry people looking at their work/life balance as well as their health, both physical and mental, quite differently.
"We in the hospitality industry are acknowledging more than ever that working onsite in bars and restaurants can be a physically taxing and mentally draining environment. If you don't take care of yourself, you can't provide the best experience for     your guests."
Abrahamson agrees. "As it is becoming a more sustainable career long term, it becomes inevitable that the hardships of it (late nights and action-packed lives) must be balanced out," he says. "People are sticking around to work in bars well into late life, and to do that requires keeping yourself healthy."
In fact, the shift to viewing a position in the bar industry as a career is one of the reasons behind the rebranding of Pouring with Heart, formerly known as 213 Hospitality.
"Pouring with Heart represents both our aim to serve cities all over the country, but also doubles down on everything that we do we pour ourselves into fully, with heart and soul," says Abrahamson. "It's essential that people stay with our company for a long time for us to achieve true success, and the only way that'll happen is if they are constantly growing and improving as people and maintaining their health."
Pouring with Heart focuses on three areas of employee wellness. They host activities that employees are skilled and passionate about; they offer monthly discussions on topics like sleep, diet, and meditation; and they hold quarterly financial seminars to help eliminate the stress around financial planning.
Overall, Halyckyj encourages those in the industry to make an effort to take care of themselves both mentally and physically. "I see more bartenders and barbacks regularly exercising and seeing therapists," he says. "The frequency of binge drinking is declining within the industry as bar staffs are also seeing the value of not overworking yourself just because you feel like you should be.
"When you come back to a shift refreshed, focused, and full of energy, everything goes smoother."
By Ashley Bray
All photos: Annaleah De Masi.
All recipes courtesy of Beverage Development Specialist Adam Halyckyj at Breakthru Beverage Group.