Monin Americas, an award-winning premium flavoring company with over 100 years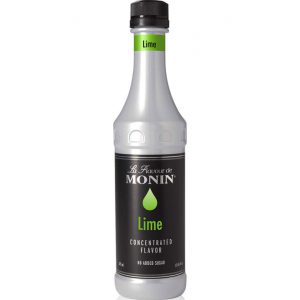 experience, announces its newest release: Monin® Lime Concentrated Flavor.
Monin® Concentrated Flavor is the first product of its kind. The line is a result of increased consumer desire for lower sugar and caloric products and Monin's commitment to offering clean label flavorings. Each bottle is a natural, highly concentrated and unsweetened solution that adds impactful and authentic flavor to food and drinks. With only 10-15 calories per pump, Monin® Concentrated Flavor will transform anything from waters, teas, and lemonades to cocktails, mocktails, and more.
Monin's newest Concentrated Flavor addition, "Lime" is zesty, refreshing, and brings a new twist to basic beverages a staple flavor to beverage and culinary applications. From vodka cocktails and spa waters to citrusy dressings and marinades, it's so easy to add a pump of tart and tangy flavor without any sweetness or artificial ingredients. Monin® Lime Concentrated Flavor is vegan, Non GMO, allergen free, dairy free, gluten free, kosher, low calorie. Made with no artificial colors, flavors, ingredients, preservatives or artificial sweeteners.
"Monin Concentrated Flavor is a natural way to turn sauces, cocktails, teas and waters into flavorful experiences without adding sugar or lots of calories. With so many exciting flavors, such as watermelon, oak barrel and habanero, we look forward to helping operators develop flavorful applications that their customers will crave" says Bill Lombardo, CEO of Monin Americas.
For over 100 years, Monin has been committed to leading the industry in innovation by creating naturally inspired, authentic flavorings made with the highest quality ingredients. Monin is the premium flavor choice for coffeehouse and foodservice operators around the world. Monin offers more than 200 gourmet flavors, available in over 145 countries, with thousands of creative recipe applications.
Monin Americas is the Americas division of Monin Gourmet Flavorings based in Bourges, France. Monin Americas, headquartered in Clearwater, Fla., employs more than 100 people who oversee sales and operations throughout North America, South America and the Caribbean.