Sisters Chloe, Poppy, and Cara Delevingne are proud to announce the U.S. launch of their award-winning, vegan, and sustainably-made Prosecco brand, Della Vite. Italian for 'of the vine,' Della Vite is the sisters' first joint business venture and a limited number of bottles are available for pre-order on ReserveBar now.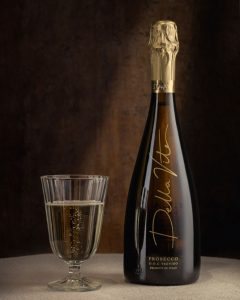 Timed to New York Fashion Week, the Delevingne sisters unveil two skillfully crafted and complex wines:
Della Vite Prosecco Superiore D.O.C.G (SRP: $29.99) and Della Vite Prosecco Treviso D.O.C (SRP: $24.99), bringing a taste of the Veneto region stateside.
Born from the three sisters' long shared love of Prosecco and desire to create something together that represents their close bond, Della Vite brings a new wave of intrigue and energy to the world of Prosecco.
"In our past lives, we were definitely Italian," says Poppy Delevingne. "We love Italian culture, food, tradition, and history, and we wanted to create something to highlight that love. We've talked about starting a business together for years, but it had to be something we could all really get behind and that was meaningful to each of us in some way. Prosecco has always been our sisterly ritual, wherever we are in our lives, and countless memories were made over cold glasses of Prosecco. It was the obvious choice and a natural fit."
Bringing a new wave of intrigue and energy to the world of Prosecco, Della Vite was born over a dinner between sisters Chloe, Poppy and Cara and their lifelong family friend, Numa Heathcote. Recognizing that between them they couldn't name a single brand in the Prosecco category and that the vast majority of the best Proseccos remain in Italy, the sisters and Numa decided to search for winemakers who could bring their vision of premium, responsibly-created Prosecco to life.
Della Vite combines the latest technology with traditional Italian winecraft to develop wines of elevated quality, rooted in sustainable methods. The winery operates on solar powered energy, avoiding farming machinery and overseas ingredients. To complete Della Vite, the liquid is filtered through a ceramic system, never using draining agents containing animal products, meaning the wines are 100% vegan. In keeping with the brand's sustainable mission, the branded bottles are also label-free, featuring a bespoke and personalized logo depicting the brand signature by Poppy Delevingne.
"Sustainability is at the core of Della Vite's values, and it was important to us to find a winery that shared those values," says Cara Delevingne. "We took our time in finding the perfect partners who understood our vision, and are so proud to have created two exceptional Proseccos that are sustainably produced and 100% certified vegan."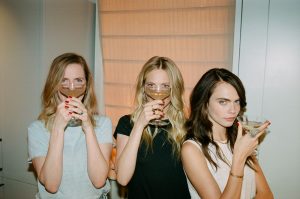 One of the finest new expressions of Prosecco to come to market, Della Vite captures the untold story of Prosecco's heritage, craft and provenance, and is versatile enough to celebrate it all. Della Vite is for life's most intimate, exciting, and meaningful moments.
It is not traditional, nor stuffy – and can be dressed up, or paired down. Della Vite is built for real life; opening the door to make every occasion, no matter how big or small, unforgettable.
"While Prosecco has become a bit of a sister ritual for us, at its core, Prosecco is informal, spontaneous and free from rituals and rules," says Chloe Delevingne. "Our Proseccos are wildly delicious in flavor, light in color with creamy, smooth bubbles and will elevate every occasion, no matter how big or small. Della Vite is a perfect representation of that informal, everyday luxury."
With aromas of citrus blossom and olive, Della Vite Prosecco Superiore D.O.C.G is made
exclusively from handpicked Glera grapes, grown on the upper elevation of the valley of Valdobbiadene. Packed with a perfume of jasmine and lavender, Della Vite Prosecco Treviso
D.O.C is refined and possesses a unique versatility, which makes it perfect for cocktail mixing. One of the only D.O.C Proseccos made using a unique combination of homemade, natural yeasts – its crisp and light palette makes it perfect for all occasions and has a complete, multi-layered taste.
Della Vite Prosecco Superiore D.O.C.G and Prosecco Treviso D.O.C is available now to pre-order nationwide through ReserveBar.