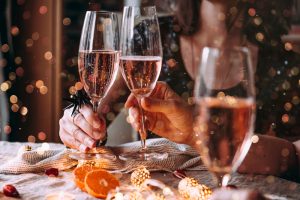 French champagnes (and sparkling wines made in the methode champenoise) get a lot of attention this time of year as customer demand starts leaning towards the celebratory. Of course, some places are tailored for the finest luxury labels such as Ruinart, Dom Perignon, Veuve Clicquot, and Perrier Jouet. If your venue falls into the four- and five- "$" category, some of these should be in stock for your choosy clientele. Beyond the luxury tier, however, Italian prosecco can add sparkle to your beverage program and bottom line.
While most buyers and managers gauge their choice of bubbly by their budget, they know cheap sparkling wines won't pop among increasingly sophisticated clientele. This is precisely why prosecco is a go-to choice. As dishes of every description and ethnic origin find their way into formal multi-course dinners, laid back family-style meals (brunch), buffets, and passed hors d'oeuvres events (think clients' office Christmas parties, holiday networking mixers, and New Year's Eve), a sparkling wine needs to be all things to all people. It should be priced to be served in large quantities, pairable with different kinds of food, and adaptable for bartenders and customers with varying palates.
However, it is also important to consider that unlike champagne, prosecco is made to drink soon after it is made, and does not improve with age.
Krista Drew, Director of Public Relations, Digital & Events for Pernod Ricard USA's Wine & Champagne Portfolio, offers a few common-sense storage tips to keep profits bubbling up:
Don't store it in the fridge unless you plan on serving it in the next few days. The cold temp can shrink the cork and allow air into the bottle, which can cause the bottle to lose its fresh quality.
Conversely, don't store wine/sparkling in any really hot area or somewhere there is too much light.
The best storage place is a cool, dark location. A place that doesn't have wide variations in temperature is best.
"Prosecco is versatile and definitely works outside of its traditional arenas," says Sarah Mengoni, Lead Bartender at Los Angeles' Double Take. "Not only does it take to the sweet fruit that is present in most cuisines, it also mixes well with many types of spice. Ethiopian food? Try mixing it with some delicious fermented honey wine. Chinese food? How about a syrup made with mandarin oranges and five spice? Mexican food? Try mixing it with pineapple juice and adding a rim of spicy tajín!"
Erin DeMara, VinItaly Academy Italian Wine Ambassador and Certified Wine Educator at 1821 Fine Wines & Spirits in Florida, points out that prosecco is made in a style that not only makes it more affordable than champagne, but that style of softer bubbles and a generally fruitier taste means that prosecco is easier to drink. "The Glera grape, upon which prosecco is based, gives very pleasant primary aromas and flavors of fruit like peaches, pears, and citrus to the wine, along with hints of white flowers and almonds," she explains. "Good prosecco can be found in the range from $15 to $25 per bottle, but quality and sweetness levels can vary widely so choosing a respected producer is as important as with champagne."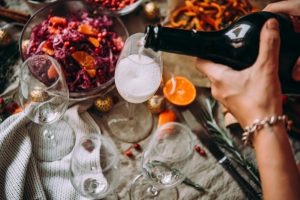 While Elizabeth Sammuri, Sommelier and Beverage Director of Flagstaff House Restaurant in Boulder, Colorado, and Adam Sweders, Wine Director for Chicago's DineAmic Hospitality, have embraced the best output from France's great champagne houses and California's producers, they agree the right prosecco can be a better fit for many different holiday menus and programs.
"Prosecco is most often found on wine lists and in wine shops for the fraction of the price of champagne," says Sammuri. "While both are sparkling, they have many differences that beverage buyers should be aware of. Prosecco is often lighter, sweeter, fruitier, and easier drinking than most champagne.
"Champagne has more richness, acidity, and is often drier, with the exception of sweeter bottlings. These differences are mainly due to the production methods."
Sammuri also points out that authentic expressions come from the Italian regions of Veneto and Friuli, and that those making beverage program decisions should be cautious of some of the bigger brands mass-producing prosecco as educated consumers can make out the difference between a good quality wine and an inferior one.
However, bars or restaurants interested in focusing on domestic wines are in luck, according to Drew. "American sparkling wine is a no brainer for any holiday cocktail menu," she says. "Mumm Napa Brut Prestige and Brut Rose are crowd pleasers at an affordable price point, especially as the name is highly rated and has the brand awareness that people recognize. It's also a great conversation starter to point out to customers that many French champagne houses directly set up wineries in Napa/Sonoma as they were deemed excellent grape growing regions for the chardonnay and pinot noir grapes, which are the most predominate in champagne cuvée make ups."
Drew also cites versatility in American sparkling wines, which she points out is one of the fastest growing wine categories. Small format bottles with single servings are a great option for different food genres as they allow guests to get a fresh glass of sparkling and not commit to a full bottle.
Sweders notes that even though tastes in wine and cocktails are shifting toward less sweet flavor profiles, the extra sugar resulting from the prosecco producing method enables a good product to be used in a variety of contexts—on its own and as part of a classic cocktail, especially those that may be batched, such as Bellinis, Mimosas, and Kir Royals.
"Don't be tempted to mix up your prosecco cocktails too much ahead of time, however," says Mengoni. "You don't want to lose those fun bubbles! Batch the other ingredients for high-volume environments and add the prosecco at the time of service."
Sweders also advises skipping fine champagnes when using them in cocktails. "You'll want to serve a fine champagne for higher-end multi-course dinners on its own to compliment sophisticated dishes. However, when you're making cocktails for something like a Christmas or New Year's Brunch, you are not going to want to use a high-end champagne," he says. "I could come up with five variations on the same cocktail, but finish and serve them with an ounce of cava, prosecco, or US Sparkling alongside one with 'Dom.' If I were to serve them to five or ten sommeliers, chances are none of them would be able to tell you which one had the 'Dom' in the recipe and which ones had the prosecco, cava, or other sparkling wines."
As quality counts, Sweders recommends seeking out prosecco from Conegliano Valdobbiadene, located in the Veneto, and more specifically, the small sub-region of Cartizze, known as the best area for the production of prosecco. He adds better proseccos lend themselves to festive cocktails as a bartender can, "get that grape juice element with the carbonation that adds something to orange juice, Chambord, or something for an original recipe."
DeMara, meanwhile, enjoys prosecco wines produced by the Zonin family. Although it produces larger quantities, quality expresses itself in the way the winemakers ferment and bottle wine throughout the year so the bubbles and flavors are always as fresh as possible.
For holiday events drawing customers in with value propositions such as bottomless glasses of champagne or mimosas, prosecco fits the bill as it allows management to offer customers something that's good quality while keeping their costs down. Mengoni has observed numerous distributors offer trade multiple case discounts as their clients tend to go through a lot of it.
However, if mixology is part of the bar's identity, Sammuri and Mengoni advise the bar staff give themselves plenty of time to play around with different spirits and seasonal ingredients.
"Prosecco goes with a lot of different ingredients, and it can be fun to come up with a few different cocktails," says Sammuri. "When in doubt, keep it simple, as prosecco is great with a seasonal fruit, such as pomegranate or cranberry, and can harmonize with a liquor of some type. Prosecco is also a great way to add bubbles and flavor to a drink without increasing the alcohol content like a spirit would. An Italian restaurant can use prosecco with a fun Italian Vermouth, while a Sushi bar can incorporate sake or a plum liquor with prosecco."
DeMara suggests bartenders and staff understand that although prosecco is crafted differently from champagne, its sweetness is measured in a manner like champagne, where the grams of sugar per liter of wine are categorized in ranges: from Extra Brut being the driest, to brut, extra dry, dry, demi-sec, and then sec/dolce being the sweetest. She recommends a brut prosecco, such as the The Zonin 1821 Cuvee, as an ideal choice for mixing in cocktails as it has just enough fruity sweetness to add flavor without adding too much sugar to a drink that might often have other sweet ingredients.
"Use cocktail ingredients that compliment the flavors of prosecco, like fresh tree fruits, citrus, or berries," says DeMara. "Use quality spirits and fresh ingredients as the Italians do, and consider prosecco as a substitute for soda water, tonic water, champagne, and experiment a little to find new and interesting twists on traditional cocktails. However, don't cover up the light flavors of prosecco by using particularly strong flavors in the cocktails, such as darker or overproof spirits, or use too many ingredients. Also bear in mind that common holiday flavors, such as pumpkin spice or cinnamon, can overwhelm the fruity components. Let prosecco be a lifting element to a simple cocktail."
By Elyse Glickman
Photos: Shutterstock.com.