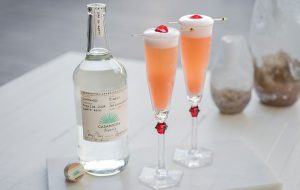 Ingredients:
1 oz. Casamigos Blanco Tequila
1 oz. Peach Puree by PerfectPuree
2 Red Raspberries
Top off with Chilled Prosecco or Champagne
Directions:
Combine all ingredients into a tin shaker, except Prosecco. Muddle fruit and add ice. Shake vigorously for a few seconds and strain into champagne flute. Top off with chilled prosecco or champagne. Garnish with 1 raspberry through a skewer.
Recipe courtesy of Casamigos Tequila