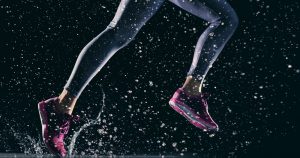 Even up to a few years ago, discussions in our industry about health were often focused on the consumer's viewpoint—seminars on how to avoid overserving, how to recognize signs that someone is intoxicated, and how to keep our venues safe for all patrons. These are all important topics, but what about our staff's point of view—the owners, managers, bartenders, and brand ambassadors?
Fortunately, discussion about the mental and physical health of those in our industry has come out of the shadows and into the mainstream. According to Caroline Rosen, Executive Director of the Tales of the Cocktail Foundation, this movement has been a long time coming.
"Everyone is very aware of it," says Rosen. "I think it's been coming for quite some time, and I think what's wonderful is you are seeing decision makers listen to their teams."
Tyler Williams, Vice President of Business Development for Food+Beverage Innovations (makers of Jevo, the fully automated gelatin shot maker), first saw this healthy living movement take shape on the hotel side of hospitality. "Hotels are taking heed," he says. "SPG and Marriott have partnered with Under Armour to supply gym clothes and shoes if you forget your things. Even mid-level hotels replenish bottled water each time the room is cleaned. Room service menus have changed for the better—no more wilted iceberg lettuce and out-of-season veggies. These days it's fresh everything."
Industry Leaders
In our industry, associations and top industry tradeshows are leading the charge on the health and wellness movement. In early March, the International Restaurant & Foodservice Show of New York had a number of educational sessions on creating a better work/life balance and incorporating fresh ingredients and healthier options onto your menus and into your own meals. The show was even co-located with the Healthy Food Expo.
This month's upcoming Nightclub & Bar Show is also addressing healthy living with a session called "Supporting Ourselves & Our Industry with a Long-Term Mentality," which will discuss sobriety and healthy living.
The Tales of the Cocktail Foundation (TOTCF) stepped up their dedication to healthy living at last year's Tales of the Cocktail. Through 38 free activations, the event's Beyond the Bar programming facilitated dialogue and inspired thinking around pressing topics facing the hospitality and spirits industry, such as social justice, lifestyle, health, addiction, and sustainability.
"Our pillars are to educate, support, and advance those in the global hospitality community. And when we're looking at supporting the whole bartender, a huge part of that is health and wellness," says Rosen. "Bartending is truly a lifelong profession, and as a Foundation, we think it's really important that we put a spotlight and an emphasis on these activities that can help people maintain a healthy balance within their career."
The TOTCF is expanding its efforts this year with Beyond the Bar sessions now included in its other events—Tales of the Toddy and Tales on Tour in Puerto Rico. At this year's Tales of the Cocktail, there will be an entire Beyond the Bar education track alongside the activations that were launched last year. Lynn House, National Brand Educator for Heaven Hill Brands in Chicago, will act as chair of the education committee responsible for curating the seminars in this track.
"It's really important to discuss these different topics, but it's also really important to make sure that you have experts in the room," says Rosen. "One of our goals is to not only always have that professional in the room, but also to help people know where those resources are that are free or inexpensive when they want to have those dialogues—whether it's with their work, or their friends, or their community."
Challenges & Solutions
Oftentimes, our industry is in direct opposition to a healthy lifestyle, so bar staff can encounter quite a few challenges when trying to get fit.
The first, of course, is easy accessibility to alcohol. "Even given all of the high-profile measures taken up by industry leaders to promote healthier lifestyles, it's tough to discount the virtual omnipresence of alcohol in our business," says Williams. "Coupling the convenience of alcohol with long-standing cultural norms, like the 'shift drink,' and stresses inherent in bartending and bar ownership, creates a slippery slope."
Aside from working to cut down on drinking or to cut it out entirely, Williams recommends looking for healthier options. "When it comes to drinking, one of the best things I've done is to be more mindful of what is mixed with the spirits in my drink," he says. "There are better, less-sugary mixers out there that are made with natural ingredients that are widely available."
Exercise is also a big factor in staying fit, and Jim Ryan, National Portfolio Brand Ambassador for Samson & Surrey, recommends finding something that interests you. For him, it's been yoga and Pilates, and he recommends that those in our industry find a similar path to get moving—whether its through yoga, cycling, establishing a gym routine, etc.
Finding a buddy or a support group can help motivate you. "You need someone to stay on track and share goals with," says Ryan, who recommends visiting gyms or retail shops dedicated to exercises like cycling or yoga to find like-minded people.
It can be difficult to fit exercise into a busy schedule, especially when you're on the road a lot. Ryan says it's important to make time for yourself a priority. He's found a yoga studio in every city he travels to so that he has the opportunity to practice even when he's on the road. "Build time in your schedule for yourself," he says. "The very nature of the service industry is challenging to the body, mind, and spirit. To have those little bits of opportunity for yourself that you can find, and force yourself to find in some cases, can really make for the betterment of your day, your work, and your longevity in the industry."
Williams agrees and says it's all about establishing a routine. "I'm on the road an average of two to three weeks out of every month, so it starts with making sure that every time I go on the road, I have easy access to the same resources that are available at home," he says. "My schedule can be wall-to-wall, and I know that if exercise isn't convenient, my routine will suffer. I choose hotels based on the quality of the gym, for example. At the very least, I'll hop on the treadmill for a 5K."
Late nights and a lack of sleep can also present hurdles to healthy living. To counteract this problem, Ryan schedules early morning yoga classes, which is motivation enough to get him to bed early. "I certainly feel better for myself and the decisions that I make when I do make those classes that I've scheduled into my time on the road," he says. "My diet also changed—you can't be eating fried chicken at two in the morning if you're trying to make a 6 a.m. yoga class."
Speaking of diet, Ryan suggests making small changes and preparing your own food, when possible. "Diet is first and foremost the most important thing," he says. "It can be tricky in a restaurant environment to prepare a family meal that's healthy, so build something healthy into it. If that's not an option, then you and a buddy can share meals together if you both work the same schedule. It's all right if you bring your own food to family meal. You can't just expect it to be healthy if it hasn't been in prior shifts."
On the mental health side, a lack of support or a place to share your feelings can present challenges as well. "It's about making sure that we're taking care of our bodies, our health, and our communities and making sure that we not only have a safe space, but those that are working with us have a safe space to communicate their needs," says Rosen.
Similar to the support group for exercising, Ryan recommends finding a group or individual you can talk to about emotional and mental health. "It's important to have people that you can feel safe around in instances when you're not doing well. There are lots of times when you need to have a support network," he says. "It's important to be able to express yourself emotionally, and if that means going to see a therapist or finding a support group, then that's OK too. Therapy is something that has long been shunned in this country in particular and this industry for far too long.
"In the service industry and in the spirits business, there's a lot of added stress, and I personally think that everyone should have an opportunity to [speak with] a neutral third party."
Change is hard, but with commitment, a support group, and a dedication to yourself, it can be done. And remember, as Ryan says, "It's never too late to start getting well and caring about yourself."
By Ashley Bray
Photo: Shutterstock.com