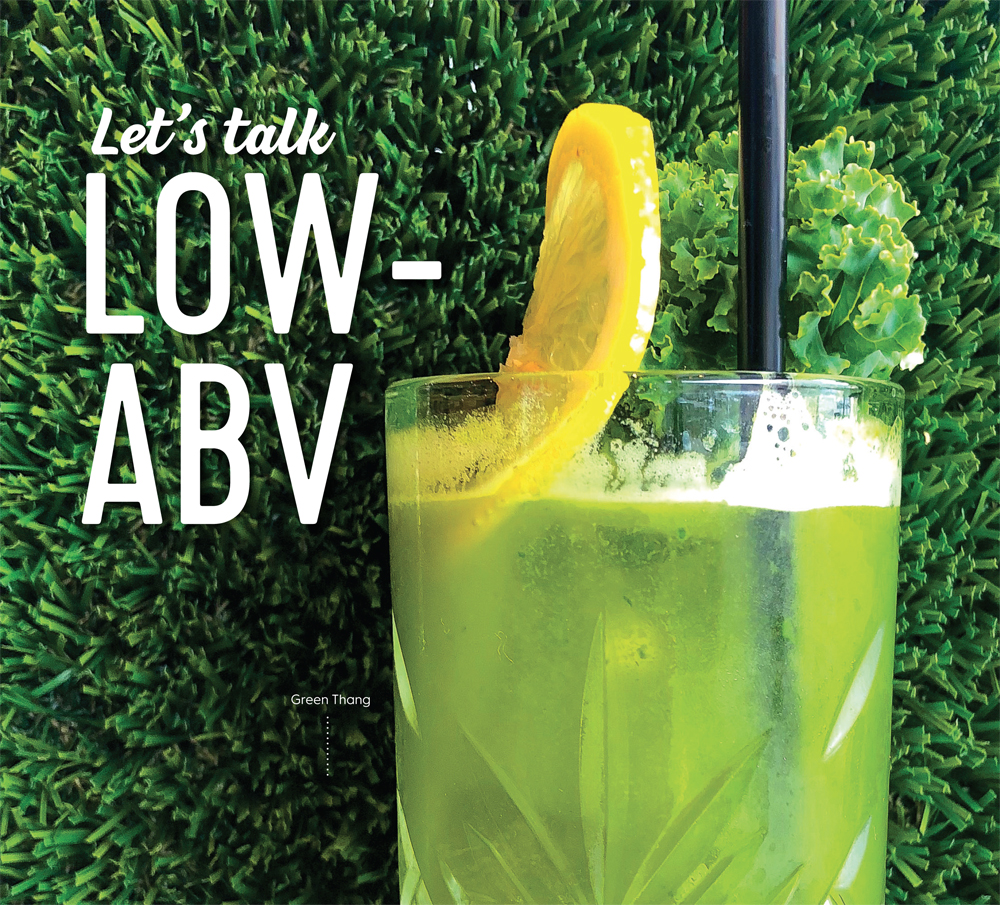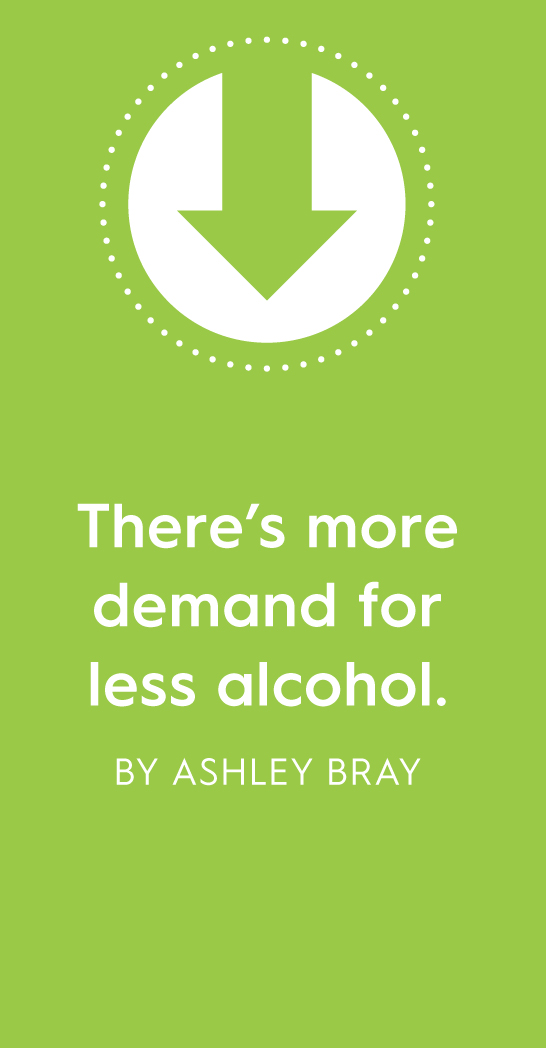 Drinking less may seem like a hollow resolution that many don't stick with past January 31, but don't be fooled—the demand for low-ABV and non-alcoholic drinks is growing, and it shows no sign of slowing down.
Driving Factors
There are a number of factors contributing to not only the growth in this market, but also its staying power to be more than a flash-in-the-pan trend.
Health. Across the board, consumers are becoming more conscious about their health, what they put into their bodies, and where it comes from.
It was only a matter of time before this movement affected the bar industry.
"Low-ABV coincides with being healthy," explains Maurice DiMarino, Beverage Director at the Cohn Restaurant Group, a regional restaurant group in the San Diego area. "Although the cocktail may not be the healthiest as far as sugar content and things like that, it still gives the illusion of doing something that's not so bad for your body."

DUI Laws. Stricter drunk-driving laws are also causing consumers to think twice about how much alcohol they consume. "Drunk driving laws have been much more strict, and there's the threat of those even coming down to .05 in some states," says DiMarino.
In fact, it's already happening. At the start of this year, Utah lowered its blood alcohol concentration threshold from .08 to .05. Other states are keeping a close eye on the move and may soon follow suit. For example, Oregon already has a proposed bill that, if passed, would lower the state's limit to .05 as well.
Day Drinking & Sessionability. The times and occasions in which consumers are drinking are changing as well, and many are now searching for cocktail options with lower alcohol—especially when day drinking.
"Day drinking in the restaurants has to do with brunch," says DiMarino. "Brunch cocktails are usually the ones that have lower ABVs."
Consumers are also looking for lower-ABV options during lunchtime. "We do a really big lunch business, and I think that also lends into these styles of drinks," says Koire Rogers, Beverage Manager at CUCINA enoteca Newport Beach. "Just the idea of having a cocktail that's not from a gun, made to order, and fresh."
The Ruin Daily in Chicago, Illinois has made a business out of bringing together sandwiches and cocktails at lunchtime. "There's this notion of sandwiches being pedestrian and cocktails being fancy. So my initial focus in creating the beverage menu, and particularly the cocktail menu, was to bring people things that were quality and rubbed up against the idea of a more high-end cocktail menu that was still approachable," explains Dylan Stewart, Beverage Director and General Manager of The Ruin Daily.
For Stewart, the option of cocktails at lunch grew naturally out of the consumer's demand for high-quality products and drinks at any time of the day—not just dinner. "People want a little bit of that in their day-to-day rather than having it concentrated in one event; they want that experience spread out over a longer timeframe," he says.
Spreading out experiences is also where sessionability comes into play. People may find themselves with a packed social schedule or multiple business dinners, and they want an option that enables them to consume less alcohol without missing out on the social aspect of drinking.
"People still want to go out and socialize multiple times," says Rogers.
"I appreciate the idea of low alcohol for people to have more than one cocktail and not feel left out in the social setting."
New Products. The proliferation of lower-ABV and non-alcoholic spirits and mixers has also given bartenders more tools to create low-ABV cocktails.
"There's a lot of high-quality products on the market now, more than ever before in the last five to eight years," says Rogers. "We've seen tons of new vermouths, amaros, and wine-based spirits coming from France and Italy mostly. I think that's led to this resurgence as well."
Bars are even using some of the options, like hard seltzers or quality mixers, as standalone products on their menus. "The growth of non-alcoholic cocktail options in bars is a big win for a premium mixer brand like Q that makes an elevated version of tonic, ginger beer, and grapefruit soda in particular with drier, more sophisticated flavor profiles. Accounts are seeing these products not only as mixers for cocktails or Collins drinks, but also to provide quality non-alcoholic options for those who might not be drinking," says Trevor Frye, Washington D.C.-based Bartender and Consultant. "When you are able to provide multiple selling points to an account, the cost difference between the gun and a premium mixer becomes minimal."
A low-ABV cocktail should follow the same principles as a regular cocktail build. "You might need to add one or two more ingredients to the non-alcoholic drinks just to get some more depth of flavor, but I think in general it's all about finding balance. When you have too many ingredients you lose track of what's going on in the drink," says Rogers. "It's about having flavors that are precise and clean. Any kind of cocktail, with booze or without, is really about balance."
In lower-ABV cocktails, bartenders should also look to create body. "You're trying to make up for the sensation of alcohol. The sensation of alcohol comes in different ways—it comes in body and it comes also in astringency," says DiMarino. "When you do a low-ABV cocktail, you're trying to create a feeling in the palate so that you're hitting all the five [elements]—saltiness, bitterness, sweetness, savoriness, and acidity. And if those are all in balance, people don't realize the level of alcohol at that point. You're trying to balance the illusion of alcohol with flavor."
DiMarino also recommends trying to engage multiple senses when creating low-ABV cocktails. "I think low-ABV cocktails are usually more like an aperitif in style, which open up the senses," he says. "Acidity can give the mouthwatering sensation. Add bitters and ingredients like aperols or amaros that have much more aromatics to them and now your sensations are not only on the palate, they're also on the nose."
Crafting these drinks doesn't require an entire overhaul of your back bar or ingredients list either. "We're able to utilize some of the same ingredients we use in our cocktails, minus the alcohol," says Rogers. "So it wasn't too much for the bartenders to reinvent something new. It's things we could play with a little bit by just removing some of the alcohol."
Rogers says fresh ingredients frequently come into play when creating a lower-ABV cocktail. "What we do is try to find a good fruit syrup that we can make. Something that might be in season whether its peaches or something like that," he says. "You can use it in cocktails, and it gives it versatility without having to add a bunch of booze or any booze at all."
Spirits to reach for when creating low-ABV cocktails include fortified wines, vermouths, liqueurs, and Italian spirits like amaros or aperitifs.
"I think that the place that low-ABV drinks really shine is in stirred cocktails. So things where your base is vermouth as opposed to a full spirit or where you have a fortified wine," says Stewart. "A lot of the coolest, weirdest, most off-the-beaten path liqueurs, as a liqueur, are going to be lower in alcohol. So you get the opportunity to play with some much stronger flavors in a more bold way when you're not constantly working around the fact that the predominant flavor is ethanol coming from the strong spirit that you're using."
Lower amounts of traditional spirits can also be used when mixed with flavorful, non-alcoholic ingredients like teas. "Maybe you only do an ounce-pour versus an ounce and a half pour—now your cocktail's still a low-ABV cocktail technically because of how much volume of liquid is in there versus how much alcohol is in there," says DiMarino.
As for the placement of low-ABV cocktails on menus, those in the hospitality world are split.
DiMarino says a separate section for low-ABV and mocktails may appeal to some patrons. "It would be interesting to see that on some menus; I think there are people that would actually gravitate toward that," he says.
At CUCINA enoteca, Rogers says a separate subcategory within the cocktail list works.
Stewart cautioned that low-ABV drinks can be a selling point to some extent, but to others, singling out the drinks on a menu may appear as a notch against them.
What most everyone can agree on is that low-ABV doesn't mean lower-priced cocktails. "Pricing all depends on product, what you're using, and how many ounces of product you're using," says DiMarino. "People are paying for flavor and for an experience. As long as you're giving the guest an experience, then there's something worthwhile to pay for.
"I think what people are really looking for is flavor, and whether it's low-ABV or not, it has to have flavor and some sort of depth to it."
---
Aperol Cocktail
1 oz Aperol
1 oz Lime juice
½ oz Orgeat
½ oz Watermelon
Shake ingredients over ice.
Maurice DiMarino, Cohn Restaurant Group
---
Green Thang
1½ oz Prairie Organic
Cucumber Vodka
¾ oz Lemon juice
¾ oz 1:1 Clover honey syrup
1 oz Cucumber juice*
*Cucumber juice:
2 English cucumbers
1 handful Kale
6 grams Kodemari matcha
Pinch of Xanthan gum
1 cup Water
For the cucumber juice, blend everything together to make one quart of juice. For the cocktail, shake and double strain all ingredients into tall glass with ice. Garnish with a bushel of kale and lemon wheel.
Dylan Stewart, The Ruin Daily
---
The Cure
2 oz Amaro Montenegro
1½ oz Orange juice
1½ oz Pineapple juice
¼ oz Lemon
1 bar spoon Vanilla bean paste
Quick shake to not overdilute due to the large amount of juice. Pour into a Collins glass and garnish with a large sprig of mint.
Koire Rogers, CUCINA enoteca
---
Use Your Illusion
¾ oz rosemary shrub*
Q Ginger Beer
Rosemary sprig for garnish
*Rosemary shrub:
1 cup Apple cider vinegar
1 cup Clover honey
1 cup Hot water
For rosemary shrub, combine all and stir to mix. Add six long sprigs of rosemary and refrigerate for 24 hours. Strain. For cocktail, fill Collins glass with ice. Add rosemary shrub and fill with Q Ginger Beer. Stir gently and garnish with singed rosemary sprig.
Lindsay Matteson, Barnacle, Seattle
---
Now You Can: Zero-Alcohol Heineken® 0.0 Debuts
HEINEKEN USA is launching its latest innovation, Heineken® 0.0, an alcohol-free malt beverage brewed with a unique recipe for a distinct, balanced taste. The brand's iconic label has been turned blue to match the color associated with the alcohol-free category globally. Heineken® 0.0 contains only 69 calories per bottle.
Heineken® Master Brewers created the new zero-alcohol brew through a special five-step brewing process. Heineken® 0.0 is made with natural ingredients, resulting in a drink with a fruity flavor and slight malty notes brewed for beer lovers, by beer lovers.
"We believe we have a competitive advantage with the taste of our beer," says Ashleigh Phelps, Heineken Brand Manager, HEINEKEN USA. "Heineken® 0.0 is double brewed with natural ingredients, which are the same as the ones used for Heineken® Original (water, barley malt, hop extract, and Heineken® A-Yeast). We gently remove the alcohol with vacuum distillation and blend the brew to perfection with natural flavorings."
HEINEKEN USA is committed to introducing new and innovative products to meet consumer needs, which include living a balanced lifestyle. With strong growth in the non-alcohol segment expected to continue, Heineken® 0.0 gives drinkers a choice for all their occasions, without compromising on quality.
"There has been a growing demand for alcohol alternatives," says Phelps. "Beer has been declining for the past six years and over 30% of 21-plus people in the US are choosing to not drink alcohol. There is an opportunity to open up new occasions for these consumers so they can have a beer moment without the alcohol."
By supplying a well-known, high-end option to the non-alcoholic segment, Heineken® 0.0 aims to propel category growth by capturing new consumption occasions and new consumers.
"For the U.S., the time has come for an innovation that disrupts the category and offers a new take on how people drink and enjoy beer," said Jonnie Cahill, Chief Marketing Officer, HEINEKEN USA. "Heineken® 0.0 brings for the first time a truly incredible beer taste to the non-alcohol space and opens a world of opportunity for people to come together and enjoy a brew that expands the drinking occasion—not limits them."
---
Interested in more content like this? Subscribe to our monthly magazine.