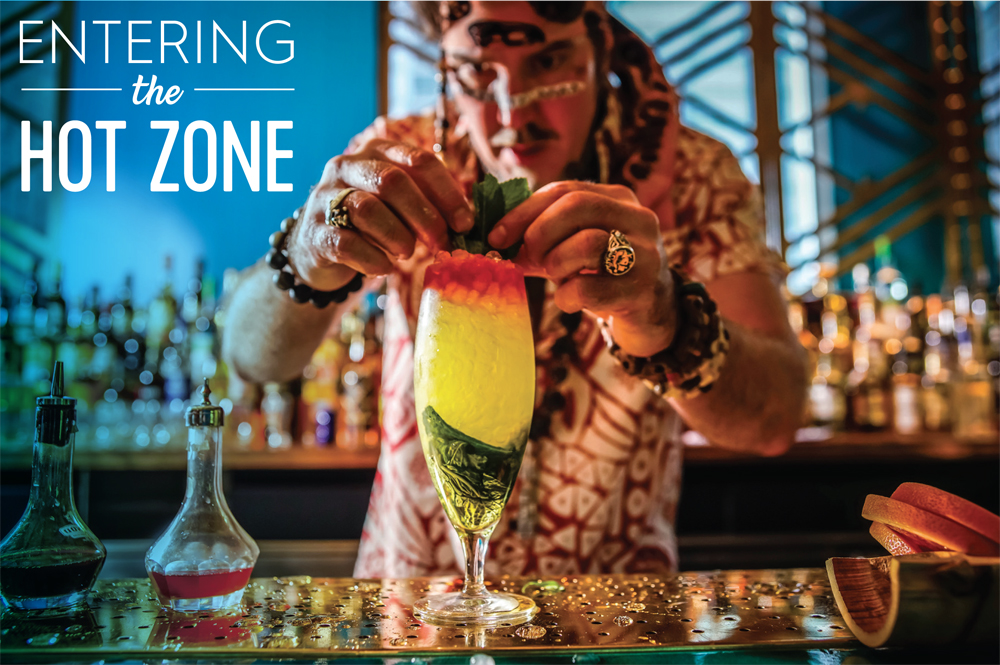 Warm up your customers with beautifully crafted heated cocktails. 

By Elyse Glickman
T
he holidays may be over, but warm cocktails should still be on every innovative bar's cocktail list. Why? Because bartenders constantly need new and unexpected offerings to keep customers coming in—even on the coldest days of the year! Now is the time to think outside the icebox by offering cocktails that will carry you and your customers through to the first days of spring.
Given the many different climates of the U.S., some bartenders may ask themselves how to get customers to warm up to something that's comforting rather than crisp. Even with some heated debate, these bartenders agree that as long as customers are looking for something new and are enticed by good spirits, quality ingredients, and presentation, even a slight dip in temperature can get them in the mood.
The Warm-Up Act
"I would start by asking them what kind of non-alcoholic hot drinks they enjoy," says Nikki McCutcheon, Beverage Director at the Moxy Times Square Hotel. "Tea based? Coffee based? Something rich and creamy or light and herbal? From there, I make suggestions based on their preference of what they most enjoy."
Context via restaurant setting is also important according to Jay Schroeder, Beverage Director and Partner of Chicago's mezcal-focused Quiote and Todos Santos. In a restaurant with a bar, a hot beverage can be a compelling swap-in for dessert, or a way to brace oneself against an imminent departure into the cold.
"In colder climates, we tend to keep our bars toasty, a subtle reminder of what it would be like all the time if we lived somewhere else," Schroeder explains. "My goal is often to offer the dual escape of an environment that's both warm socially and physically. Many folks tend to opt for drink choices that differ little from their usual summer selections."
Even in balmy Los Angeles, creative bartenders like Beverage Director John Neumueller of Bar Joe at Spoonfed find they need to add a little heat to the menu's mix to adjust to customers' moods and preferences when the winter months and its events roll around. In fact, the veteran of such trendsetting establishments like Tasting Kitchen, Verlaine, and Normandie Clubeverage is not afraid (nor are his customers) of defying seasonal trends if the effect is delicious.
"I'm not going to make people betray what they were craving," says Neumueller. "I'll introduce it to them in instances where they'd typically enjoy a coffee or tea. I'm the kind of person who will have a hot cup of coffee on a sunny summer day in Venice. People want things at the temperature they want it."
"Flavors [customers] like in cold drinks can be successfully made warm, as long as you understand that the balance of the drink has to be adjusted," says Jack Schramm, Head Bartender at New York City's Existing Conditions. "I test hot drinks the same way I test cold drinks—by making them over and over again with incremental changes until the drink is so delicious I have to share it with people."
Schramm says a balanced recipe and New York's famously cold winters provide him with an easy way to close the deal using the line, "Would you like something to help you warm up?"
Meanwhile, Shawn Chen, Beverage Director of New York City's Red Farm and Decoy, affirms a bartender should have fun when developing original recipes.
"I like to use the classics as reference points and not boundaries when creating new recipes," he says. "Just keep on experimenting until you find the ones that are just right. I also like to make customers [used to cold drinks] a little sample before they commit to a full cocktail. It is a nice way to show hospitality and get them to try something new without feeling pressured into paying for a full drink."
According to Brian Miller, Partner and Beverage Director at Manhattan's The Polynesian, familiar favorites never get old. "If the classic is done well, it can be dressed up with different ingredients like your winter clothing staples can be updated with statement-making accessories," says Miller, admitting that he is a "coffee mug kind of guy" who likes serving hot cocktails that can be savored like hot coffee or tea. "Great hot buttered rums, toddies, and Irish coffee are hard to come by. However, the Irish coffee at Dead Rabbit is near impossible to beat. To get that result, a good friend of mine would say, 'You gotta drive it off a cliff before you perfect it.' That way you've explored all the options and what remains is sheer poetry."
Rory Toolan, Bar Manager at The Heavy Feather in Chicago's trendy Logan Square neighborhood, encourages bartenders to not be afraid to use more exotic liqueurs in hot cocktails. "Surprisingly, a little amaro like Cynar, Fernet Branca, or Amaro Montenegro can really bring nuance and depth to simple toddies and mulled wines. And don't be shy about using a whole egg for drinks like the Tom and Jerry, which on a snow day is absolutely delightful."
Heated Preparations
The Heavy Feather's Toolan states the obvious, but it's something that bears repeating, "Don't use microwaves, they're gross. Avoid anything that will separate while making the drink."
To avoid other mistakes, use the same common sense you would when preparing non-alcoholic heated drinks. Also, don't assume any chilled cocktail will work as a warm cocktail or that adding alcohol to a classically warm beverage will taste good.
"Temperature plays a big role in changing the chemical reactions that affect flavor," says McCutcheon. "When infusing flavors, start by boiling your flavoring agents with water without the alcohol so as not to burn off the alcohol or skew the flavor. You can use a slow cooker for larger batched drinks to allow flavors to heat and blend continuously at a moderately hot temperature without ever having to get to a boiling point."
Neumueller adds that traditional drink builds go out the window when you add heat to the equation. "As with blended drinks, the temperature and dilution shift when heat or cold are applied, having a profound effect on the balance of a drink," he says. "Heat is a really volatile variable. The best advice I can give is to maintain consistency in how you're making something. Make sure you're working with the same temperatures, machines, and so on. Hot drinks go wrong when you get cavalier with your methods."
Andrea Hoover, Beverage Operations Manager for Cameron Mitchell Restaurants, stresses that a little scientific knowledge can prevent a lot of trouble. "It's important to know that different spirits have varying flash points and degrees at which they catch fire. Do some research online beforehand, or in cookbooks and related websites," she says. "I like to utilize a coffee-warming vessel (i.e., for an individual mug that people use at their desk) to warm bottles at a low temperature. In terms of mixing, I always try to heat the glassware first so that the cocktail has no opportunity to be cold."
Schramm agrees. "The beautiful mug used to serve the cocktail will undoubtedly add to the experience of drinking, but it takes quite a bit of energy to heat that glass or clay to the same temperature as the liquid inside it," he says. "This translates to a lukewarm drink instead of one served piping hot. An electric kettle should live next to the station producing hot drinks so that boiling water can be used to rinse and heat the interior of the mugs before any drinks are served."
While the most common way to prepare a hot drink is to add a room temperature spirit to a warmed mug, then top with the rest of the heated ingredients, Schramm says this method works better for home bartending. For a bar setting or a party, he advises batching the drink with the spirit and dilution included, then hold it in a glass or plastic vessel in a sous vide bath.
"At Existing Conditions, we will use a slightly more high-tech approach that was pioneered by Dave Arnold at Booker and Dax," says Schramm. "Dave's Red Hot Pokers lend beautiful caramelized flavor, enhanced aromas, and surprising lightness to over-proof, spirit-driven cocktails and have the added benefit of putting on quite the show behind the bar."
Miller recommends using hot pots to add water to the cocktail, rather than trying to heat the alcohol up, to maintain the integrity of the drink.
As for the order of ingredients, Chen suggests adding the citrus last to a warm cocktail as the acid might change the overall flavor if it's added early on. He also suggests adding the liquor last. And above all, avoid overheating the cocktail because then you lose all the flavor.
What you serve the drink in matters as much as what's in the drink. Chen likes a sturdy, large earthenware mug made with enough heft to keep a drink warm for a leisurely sipping experience. He lets the theme of the drink drive his serving pieces, as long as the vessel is safe and insulated. "If I want to create a warm cocktail with tea as the central ingredient, then I would use a traditional Chinese ceramic tea cup instead of basic glassware for a better visual presentation and overall aesthetic," he says.
McCutcheon opts for familiar double-walled glasses, snifters, and glass Irish Coffee mugs, which she feels are the most visually appealing as well as the safest. For the perfect finish, she recommends a microplane for grating spices such as fresh nutmeg or chocolate.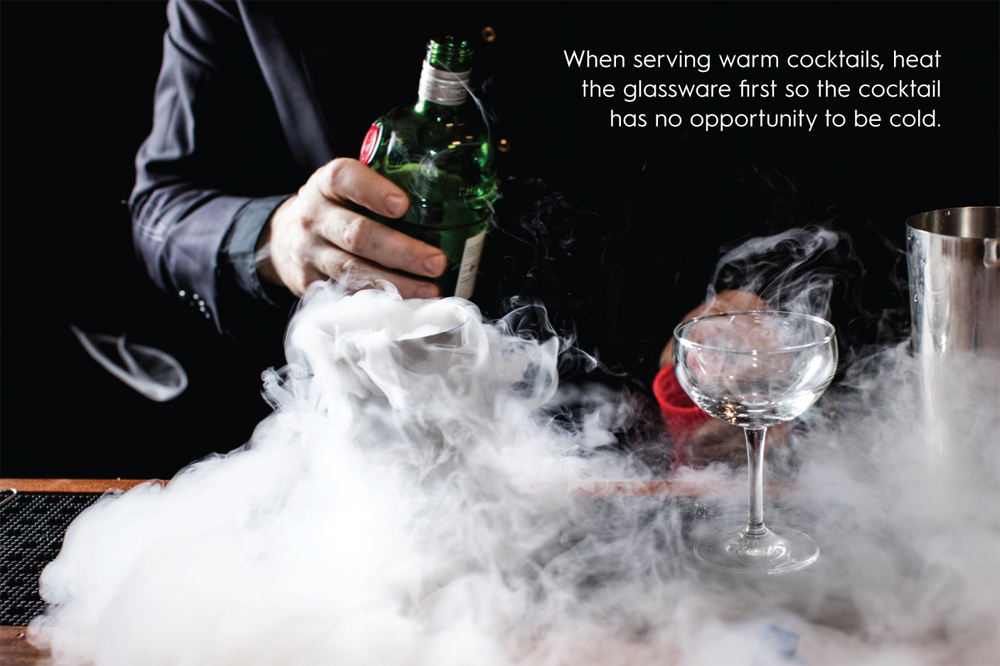 ---
Warming Flavors
"Whatever ingredients you're working with should be the bridge and support of the spirit you've already chosen," says Hoover. "You can choose between the routes of isolating complementary flavors and selecting overlapping flavors. For instance, picking ingredients that have no likeness to create complexity, or choosing a particular flavor bomb route."
Attaining a balanced recipe requires
a few steps, as does spotlighting unconventional ingredients that will surprise and delight the adventurous customer. Cameron Mitchell Restaurants, for example, looks at common sense ingredient substitutions for hot drinks. "As citrus is not often used in hot cocktails, we replace the acid with amaro, bitters, or saline," says Hoover.
McCutcheon recommends starting by  exploring what flavors and ingredients will work well together conceptually.
"You can always revamp a classic by using different but complementary flavor profiles," she says. "Once you've worked out the logistics of your vision, make the cocktail. Make sure taste and execution are to your expectation before the drink makes it on the menu."
"I'm a big fan of the 'sick boy' cocktail, or anything that would make you feel better when you're sick," says Neumueller, who likes aquavit and aloe vera as his unexpected ingredients of choice. "Anything in the realm of potable Vicks VapoRub or Tiger Balm is my jam. And coffee and tea without a doubt.
"Go out to coffee houses and tea houses. Introduce your palate to traditional hot drinks," continues Neumueller. "Source good non-alcoholic ingredients with the same passion you would spirits. Spend some time in the kitchen and learn how ingredients respond to heat and traditional cooking methods. For example: raw sweet potatoes are starchy garbage. However, if you roast them, they're delightful."
Miller likes honey, bitters, butter, rum, and affirms absinthe is great for adding depth and character to a hot drink.
Chen favors herbaceous liqueur, citrus, and baking spices. He adds that full-flavored and full-bodied ingredients like Oloroso Sherry; Pedro Ximenez Sherry; Madeira; Chartreuse; high-ester, maximum-funk rums from Jamaica and Haiti; and fruit distillates, like Calvados, all lend themselves beautifully to a hot serve.
"A high-proof rye or sake might help make the unexpected ingredient totally work as a heated cocktail," says Chen.
"In Japanese cuisine, sake is often used to marinate various ingredients including mushrooms. Therefore, I think the two are going to be a match made in heaven when combined in a heated cocktail with just the right balance of sweet and savory."
Schramm reaches for ester-driven sugar cane distillates, like Clairin from Haiti and Batavia Arrack from Indonesia, which he says have a beautiful grassy, sticky, unctuousness that jumps out of the mug when heated. "Steam from
the mug will wash over the face of the drinker on the first sip, bathing them
in tropical funk," he says.
With so much inspiration, these are all ideas worth raising a toast to.
---
Interested in more content like this? Subscribe to our monthly magazine.