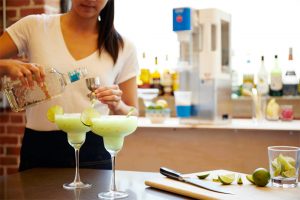 Blended drinks are a great upsell and increase check size, but they can be messy to make, time consuming, and inconsistent.
"Currently, most bars are either using a traditional blender and adding ice, mixer, and alcohol to make a drink, or for boozy shakes, they're adding ice cream or a mixer," say Michelle Davis, VP of Foodservice Sales, and Melissa Torok, director of Marketing at f'real. "It's a big hassle for bars to pull all the ingredients together, blend it up, and then have to clean out the blender for the next drink. Bartenders generally hate making blended drinks because it takes so much more time than other drinks."
The f'real Foodservice Blender offers a timesaving and mess-free alternative method of making blended drinks.
"Our blender is very easy to operate. You simply place it on the counter, add water to the reservoir, and you're ready to blend," say Davis & Torok, who explain that bartenders then choose a pre-filled cup in the desired flavoring. "The blender does the rest with just a push of a button."
Staff chooses between two options: Blend & Serve and Custom-Made. "Blend & Serve has all the flavors already in the cup, ready to go. You just remove the lid, place it in the blender, and press start," say Davis & Torok. "The cups are prefilled with frozen blended product so the blender is able to quickly blend in less than 40 seconds to create the perfect shake or smoothie. It is consistent every time and there is no waste."
Blend & Serve is available in seven flavors: vanilla, chocolate, strawberry, and Oreo® flavors for milkshakes; mango and strawberry banana for smoothies; and a coffee frappe.
The Custom-Made option is base product in the cup with no flavoring. The bartender chooses either a shake or smoothie base and can then add syrups, purees, inclusions, alcohol, or almost anything else to easily create their own signature or custom flavors.
"Since the bartenders are adding alcohol, there is still the opportunity to upsell liquor," say Davis & Torok. "The opportunity for customization is endless allowing for bartenders to make drinks just the way their patrons like them, or to create signature drinks."
Alcohol can be added to either the Custom-Made or Blend & Serve option. The blender also allows you to customize thickness of the frozen blended drink—less thick, regular thick, and more thick. These customizable settings allow for any frozen beverage blending with alcohol, espresso, lemon juice, wine, and more.
"It's truly amazing how many different and amazing creations you can make with our bases and how fast and easy it is to do it—frozen lemonades, acai bowls, root beer floats, protein shakes, frappes," say Davis & Torok. "And of course, any alcoholic concoction you can think of: frose, beer shakes, boozy shakes, frozen cocktails, and more. It's an ideal form of speed scratch."
In addition to cutting down on prep time, the f'real Foodservice Blender boasts hands-free operation. "All the bartender needs to do is just add alcohol to the frozen cup and press start. The blending is hands-free, so the bartender can walk away, take another order, or make another drink and then come back and the drink is done," say Davis & Torok. "They can either serve the drink in the plastic cup, or they can pour it into a glass. Since everything is pre-portioned, there is no waste and cleanup is minimal."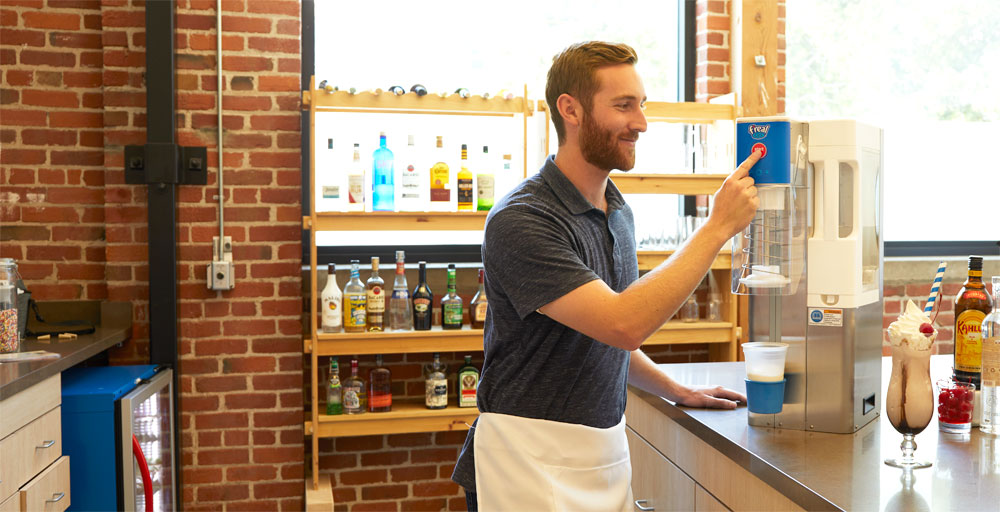 For cleanup, Davis & Torok say only the spindle needs to be cleaned every four hours. "If using allergens like nuts or wheat, it should be cleaned after each use," they say. "The spindle can be cleaned in a dishwasher or three-basin sink. Each blender comes with two spindles, so while one is being cleaned the other can be in use. Beyond that, it's just wiping down the machine. The splatter guard and water tank can also be put into the dishwasher, and it's recommended the water tank be sanitized monthly."
It's also easier to upsell blended drinks with the f'real Foodservice Blender. "Blended drinks generally command a premium, which means bars increase their ticket sales," say Davis & Torok. "Bartenders like to use the f'real Foodservice Blender, so are more likely to upsell to frozen drinks and push blended drinks to patrons. Blended drinks are also considered a special item, or a treat. It's not something a customer would usually have and therefore is more memorable. This increases the chance for recommendations and repeat business."
Frozen drinks can also be dressed up to promote sharing via social media, which can drum up even more interest and business.
Speaking of marketing, the f'real team is dedicated to ensuring its clients succeed, and it offers marketing collateral to help them do so.

"We are doing everything we can to support the restaurants' marketing efforts and minimize any pain points," say Davis & Torok. "This includes providing standard POS pieces for free or providing artwork for custom POS. Customers won't order a product if they don't know about it, so we try to work with our accounts to help them build awareness and trial around these products. Additionally, we assist our accounts in ordering custom logo stickers for cups. We also have an extensive library of recipes on our website."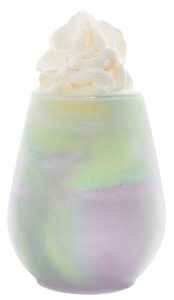 F'real also recommends ways to dress up blended drinks with support products like Rich's On Top® for whipped topping; Monin for syrups, purees, and sauces; and TR Toppers for toppings and inclusions.
F'real's Foodservice Blender is used by a variety of bars and restaurants, including Wild Wing Cafe, Buffalo Wings & Rings, and Walk-On's Bistreaux & Bar, where the machines are operating in multiple franchise locations.
"We wanted to offer a cravable, fun beverage and dessert item," says Lacey Lauderdale, beverage manager at Walk-On's Enterprises, who says the machine has provided incremental sales. "We have committed to offering only N/A shakes for the time being—both with full garnish set up and kids' portions with whip only."
Blended beverages aren't only great additions to dine-in menus, but takeout menus as well, which has been the focus of many bars/restaurants in light of restrictions due to COVID-19. "It's blended right in the cup, so all they have to do is snap on a to-go lid and send it off," say Davis & Torok. "The drinks are transportable up to an hour as long as they're not in heat."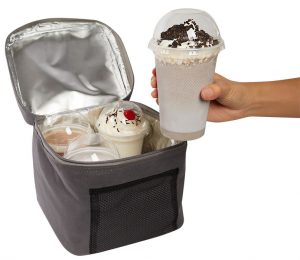 The f'real Foodservice Blender cuts down on preparation, making blended drinks a great product to offer now, when customers want to know the product they're receiving is sanitary and safe. "They still get the credit for making it their own because they're blending it there, but they don't have to do all the prep work, which can introduce potential contamination," say Davis & Torok.
Plus, blended drinks are great for incremental sales alongside takeout orders of pizza, burgers, etc. "It provides the extra-special experience that restaurants are trying to give to their customers," say Davis & Torok, "and whether it's in person or through delivery, any kind of blended beverage is going to help deliver that."
By Ashley Bray
Photos: Rebecca Uhle