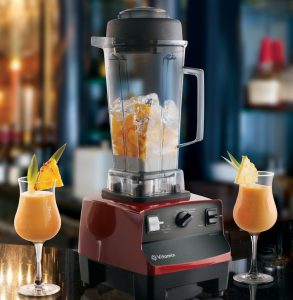 When you think of blenders, frozen drinks probably come to mind. But if piña coladas and margaritas are the only things you're using your blenders for, your machine can barely chop up an ice cube, or your blender has become a large paperweight collecting dust at the end of your bar, then you're missing out on profits.
Decisions, Decisions
Making sure your bar has the right blender is the first step in getting the most out of this bar tool, and there are a few factors to consider before making a purchase.
Volume. First and foremost, running to your local home goods or big box store and buying the first blender you see on the shelf won't work. Go with commercial products that are built to last and that can withstand a greater amount of use.
"The first consideration should be the volume of drinks per day," explains Terry Copenhaver, Senior Product Manager at Hamilton Beach Commercial. "Bars with lower volumes of frozen drinks can save money by purchasing basic bar blenders. For higher volume locations, a high-performance blender with more power will achieve a smooth, creamy drink in about half the time as a basic bar blender. High-performance blenders will also have larger jars, which enable bartenders to save time blending batches of cocktails versus individual drinks.
"High-performance blenders typically also come with stackable jars, saving valuable storage space."
Hamilton Beach Commercial offers a number of products for bars, including its Wave-Action® blender, which continually forces the mixture down into the blades for smooth results, as well as their basic 908™ Commercial Bar Blender, which is a favorite for its reliability and value.
When discussing volume, prep time also needs to be considered, and blenders can typically cut down on that prep time significantly.
"You'll also need to assess the time it takes to blend any given drink and the desired overall performance," says Jeff McClure, global director at KitchenAid, which offers a variety of stand blenders and ½-hp immersion blenders (also known as stick blenders) that are ideal for mixing cocktails.
Menu. Bars should also consider the ingredients they'll be looking to blend. "What is their menu—is it handcrafted ingredients or off-the-shelf syrups and flavorings?" asks Christy Bezuijen, commercial product manager at Vitamix. "Do they need a prep machine so they can create new syrups, sherbets, and infusions from scratch for an evolving menu? Or do they need a machine that is going to mix ice, alcohol, and flavorings?"
Vitamix offers a wide range of products for the bar space, including its Vita-Prep® line, which has variable speed controls and can help cut down the labor of bar prep; and the Drink Machine Advance® line, which provides programmed blend cycles
to deliver consistency.
Controls. Consistency is important, and blenders with controls for programming and timing will make a bar's work easier. "A good blender will do the work for you, so let it," says McClure. "Add your ingredients, set the program or time, and walk away."
Controls and timers enable bar staff to multitask. "A timer with an automatic shutoff is critical for high-volume bars so that bartenders can multitask while the drink is blending," explains Copenhaver. "Many of the high-performance blenders have buttons to assign pre-programmed cycles. These buttons can be used to assign the most popular drinks.
"This also enables consistency between bartenders as well as multiple stores for large chains. Custom programming is also available and these programs are uploaded via USB
or memory chips."
Typically, the manual should provide instructions on how to program the blender. "Look to the manual for guidance on optimal program selection for menu item processing," says Bezuijen.
Warranty. Always consider the warranty—not just how many years, but the technical support and replacement parts available.
"The blender should be easy to use and easy to clean since time is critical during peak hours," says Copenhaver. "The jar pad should be removable and the base designed without areas where liquid can pool."
Noise. Blenders can be loud when in use, so determine if noise level is an issue for your environment.
"Depending on the type of bar, room acoustics, and size of the crowd, as
well as if the bar has music being piped in over a sound system, the noise level
of the guests' conversations are often as loud or louder than a blender, so use during service does not impact atmosphere," says Bezuijen.
But if it's determined the blender's noise is a nuisance, then you may
need to choose a quieter option like Vitamix's The Quiet One® or Hamilton Beach's Eclipse™ blender, both of which use a sound enclosure to cut down on noise.
Beyond Drinks
The right blender can lead to a bevy of benefits for a bar, including greater staff confidence. "Give your staff the best tools for them to succeed," says Bezuijen. "That boosts creativity, customers get better drinks, and the staff can feel great about it."
Blenders also allow bartenders the opportunity to make new and unique drinks. "To truly leverage your investment, create a specialty blended drink menu to enhance the customer experience while helping to increase revenue," recommends McClure.
Those drinks can include fresh and seasonal produce or premium-priced frozen drinks that sell great in the summer months.
Low-ABV or non-alcoholic drinks are also growing in popularity. "The drink menu can also be expanded to offer ice cream drinks (with or without spirits) with premium prices as well," says Copenhaver.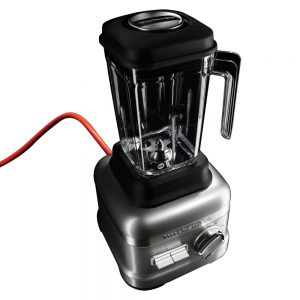 But don't forget that blenders can handle much more than beverages.
"Of course you can use blenders to mix drinks, but they also come in handy for making purees and doing other prep work," says McClure.
Blenders can also be used to make simple syrups, infusions, bitters, flavored syrups, toppings like Chantilly cream, and more.
"Making simple syrups in the bar can keep the front of house staff out of the kitchen," says Bezuijen. "It also creates a more consistent product. Because it uses gentle heat from friction, there is significantly less evaporation and less opportunity to burn the syrup or end up with caramel.
"Vitamix recently introduced a new Aerating Container that can be used to aerate citrus juices—bringing them from an astringent state to one where the aromatics and flavor are increased in just seconds. It usually takes about four hours after citrus is fresh-pressed for it to reach the optimum flavor profile. But when citrus juice is aerated, it gets to a great flavor state right away."
As a result of this faster process, bar staff can prep minimal amounts of citrus juices for service and quickly make more if they run out on a particularly busy night.
Maintenance & Cleaning
Proper use and maintenance of your blender will extend its life, and Copenhaver recommends always loading the blender properly by putting liquids first, fruits and other ingredients next, and ice last. "Have multiple jars on hand for peak hours," she says. "Do not try to put the jar on the base if the motor is still on. This will shorten the life of the jar and base coupling. A blender which shuts off when the jar is removed is an important feature to prevent this issue."
Bezuijen also recommends using the highest speed setting possible since it will deliver more air to cool the motor. "Regularly check that the equipment is in good working order (drive socket, blade assembly, container, control system, etc.) and have maintenance work done by a qualified professional when needed," she says. "Ideally, you should space your blenders 12 inches away from walls and additional blenders to avoid cycling hot exhaust air between blenders."
Copenhaver says blenders with a temperature gauge or indicator on the display to alert the operator that the motor is about to overheat is also helpful and allows the operator to run a two-minute cool down cycle.
Always check your machine for warm parts after blending, such as the drive socket and blade assembly. "If these feel warm, that is an indication that they need to be replaced," says Bezuijen. "Also the drive spline or sprocket on the bottom of each container should rotate easily by hand, but not spin freely. If it does begin to spin freely or you hear a change in tone or a scraping noise when in use, the blade assembly should be replaced."
Keeping the blender clean is also important. Immediately wipe up spills, clean under the centering pad, and rinse between uses so that thick and syrupy ingredients won't have time to dry and harden.
"Hand-washing the containers with approved chemicals in the correct dilution ration will extend the life of the container and the blade assembly," says Bezuijen. "Avoid high-temp dishwashers or soaking to extend container life as both processes shorten the bearing life by damaging the seal."
Copenhaver recommends using a three-step washing process. "Clean
the container daily either in a three-compartment sink (wash, rinse, sanitize)," she says, "or by placing hot water and a drop of mild dish soap in the container and pressing the pulse button for 15 seconds. Then sanitize and air dry.
By Ashley Bray
Photos (top to bottom): Vitamix, KitchenAid.