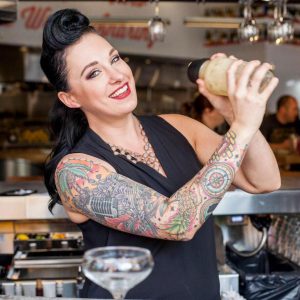 We recently caught up with Lisamarie Joyce to discuss the changes affecting the bar industry in light of COVID-19.
Joyce has over 17 years of experience in the bar and hospitality industry working in everything from dive bars to major corporate franchises. Today, you can find her behind the bar at Union Kitchen & Tap – Encinitas. She served as a regular mixology consultant on the hit TV show Bar Rescue, which fed her passion to teach. Her company LMJ Consulting LLC was created to provide a different approach to teaching bar staff, and participants can look forward to dynamic training classes, in-the-moment coaching, and team cocktail creation. This ensures any establishments' staff is performing efficiently and delivering on the necessary customer expectations.
Read our Q&A with Lisamarie Joyce below to find out how her behind-the-bar process has changed, what it was like reopening a bar with just 24 hours to prepare, and her thoughts on the future of the industry.
Bar Business Magazine (BBM): Did Union Kitchen & Tap remain closed during the COVID-19 shutdowns, or did they offer takeout and to-go cocktails?
LisaMarie Joyce (LMJ): Union decided at the very beginning to completely close its doors. They decided to remain closed to do their part in protecting their staff and our community until we could wrap our heads around what was happening. After almost two months, we were all feeling a bit antsy. We decided to open up for a few hours on Cinco de Mayo for takeout and to-go cocktails. I had batched well over 100 margaritas, and we sold out in two hours! The turnout was incredible. We knew we had to get ourselves back to serving our community—we just wanted to do it safely and responsibly. In the midst of us restructuring ourselves for a takeout establishment, we were given 24 hours notice to open for dining. The pressure to reopen for the community was overwhelming, but we were determined. Damn, that was a crazy 24 hours!
BBM: Now that the bar has reopened, what changes have been made at Union Kitchen & Tap to keep customers and staff safe?
LMJ: When we closed, Union took the opportunity to deep clean, replace equipment, fix anything broken, and paint. It was important to them to really give us an even better restaurant to come home to. However, putting everything back together took A LOT of work. We had new guidelines in every way we once operated. We have visible sanitation stations, mask requirements, distancing between all our tables. We have Plexiglas dividers in high-traffic areas, arrows on the floors, strict designated bussers, outside hostess, and no bar top seating. Yes, you read that—no bar top seating. It's weird folks!
BBM: How have you observed the bar industry changing in the wake of the COVID-19 pandemic? How will the customer experience change as bars reopen and patrons return?
LMJ: As of today, I would say it has shifted the bar industry. Things are changing every day, and there is hope that it will go back to "normal," but let me tell you what it is like now. My bar top is blocked off by Plexiglas. We have pushed three four-top tables up to the bar so I can at least have some guests. I wear a mask my entire shift. The first night we opened the doors, I experienced so many emotions I felt like I was on a roller coaster. A guest cannot enter the restaurant until a hostess has a table waiting for them. You can't just walk up to the bar to order a drink. We took out over half our tables, it looks so bare even when we are full. In the beginning, I felt so many roadblocks on how to make the guest feel OK.
I really had to take a step back and think about the guest. No, I may not be able to offer them the perfect craft cocktail of their dreams right now, but I have lime juice, agave, and tequila. I will make the best damn margarita. No, I may not be able to tell all my funny jokes and entertain them like I used to, but I CAN dance it up and have fun behind that Plexiglas!
It's a different way to dine out, but at the core, our passion for hospitality is the same. A friend told me, "Everyone is having to learn a new way of interaction. Everyone is re-learning how to live. Bartending is based on loving human interaction, being able to read people, and then adapt to their current mindset. That includes the good and the bad. It's the same just now with roaming eyes…under a mask…6 feet away…" Ha!
BBM: Do you have any advice or words of encouragement for bar staff during these challenging times?
LMJ: Where do I start? First of all, inform yourself on all the new rules and regulations. Returning staff is going to have a TON of questions. Nobody knew the answer to the endless laundry list of questions. Some of them have unemployment, some of them don't. Some of them will want to return, some of them will be scared. There can not be any judgments, but we obviously must reopen. Every area has different rules; educate yourselves to keep your staff and guests safe.
Second, TRAINING! Take the time to instill confidence in your staff by giving them the knowledge on how to operate. In my personal experience, my store closed, I didn't hear much, and then BOOM we are opening in 24 hours! As excited as I was, I will admit, I was scared. My confidence was shaken. I didn't know how to operate in this new world. How am I going to make enough money without a bar top? How can I execute super crafty cocktails with all these restrictions? How do I lead a team when I have no answers? How can I…be me?
And then I took a deep breath. I think in these challenging times, you really have to lean on your team. You have to communicate, get creative, and work together. Allow yourself to hit that roadblock, then move on. There is always a way. It's why we are in this business. It's unpredictable, keeps us on our toes, and feeds our souls like no other!
Finally, third, buy LOTS of sanitizer.
BBM: Can you share a great at-home cocktail recipe with our readers?
One of my favorite cocktails to make at home!
Blackberry Bourbon Infusion
Ingredients:
2 oz. Blackberry Bourbon (see directions for infusion, below)
Squeeze of Lemon Wedge
3/4 oz. Apple Cider
Directions:
To infuse the bourbon, thaw 1 pint of frozen blackberries. Add to 1 bottle of bourbon. Let sit for 48 hours. Strain (Pro-Tip: Eat the Blackberries! Refrigerate leftovers.) For the cocktail, add ice. Shake and pour into glass. Top with ginger beer. Garnish with a mint sprig.
Interested in learning more from Lisamarie Joyce? Email her at

[email protected]