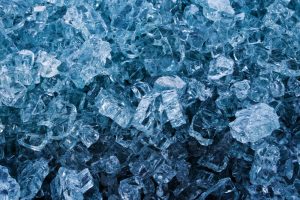 You may not spend much time thinking about your ice machine. It may sit in a back room, producing hundreds, even thousands of pounds of ice every day. This ice consumed by nearly every patron who orders a blended margarita, a craft cocktail, or simply a glass of water. It's a critical part of your business, and at Manitowoc Ice, we feel a deep responsibility to you, and to your customers, to design and manufacture ice machines with food safety and sanitation at their core.
A Sanitation System
At Manitowoc, we think of sanitation features working together in a system – each supporting the other to elevate the overall performance. A key part of this system is the hinged door on the Indigo® NXT. These hinges not only make servicing the machine easier, but when the operator is accessing the machine the door is not set on a dirty floor or a dusty shelf where it can be directly exposed to contamination. Cleaning and sanitizing instructions are also located on the inside of the door, easily viewed for anyone servicing the machine.
With the door open, you'll see that the plastics in the foodzone, the area where ice is made, have rounded corners. Rounded corners allow thorough access to wipe down the machine and prevent buildup from occurring in tight corners or along sharp edges. You'll also notice that the plastics are white, a design feature that allows the user to easily identify bacteria growth and contaminants. What you can't see is that the plastics are also treated with AlphaSan®, an antimicrobial agent that works to inhibit the growth of bacteria. One quick note: even though it's not part of the machine design, Manitowoc Sanitizer can be diluted and used as a disinfectant spray during regular wipe downs. This product meets EPA criteria for use against SARS-CoV-2, the cause of COVID-19, and can be used as a general cleaning agent when used as directed.

You'll also see one of the most important features of many Manitowoc ice machine models, the front-facing evaporator. The evaporator is the heart of the ice machine. The place where water freezes into clear cubes. This design feature has numerous benefits, the most notable of which is the ability to safely and easily inspect the evaporator without removing a top panel and peering down at the evaporator from above. In operations with limited space and ceiling heights it may be difficult to effectively clean this critical part of the machine.
Speaking of systems Manitowoc designs, machines with easy-to-use, automated cleaning systems built in. From "one-touch" cleaning on the Neo® undercounter, to the interactive and intuitive display on the Indigo NXT, Manitowoc ice machines are designed to take the complications and guesswork out of cleaning, allowing you to focus on your customers.
Next Level Sanitation
Available as an optional accessory, LuminIce® II is designed to be seamlessly integrated into Neo® and Indigo NXT ice machines. LuminIce II is an ultraviolet light-based sanitation solution that subjects air to certain spectrums of UV light. This light (254 nm) destroys the molecular bonds of the DNA of viruses and bacteria present in the air.   The LuminIce II product then treats the air with a 185 nm wavelength light to create "active air," which inhibits the growth of bacteria and coronavirus throughout the entire machine.
Sanitation by Design
You may not spend much time thinking about your ice machine, but we do. The reality is that when it comes to sanitation, one gadget isn't enough, you need to incorporate sanitation into the design of the machine – a hinged door, front-facing evaporator, rounded corners. In other words, a system to keep ice machines safe. At Manitowoc, we are committed to designing ice machines that support your business and keep your customers safe.