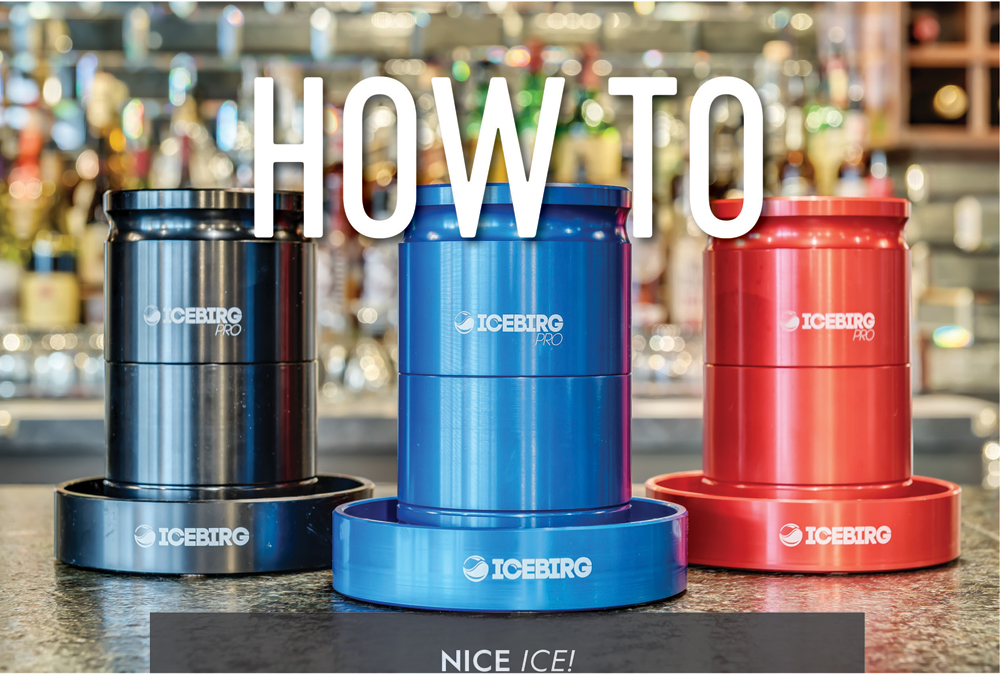 Two manufacturers help you elevate your cocktails with quality ice.
By Ashley Bray
When shopping for a diamond, the three C's—cut, clarity, and color—are the factors consumers look for. The same characteristics can be applied to ice as bartenders and guests search for ice that is clear, unclouded, and the right shape and size. Within the craft cocktail movement, ice has ascended in value.
"People expect more from their cocktail experience these days, and the moment someone has experienced high-quality craft ice, they desire nothing less," says Andrew Allsbury, Chief Executive Officer of ICEBIRG, a manufacturer that offers an ice ball press and an in-freezer ice system. "Comparatively speaking, craft ice is one of the least expensive ways to elevate the cocktail experience and raise your return on investment for each sale. For many craft cocktail conn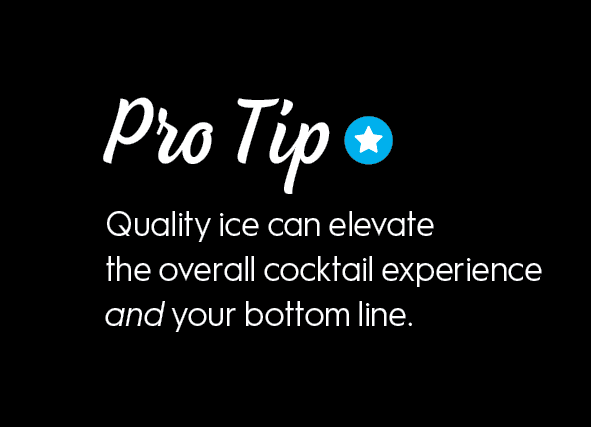 oisseurs and enthusiasts, they will not order much more than a beer if they see that your ice is not clear, large, or geometrically perfect. The bars that fail to implement high-quality craft ice are going to rather quickly begin seeing a decline in their higher-end pours and cocktails, if they haven't already."
To achieve "craft ice," many bars cut and work with block ice themselves using a series of tools. But block ice can be difficult to work with and isn't for every bar. Luckily, there are other solutions.
Allsbury started ICEBIRG after seeing an ice press in action and being moved to find a more efficient and cost-effective method. "It seemed like a tool that could be redesigned to be both more efficient and less expensive for the customer," he says. "Also I knew it had the potential to evolve not just into a single tool but into an entire eco-system of tools meant to enhance the craft beverage experience."
Today, ICEBIRG offers a way to make perfect ice spheres with its Ice Ball Presses as well as clear slugs of ice through its PURUS Clear Ice System.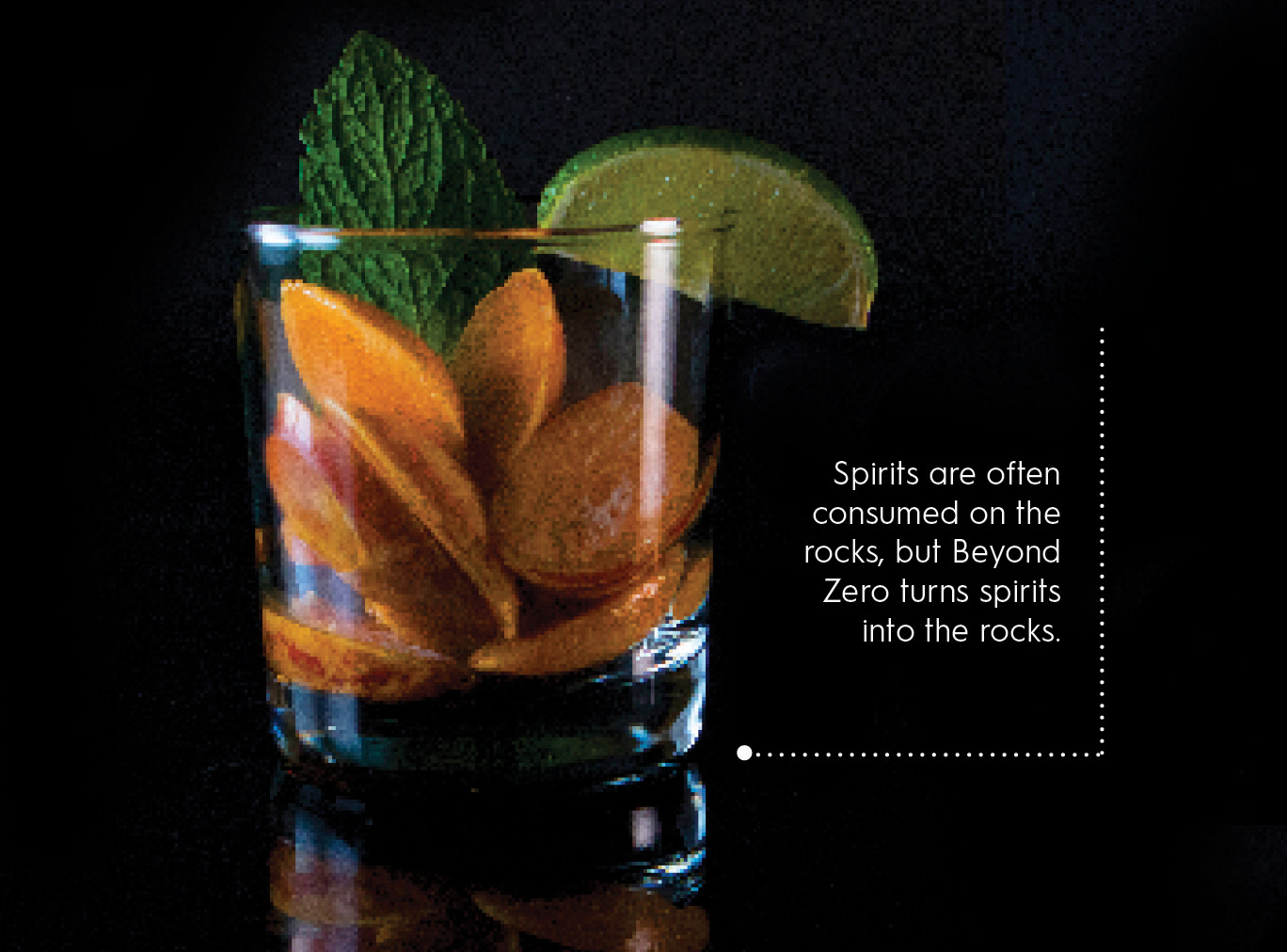 The ICEBIRG Ice Ball Press works by harnessing the natural properties of thermal transfer and gravity. "In simple terms, aluminum and copper are both heavy, highly conductive metals, meaning they pass along energy very efficiently—whether it be heat or electricity," says Allsbury. "So when you put your large slug or block of ice into one of our presses, a combination of the weight and the transfer of the aluminum's heat rapidly melt the catalyst into the perfect shape for consumption."
The company offers four models of the Ice Ball Press—the Lite, Pro, Elite, and Modular unit—and Allsbury says many bars opt for two to three presses for the highest efficiency. "We came into this business knowing that every person and establishment has different budget restrictions. This led us to create a vast ecosystem of products at different price points to make sure every customer could order exactly what they need," says Allsbury. "All of our models will produce the perfect ice sphere—the choice is simply how fast, cool, and convenient you want that process to be."
ICEBIRG has many new rollouts planned for its presses this year, starting with a special price on PRO upgrade inserts for existing machines. "This insert slightly flattens one side of your Ice Ball and embosses the logo or icon of your choosing into the sphere," says Allsbury.
Due to customer demand, the company will also launch an affordable Diamond PRO model press designed to produce an eight-faceted, 2.5-inch ice diamond.
ICEBIRG's PURUS Clear Ice System works similarly to its press. "It forces the water to freeze in a downward direction, slowly in your freezer. This allows the ice to continuously push out all of the gasses and impurities, making for 90-100% perfect ice slugs," says Allsbury. The slugs can be used as is or formed into shapes utilizing your Ice Ball Press.
This system is available in PURUS1 and PURUS PRO models, depending on the volume a bar is planning for and the configuration of its freezer. This year, ICEBIRG will release a space-saving redesign of the PURUS1 system called the BALLISTIC PURUS1, which will have a 35% smaller footprint in the freezer and a more efficient final slug size.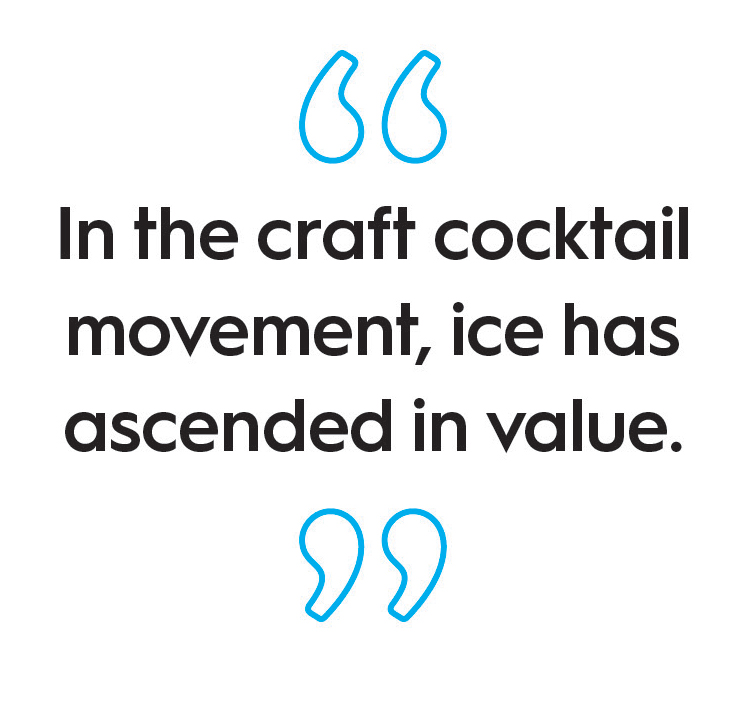 Quality ice can elevate the cocktail experience, but will it also elevate your bottom line? Allsbury says yes, and that when his company's products are utilized correctly, bars see a 20-40% increase in high-end liquor sales. Presentation is everything, and the key is being sure the press is on the bar where customers can see it.
"The pressing 'show,' as we describe it, adds an element to the experience of drinking whiskey [and other spirits] that has always been lacking," he says. "Regular 'rocks' or bar chip ice are often very small, jagged, often foul-tasting pieces of ice. These melt rapidly—both destroying the subtle flavors of the beverage/whiskey and keeping your customer sipping on water for far longer than they should.
"Our 2.5-inch ice spheres melt incredibly slow and even, generally only melting enough in one pour to perfectly cool the beverage and activate the desired flavors."
Watered down drinks is what propelled CEO Jason Sherman to create Beyond Zero, a company that creates machines that turn the liquor into ice.
"Regular ice waters down drinks to cool them, and you're left with a flavor profile not intended or different from what is expected," says Sherman. "Most spirits consumed on the rocks are good—but when it is the rocks it's much better since the alcohol burn goes away, revealing the true underlying flavors."
Beyond Zero is a two-part process that starts with the countertop Ice Maker, which is operated via an easy-to-use touchscreen interface. "The Ice Maker freezes one ounce every four to six minutes for most 80-90-proof base spirits like vodka, tequila, bourbon, whiskey, rum, scotch, and gin. It also freezes wine in about three minutes," says Sherman, who notes the machine can freeze liquor up to 120 proof and even mixed cocktails. "The machine's technology pumps directly from a liquor bottle and measures each cube to accurately make .25 ounce cubes so that four cubes equal one-ounce of spirits."
Once the liquor cubes are made, they are stored in the Ice Storage machine, which holds 160 cubes or 25-40 servings depending on the number of cubes in each drink. The cubes will last indefinitely in the storage unit. Sherman says depending on a bar's volume, it may need one maker and two storage units. He plans to make a high-volume machine for large-scale venues in the future.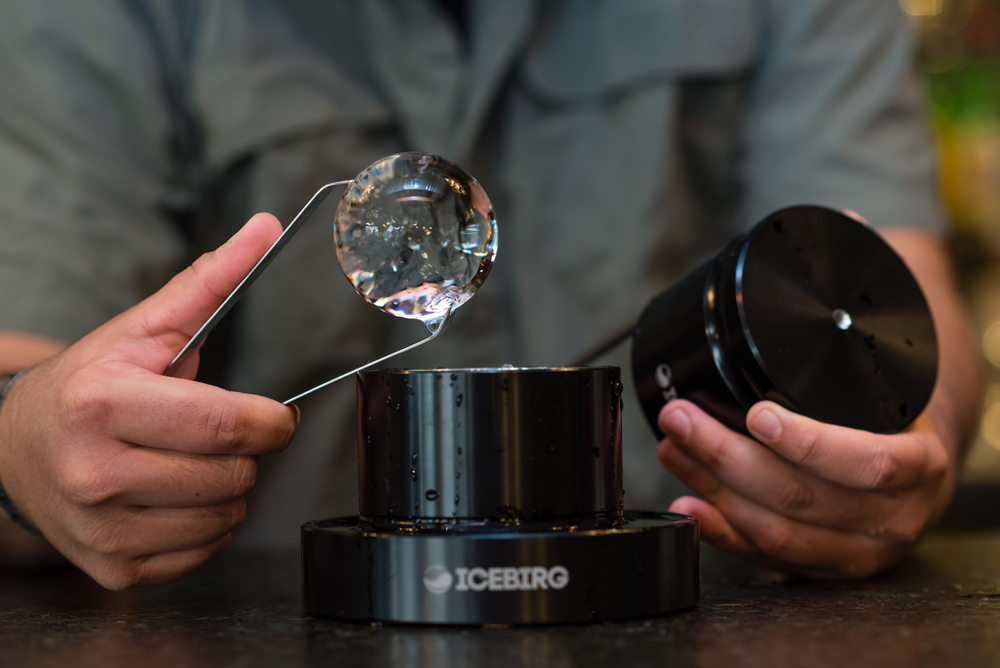 Leasing and financing plans are available, and Sherman says bars can easily add to their bottom line with the machines, "With just 15 drinks per day at six cubes per drink, you have a three-month payback period at $10/drink with $2.50 drink cost. Selling cocktails with cubes at a luxury price point, say $18, would result in $195,000 in sales at 30 drinks/day."
Sherman also suggests developing a signature drink using the liquor cubes. "Simply replace the liquor count with liquor ice as the ingredient. Since liquor ice is so cold, it makes for a great presentation when pouring a mixer or additional spirit over the ice because it gives a cool smoke effect," he says. "We really enjoy making wine spritzers and champagne-based cubes that still bubble after being frozen."
The liquor cubes also allow bartenders to get creative and make things like "progressive cocktails." "Imagine a mixology program creating cocktails that start out as one drink and change into another. Make a Manhattan transform into an Old Fashioned or take a Dry Martini into a Cosmopolitan," says Sherman. "Another cool feature we have been experimenting with is beer cocktails where we add different liquor ice into
a beer, like a boilermaker."
---
Bars See Sales Spike with New Gelatin-Shot Automation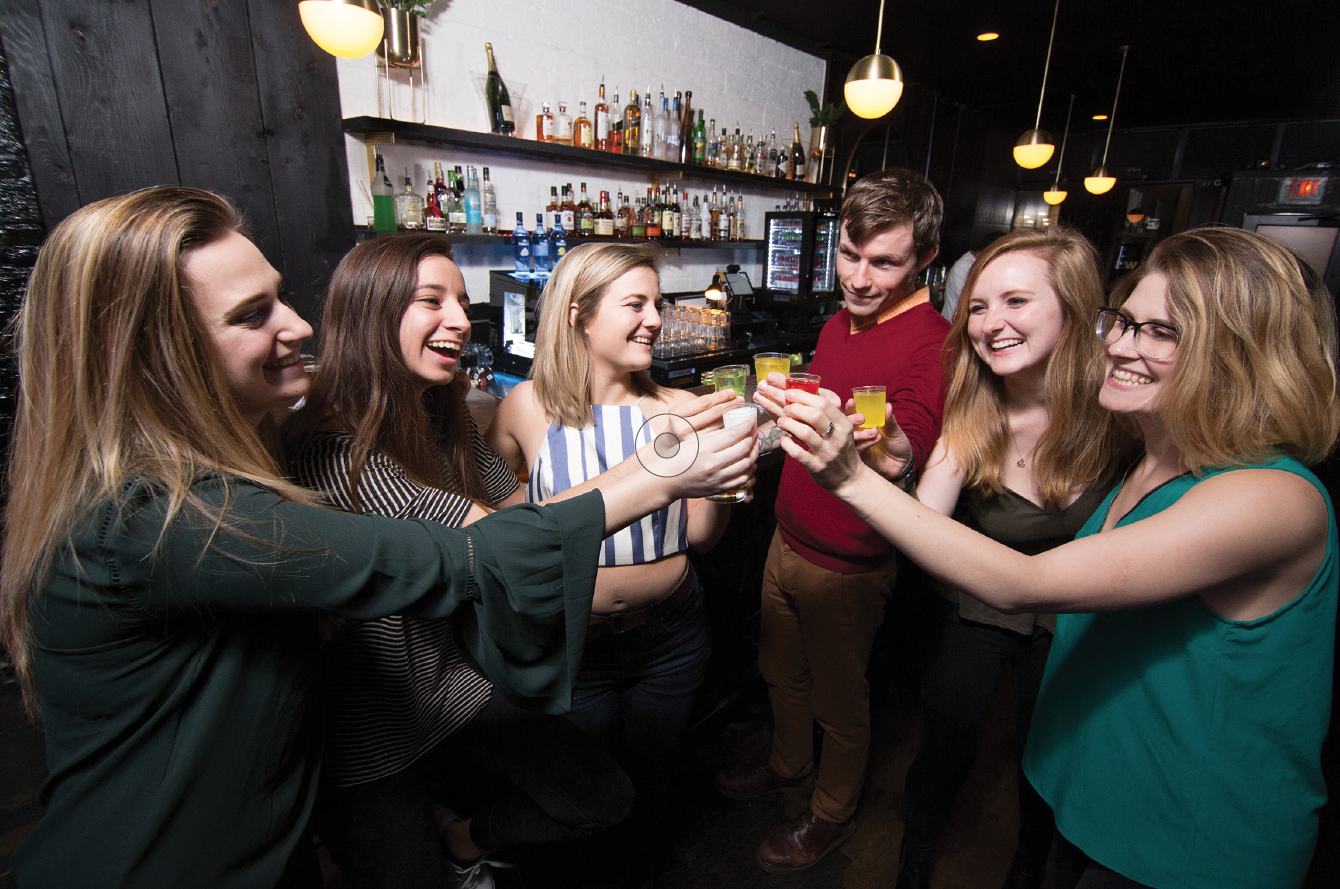 The food and beverage universe might be in for, well, a "jevolution."
More than an original innovation, the Jevo gelatin shot maker is proving something every back bar operator and restaurateur knows too well: Doing things quicker means little if it's not helping you make a profit.
"I don't say this lightly, but having a Jevo machine has transformed how we think of gelatin shots," says Steve Ford, General Manager of Nashville's Winners and Losers. "Where past methods questioned its cost-benefit significance, Jevo changes all that."
The Jevo machine may be small, but it's making a big difference. Not much bigger than a CRT computer monitor, it's designed to be displayed and accessible. It dependably pumps out up to 300 gelatin shots per hour without fuss, making it impervious to the frenzy of peak times.
The people behind the Jevo maker — Portland, Oregon-based Food & Beverage Innovations, LLC (F+BI) — are proud of the machine's consistency and reliability, but equally quick to emphasize how their Jevo machine does so much more than streamline the preparation of great-tasting gelatin shots.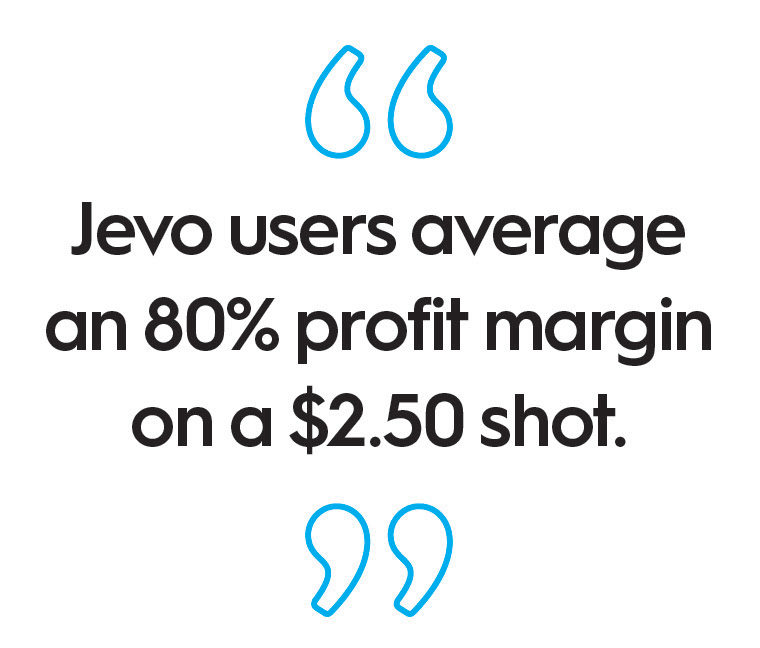 "It gives bars another way to add value and impact the bottom line," says F+BI CEO and Co-Founder Jeff Jetton. "Not only is Jevo based on eliminating the four- to five-hour hassle and mess of handmade gelatin shots, but its technology helps manage and streamline the entire operation and ownership. Everything from the way the machine eliminates cleanup, stays stocked with supplies, tracks profitability, and so on."
Ford agrees. "They think through every detail," he says. "As a solution
to reinvent how gelatin shots create revenue, Jevo is a game changer. There's something about the dependability of making something customers love — a big deal by itself — but then there's also a cool fun factor, which translates into a multiplier effect."
Beyond the "Keurig of gelatin shots"
From the time F+BI unveiled its Jevo machine only a year ago, industry observers were comparing it to the Keurig coffee brewing system. The parallels are about the convenience. With the Jevo maker, someone on the bar staff inserts a Jevo flavor pod into the machine, adds their liquor, and presses go. This way, they're making hundreds of shots in minutes.
The Jevo machine precisely controls the pour and calibrates the amount of spirit per shot. And because flavor pods get automatically re-stocked only when they're needed, the auto-replenishment feature is good for limited storage space and cash flow.      
Jevo customers average about an 80% profit margin on a $2.50 shot. That's the sort of profitability, Jetton points out, for customers to generate enough revenue to pay for their Jevo maker in a matter of weeks.
"In simple terms, Jevo ownership provides steady incremental revenue," says Jetton. "A case of 30 flavor pods brings our customers an average of $1,800 in sales."
Raising bars across major markets
Jevo makers are currently serving shots across major markets in 22 states—plus on the open sea if you count the Royal Caribbean cruise line. F+BI's expanding list of customers includes Live Nation, Circus Circus Las Vegas, MGM Grand, Luxor Las Vegas, New York New York, The Mirage, Hard Rock Hotel & Casino, Tilted Kilt, and Señor Frog's.
"Our gelatin shot sales are night and day since Jevo," says Tim Ryll, Beverage Director of Chicago-based Four Corners Tavern Group. "It's a no-brainer that equals bigger check averages, happy guests, and a ton of Instagrams, Snaps, and all the other social media '90s kids love."
And Millennials aren't the only ones gobbling up Jevo shots. While sports bars, bowling alleys, and stadiums tend to skew toward under-35 crowds, Royal Caribbean and Holiday Inn — with their Gen Xers and baby boomers — are proving a Jevo shot knows no demographical boundaries.
"We support our customers in every way we can, which includes understanding our customers' brand and the consumers they serve," says F+BI Co-Founder and Vice President of Business Development Tyler Williams. "We're more than ready to customize marketing collateral for those who ask. We also try out different recipes all the time to make sure we're sharing the best possible information with our customers."
Nashville's Ford attests: "Once bar operators see it in action, there's no turning back. For anyone who's had to make shots the old way, I can't think of an easier business decision."
Attendees at the National Restaurant Association (NRA) Show in Chicago, May 19-22, will get to see for themselves. An F+BI team will be taking part so bar and restaurant professionals can experience Jevo in action.
The biggest draw at the Jevo booth? "Tasting!" says Williams. "We can talk about revenue and convenience till we're blue in the face, but if a product doesn't taste good, forget it.
"Fortunately, taste matters—and I've lost track of how many people have asked if they can get a Jevo for their house."
Flavors and more flavors
Developed in partnership with Illinois-based Jel Sert Co., Jevo currently offers 10 flavors, everything from cherry, lime, and watermelon to piña colada, plus an unflavored gelatin, formulated to feature the flavors of spirits and mixers.
"We'll always be introducing new flavors. The idea is that combinations are unlimited and up to the user's imagination," says Jetton. He also hints at ongoing innovations to give Jevo users even more creative flexibility.
"Our next major software update rolls out this month," he says. "Our vision is to give bar staff even more freedom to develop versions of their own signature cocktails."
Global patents have been granted for Jevo, says Jetton, which is a testament to F+BI's attention to product development.
"Our design engineers can't pick their favorite feature because it's such a 'sum is greater than its parts' system," explains Jetton. "Fact is, we only get excited when our customers get excited."
But will we one day see Jevo makers for the home?
"The question is when," says Jetton. "The jevolution is just starting."
For Jevo—and its customers—the future looks bright.
Interested in more content like this? Click here for a free subscription to our monthly magazine.