Delivering Streamlined Operations, Responsive Hospitality, and Maximum Excitement to Your Patrons


VeeaHub™
VeeaHub is "The Little Box That Can."
Automatic failover with 4G Internet services
Social games at the table
Private and public WiFi with multiple SSIDs
Streaming content (e.g., live local or national games)
Cached content (e.g., replay of classic games)
Social jukebox with voting
Turn your screens into digital signage
Ad revenue opportunities
Monitor & track staff conformance with surveillance cameras and video analytics
Multi-site private video staff training

Monitor & control HVAC, lighting, refrigeration, and more

IoT Firewall & Wide-Range of Security Applications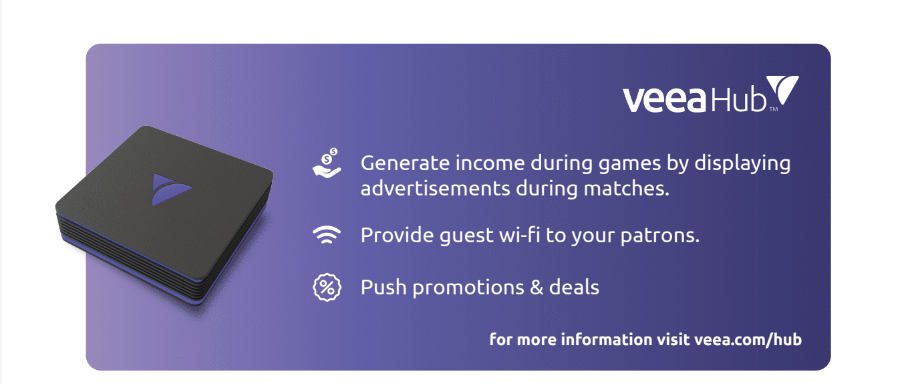 ---
Make Perfectly Clear
Ice in Your Own Freezer
True Cubes®
True Cubes® is a patented ice cube tray that makes perfectly clear ice cubes with no hassle that can be made simply and easily in any freezer with tap water. By mimicking nature, which freezes water naturally into crystal clear ice, True Cubes offers a simple solution to an age-old issue with grace and sophistication. With no special water, gadgets, tools, or additives required, True Cubes makes it as easy as turning on the tap to make crystal clear ice. Recently, the company engaged with an independent water testing lab to test the quality and purity of the tray's ice cubes. A sample of typical tap water tested with a total dissolved solids (TDS) of 190 ppm. After freezing the same tap water with True Cubes, the TDS of the melted cubes was reduced to a value of 4.5 ppm – a 98% reduction in TDS, thus rending an almost pure ice cube.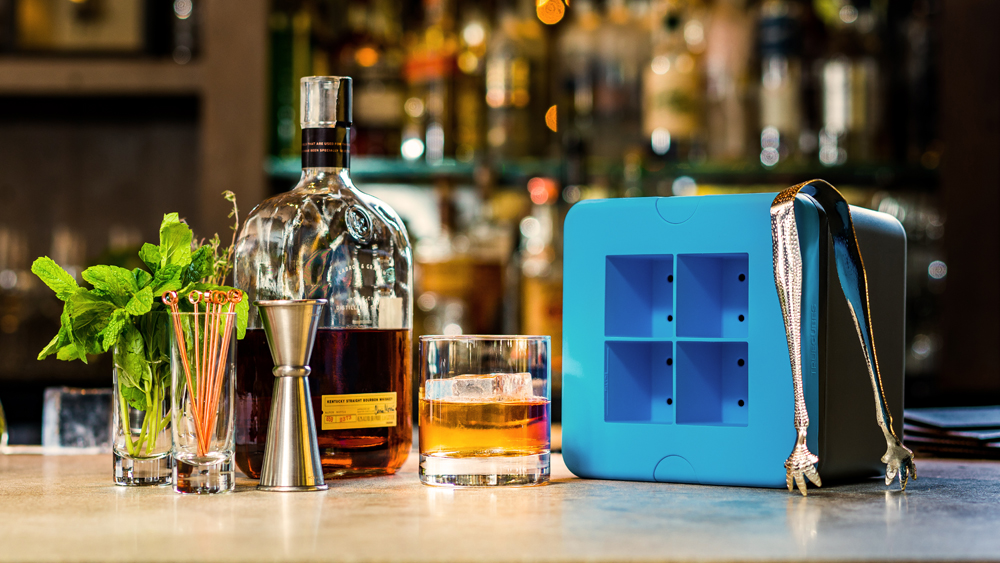 ---
Three Spirits as Unique as Their Packaging


John Drew Brands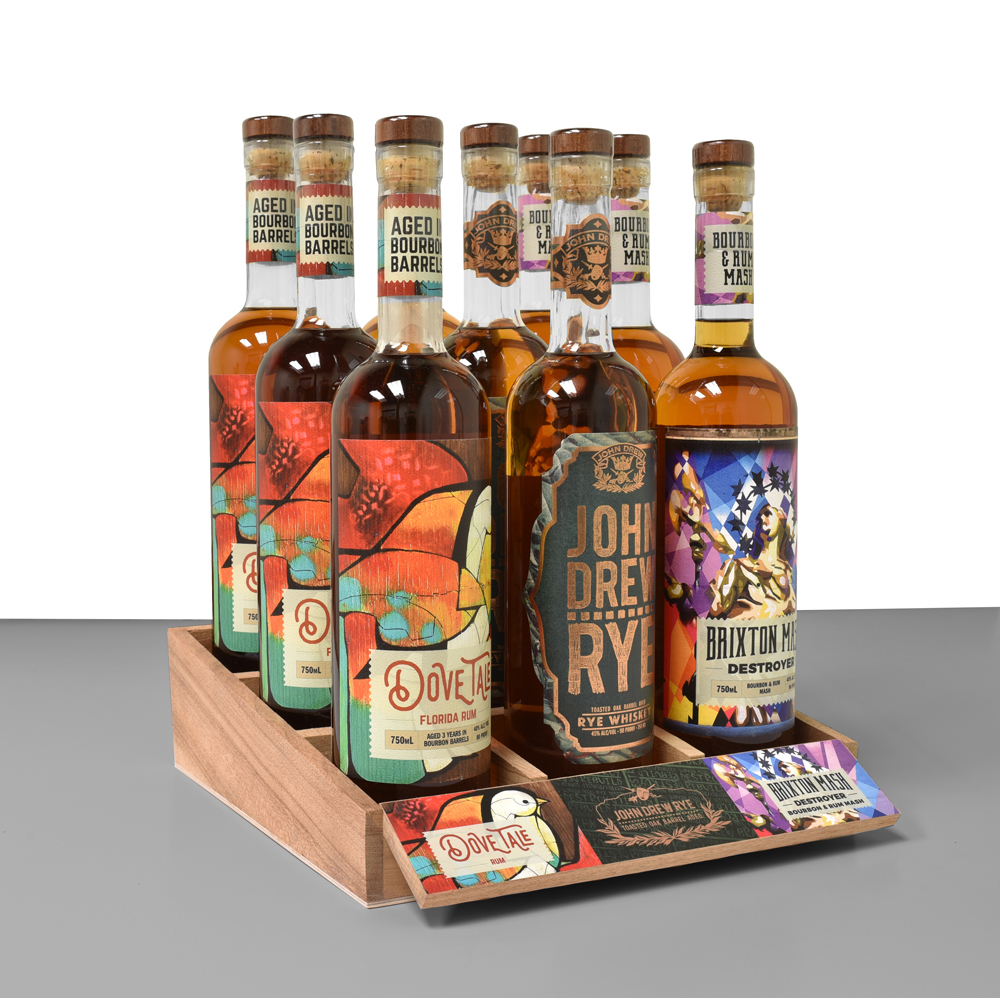 John Drew Brands offers a portfolio of three spirits: Brixton Mash Destroyer, Dove Tale Rum, and John Drew Rye. The Brixton Mash Destroyer is a unique mash-up of Kentucky Bourbon with Florida Dark Rum. The 90-proof spirit creates a new category of spirits and taste profiles. Dove Tail Rum is 80-proof, 100% Florida Rum made from Florida sugarcane black strap molasses and matured in bourbon barrels. It has tasting notes of caramel, nougat, and vanilla. John Drew Rye is a Canadian Rye aged in toasted oak barrels for a smooth, mellow rye with a full-bodied complexity. The rye was blended to reflect Founder Jonathan Drew's distinctive palate. All three expressions come in bottles with eye-catching labels designed by artists—meaning these selections will have no problem standing out
on your backbar.
---
Create an Immersive




Experience in Your Bar


Epson LightScene™
Epson, the number-one selling projector brand worldwide, announced LightScene™, a new category of accent lighting laser projectors. LightScene is designed to simultaneously illuminate and project dynamic content on virtually any surface or material to engage audiences and provide an immersive experience for commercial signage applications in markets such as retail and hospitality. Two models are available: LightScene EV-100 in white and LightScene EV-105 in black. The laser projectors blend in discreetly and offer an array of configuration, mounting, and programming options. "Consumers crave memorable and engaging experiences. Display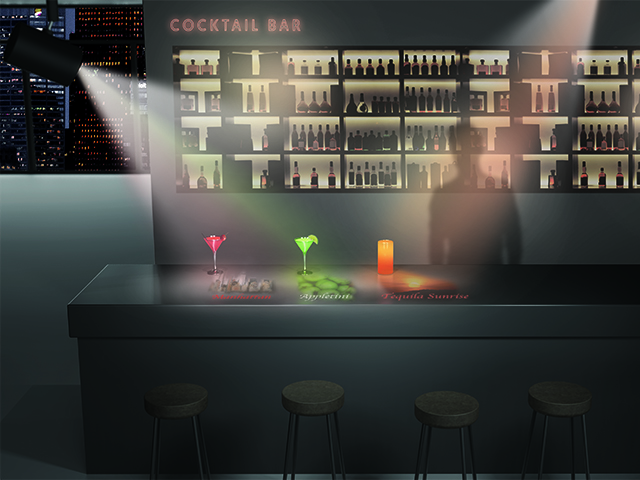 technology is changing the way consumers interact with brands and products," said Remi Del Mar, senior product manager, Epson America. "The new LightScene laser projector category will provide solutions to businesses creating captivating, immersive environments to engage customers with their product or brand, without impacting the overall atmosphere." 
---
The Spirit of


Defiance Lives On


Stillhouse Black Bourbon
Stillhouse Spirits Co., renowned for its unbreakable stainless steel can and award-winning whiskey, announces their first release of Stillhouse Black Bourbon—the first-ever bourbon rested and mellowed in roasted small batch coffee beans. Stillhouse Black Bourbon is a blend of corn, rye, barley, and limestone water, distilled to perfection, barreled in charred new American Oak barrels before being charcoal filtered, then rested and mellowed in roasted small batch coffee beans. The combination of the bold coffee beans and richness of the charred barrels results in soft aromatic notes of caramel and coffee, with a distinctly balanced body and a remarkably smooth finish. Stillhouse Black Bourbon is encased in a matte black can fitted with a heavy-duty solid steel cap.
---
Custom Shot-boards
Best Shot of the Day Shot-boards
Our shot-boards are handcrafted in the USA. We use real wood for that unique look and durability. Each product is laminated to prevent scratching and is waterproof, booze-proof, and rot-proof. Each shot-board comes with four extremely strong magnets secured inside predrilled holes to secure each shot. Also included are four magnetized shot glasses—simply slide on and off with ease. The boards mea
sure 67-inches-by-3.5 inches. Each shot-board comes with a hanger to hang as décor when not in use. Customize the boards with your bar, nightclub, liquor brand, or resort in many different styles. We offer rustic, modern, and glitter, which is perfect for the ladies. We can even customize with specific colors.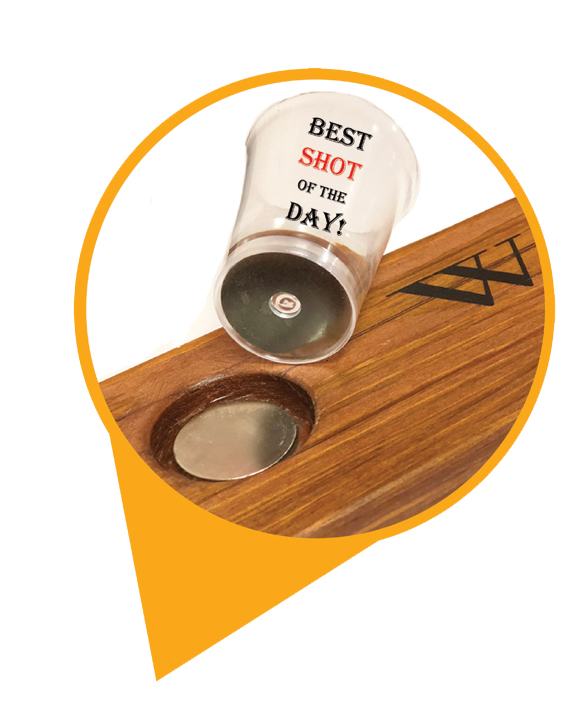 (See custom shot-boards.) Simply email us the art or description of what you would like. Our shot-boards not only significantly increase your liquor revenue, but can also be sold to patrons. For wholesale inquiries and special quantity pricing, call 877-241-6134.

Interested in more content like this? Click here for a free subscription to our monthly magazine.