Summer has officially arrived, and with pandemic restrictions lifted and good weather now here, everyone is looking to take advantage of the chance to socialize.
Make sure you have some summer cocktail recipes on your menu to celebrate the season.
VE.N.TO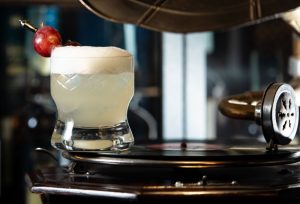 Ingredients:
45 ML GRAPPA NARDINI
22.5 ML freshly squeezed lemon juice
15 ML HONEY MIX (chamomile base)
15 ML chamomile cordial
10 ML egg white (optional)
Directions:
Mix all ingredients and strain into rocks glass.
Tanteo Tequila Jalapeno Spicy Watermelon Margarita
Ingredients: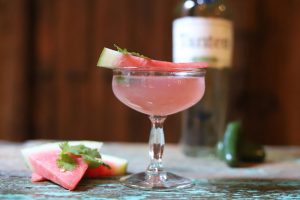 2 oz. Tanteo Jalapeño Tequila
1/2 oz. Domaine De Canton
1 oz. Fresh Watermelon
1/2 oz. Lime Juice
1/4 oz. Agave Nectar
Directions:
Combine ingredients in a shaker with ice. Shake well and strain into an ice-filled rocks glass. Garnish with watermelon slice.
Summer Sangria
Ingredients: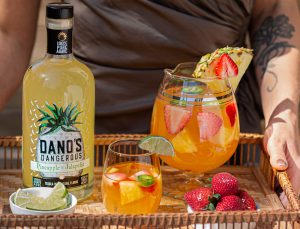 1 Bottle Rose Wine
4 oz Dano's Pineapple & Jalapeno Tequila
3 oz Triple Sec
3 oz Lime Juice
8 oz Orange Juice
Directions:
Chill wine, then combine all ingredients in a pitcher. Add fresh fruit like strawberries, pineapple, and lime wedges. Include jalapeño slices for extra spice. Serve over ice. Makes 4-6 servings.
CC Special Tea
Ingredients: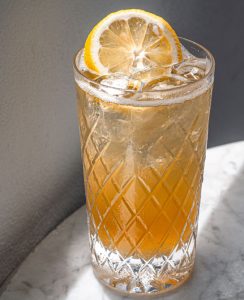 2oz Coconut Cartel
3oz Steeped Green Tea
.25oz Honey Water
Topped with Prosecco
Lemon zest
Directions:
Build in a highball glass, top with Prosecco and garnish with a lemon wheel.
Boozy Firefly Punch (serves 4)
Ingredients: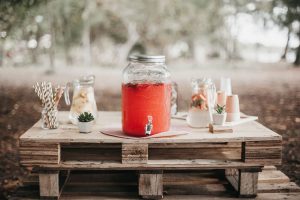 1 cup Lemonade Vodka
1/2 cup Cherry Moonshine
12 oz. frozen lemonade concentrate
Directions:
Combine ingredients in a pitcher and add a generous splash of lemon or cherry soda. Stir together and garnish with sliced lemons, frozen cherries, or any frozen berry of your choice.
Noah's Ark by ZIZI NYC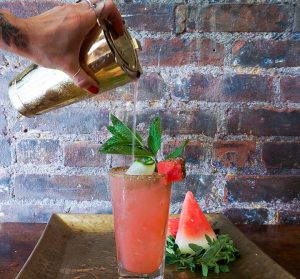 Ingredients:
1.75 oz Zachlawi Dry Arak
0.25 oz Omhpiko Mastiha liquor
2 oz Fresh homemade watermelon juice
0.5 Lime
Cucumber strip
Watermelon cube
Mint
Zaatar salt rim
Directions:
1. Mix equal amounts of zaatar and salt in a shallow bowl.
2. Rub a watermelon cube around half the rim of a tall glass. Dip one side of the watermelon cube in the zaatar mix. Leave watermelon cube to the side.
3. Combine Arak, Mastiha liquor, watermelon juice, lime juice and a cup of ice in a shaker. Shake vigorously.
4. Strain over fresh ice into glass.
5. Garnish with a cucumber strip, fresh mint and the watermelon cube.
Recipe courtesy of ZIZI. Photo: Meital Pinhas/ZIZI NYC.
Blackberry

Mule
Ingredients: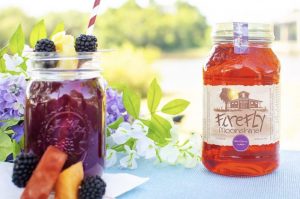 2 oz. Blackberry Moonshine
1/2 oz. freshly squeezed lime juice
5 oz. ginger beer
A handful of blackberries
Directions:
Using a cocktail shaker, add the blackberries and using a muddler, muddle the berries until well smashed. Add moonshine and lime juice; shake vigorously. Pour over ice and top with ginger beer.
BABE Frose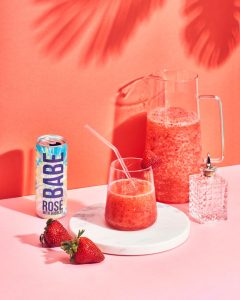 Ingredients:
4 Cans of BABE Rosé Tie Dye Cans
1/4 Cup Vodka
4 tbsp. Strawberry Simple Syrup:
1/2 Cup Water
1/2 Cup Sugar
1 Cup Finely Chopped Strawberries
Directions:
Pour the BABE Rosé into a gallon ziplock bag set inside a dish then freeze overnight (don't
be concerned if it's a little slushy.) To make the strawberry simple syrup: Combine water and sugar in a bowl and microwave until boiling, about 1 ½ minutes. Stir until sugar dissolves. Add the chopped strawberries and chill in the refrigerator overnight. Strain through a fine mesh sieve into another bowl then discard strawberry pieces.
Add the frozen BABE Rosé, vodka, and strawberry simple syrup to a blender then blend until smooth. Serve immediately. Makes 4 – 6 servings.
Recipe courtesy of BABE.