Award-winning mixologist Fanny Chu has crafted a cocktail with the team at Ketel One that is perfect for summer and Pride! Chu was the last head bartender of Donna, the beloved Williamsburg, New York cocktail club that shuttered in late 2020.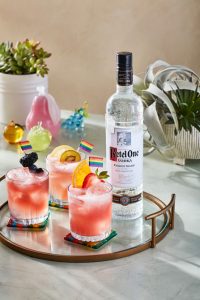 Ingredients:
1.5 oz Ketel One Vodka
.5 oz Blanc Vermouth
.5 oz Light Agave
.25 oz Fresh Lime juice
3-4 pieces of watermelon
Top with Mineral Water (like Topo Chico)
Directions:
Measure and pour everything but Mineral water , muddle watermelon pieces, add ice, seal shaker, shake, fine strain, and top with Mineral water.
Recipe courtesy of Fanny Chu.