We've scared up another round of Halloween cocktail recipes to get you through the weekend! If you missed the first batch, you find them here.
The Pumpkin Skrew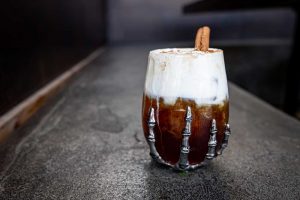 Ingredients:
1.5 oz Skrewball Peanut Butter Whiskey
.5 oz pumpkin syrup
3oz Bird rock cold brew coffee
1 oz layer of heavy cream
Pumpkin pie spice
Directions:
Mix Skrewball, pumpkin syrup and coffee in a glass. Then add heavy cream and top off with pumpkin pie spice.
Viejo Recuerdo
Ingredients: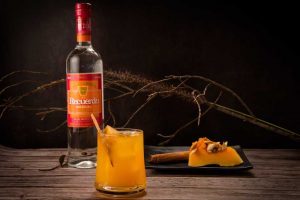 1.5 oz Recuerdo Mezcal Joven
1 oz Grand Marnier
2 Tablespoons pumpkin puree
1 oz cinnamon syrup (1 cup water, 1 cup sugar, 1-2 sticks cinnamon – break apart the cinnamon sticks and heat alongside the water and sugar to a gentle boil and reduce to a simmer for 1-2 minutes while stirring. Pull off the heat and allow to sit 30-60 minutes to infuse the cinnamon. Cool and strain the cinnamon.)
Directions:
Mix all ingredients in a shaker with ice then double strain into a chilled old-fashioned glass with ice. Garnish with a roasted pumpkin slice.
Pumpkin Paradise Cocktail
Ingredients: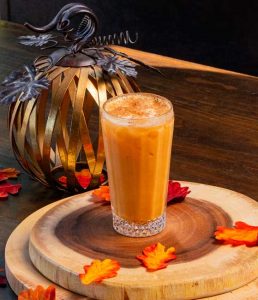 15 oz. can pumpkin purée
15oz can of cream of coconut
1.5 oz. Skrewball Peanut Butter Whiskey
.75 oz. Zaya Gran Reserva Rum
.5 oz. orange juice
.5 oz. pineapple Juice
.5 oz. pumpkin cream of coconut mix
2 dashes of vanilla extract
1 tsp. cinnamon
3/4 tsp. of nutmeg
3 tbsp. of sugar to taste
A dash powdered pumpkin spice
3 pineapple leaves
Directions:
Blend pumpkin purée and one cream of coconut together. Simply shake all the remaining ingredients together in a shaker with ice, pour into a cocktail glass and garnish with three pineapple top leaves and powdered pumpkin spice.
Zero-proof Bloodthirsty Mary
Ingredients: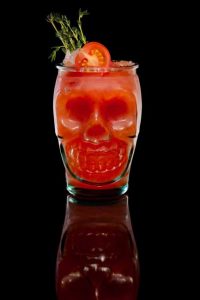 1/4 oz. The Perfect Purée Red Jalapeño Puree, thawed
5 oz. tomato juice
1/2 oz. soy sauce
1/2 oz. fresh lime juice
Dash of Maggi sauce
4 drops of sesame oil
Pinch of salt
Pinch of black pepper
Pinch of ginger powder
Directions:
Mix all ingredients then pour into glass with ice and salted rim. Garnish with red jalapeño, cherry tomato, celery, lime wheel, onion and toasted sesame seeds.
Recipe courtesy of Manny Hinojosa. Photo courtesy of The Perfect Purée .
Pumpkinhead Sour
Ingredients: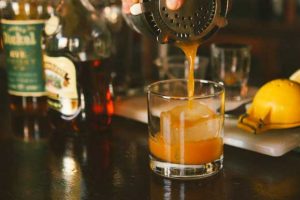 1.5oz Fresh Victor Lemon Sour
1.5 ounces rye whiskey
.5 ounces Jamaican rum (or any aged rum)
1 tablespoon pumpkin butter (from Trader Joe's, for example)
2 dashes Dale DeGroff's Pimento Bitters or Angostura Bitters
Nutmeg
Directions:
Add all ingredients in a mixing glass. Add ice to the brim. Shake vigorously for 10-15 seconds. Add ice in a rocks glass. Strain mixture over ice. Garnish with lemon twist and grated nutmeg.
Witches Blood
Ingredients: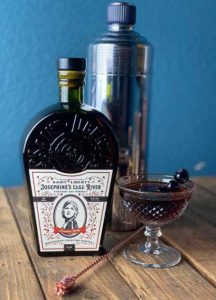 2 oz Josephine's Flathead River Rye Whiskey
1 oz Ramazzotti Amaro
1 dash bitters
1 brandied cherry for garnish
Directions:
Place ingredients into a cocktail mixing vessel with one large ice cube
Stir for 15 seconds until lightly chilled
Pour into coupe glass.
Butcherson's Grog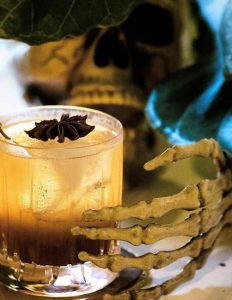 Ingredients:
2 oz. Rum
¼ oz. Velvet Falernum
Regatta Classic Ginger Beer
1 Heaping Barspoon of Apple Butter
Directions:
Vigorously Shake all ingredients together and strain into a rocks glass with ice. Top with Regatta Classic Ginger Beer and garnish with a star anise.
Spooky Green Fairy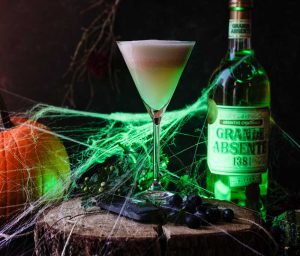 Ingredients:
2 oz Grande Absente | Absinthe Originale
1 oz black currant liqueur
1 oz mandarin or orange juice
1 oz heavy cream
Directions:
Place all ingredients in a blender with ice for 30 seconds and serve in an ice-cold glass.
Recipe courtesy of Absente.
Baileys Apple of My Chai
Ingredients: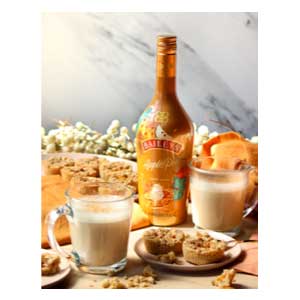 2 oz Baileys Apple Pie
6 oz Chai Tea
3/4 oz Café de Olla Syrup
2 Drops Cardamom Bitters
Grated nutmeg for garnish
Directions:
Using a tea kettle, bring water to a boil. Pour 6 oz of hot water into a toddy mug. Make tea by steeping tea bag in hot water for 5 minutes. Remove the tea bags. Measure and add remaining ingredients (except garnish) to your mug. Gently and carefully mix with a bar spoon. Top with a sprinkle of grated nutmeg.
Recipe courtesy of Baileys.
Recuerdo Apple Cider
Ingredients: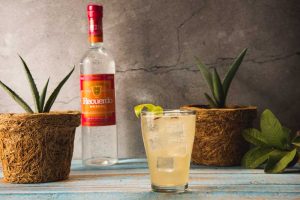 1.5 oz Recuerdo Mezcal con Gusano
2 orange slices
1 cinnamon stick
.75 oz simple syrup
Apple cider
Soda water
Directions:
In a shaker muddle the orange slices, cinnamon stick, and simple syrup then add the Recuerdo Mezcal, fill with ice and shake. Double strain into a highball with ice, fill with apple cider, and finish with a splash of soda. Garnish with a piece of the cinnamon stick.
Spooky Apple Punch
Ingredients: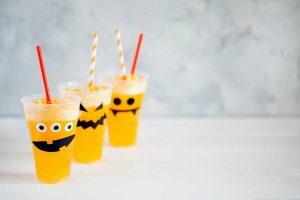 2 cups apple cider
2 cups Regatta Ginger Ale or Classic Ginger Beer
2 cups pineapple juice
Frozen maraschino cherry ice cubes*
Directions:
Combine apple cider, Regatta Ginger Ale (or Ginger Beer) and pineapple juice in a pitcher. Stir to combine. Serve over ice. In an ice tray, add maraschino cherry to each cube and cover with water or apple cider and freeze.
Bertie's Bloody Bash
Ingredients: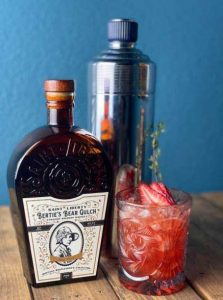 2 oz Bertie's Bear Gulch Bourbon
0.75 oz fresh lemon juice
0.75 oz thyme simple syrup
4 drops orange bitters
2 strawberries (sliced and muddled)
1 strawberry for garnish
1 sprig thyme for garnish
Directions:
In a cocktail shaker muddle strawberries. Add fresh lemon, thyme syrup, and whiskey along with ice. Shake well and strain over crushed ice. Garnish with a sliced strawberry and thyme (optional). To make thyme simple syrup, combine 1 cup granulated sugar, 1 cup very hot water and mix well. Place 1/4 cup fresh thyme into mixture. Allow to steep for 30 minutes. Double strain into a clean container. Will keep for 3 weeks in a cool environment.
SPOOQIURI
Ingredients: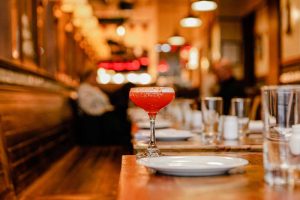 2 oz White Rum
1 oz Passoã
0.25 oz Simple Syrup
0.5 oz Lime Juice
Recipe courtesy of Passoã. Image courtesy of Jenna Murray)
Witches Brew
Ingredients: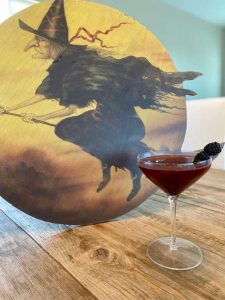 3 oz. Vegas Baby Vodka
2 oz. Lime Juice
.5 oz. Simple Syrup
5 – 6 Blackberries
Splash of club soda to top off
Directions:
Fill cocktail shaker with ice, Vegas Baby Vodka, lime juice and simple syrup. Muddle 4-5 blackberries in separate glass and add to cocktail shaker and shake. Pour into chilled coupe glass, top with club soda and garnish with remaining blackberries.