Halloween is this Saturday. Raise a glass to the season of spirits by mixing up one of the Halloween cocktail recipes below. You can find even more Halloween cocktail recipes here.
Dark Reviver
Ingredients:

1 oz. Corralejo Reposado Tequila
1⁄2 oz. Lemon Juice
1⁄2 oz. Orange Juice
3⁄4 oz. Aperol or Amaro Nonino or
Amaro Montenegro or Amaretto
1⁄4 Teaspoon Activated Charcoal Powder or 2 capsules—break capsule
Directions:
Combine all ingredients into a cocktail shaker and shake thoroughly, Hawthorne and fine strain into a coupe glass. Cut a thick orange peel. Light a match and express the orange peel oil into the flame over the cocktail. Then rim the glass with the freshly flamed peel. Place a freshly sliced orange twist on the edge of the glass.
Grave Digger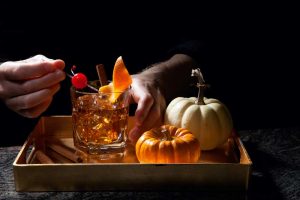 Ingredients:
2 oz. Hard cider
2 oz. Bourbon
2 oz. Regatta Classic Ginger Beer
Directions:
Combine cider and bourbon over ice in a glass. Top with Regatta Ginger Beer and garnish with an orange slice and maraschino cherry.
When In Doubt, Dress Like A Cat
Ingredients: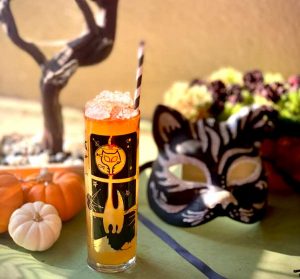 5 oz Widow Jane Bourbon
1 oz OM Meyer Lemon Liqueur
75 oz Frangelico
5 oz Liquid Alchemist Passionfruit syrup
2 oz Passionfruit juice
5 oz Lemon
Top with OM Dark Chocolate Sea Salt Liqueur Float
Directions:
Shake and pour over crushed ice in a highball glass.
Recipe courtesy of Claire Mallett, Catch One (Los Angeles).
Spooky Spritz
Ingredients: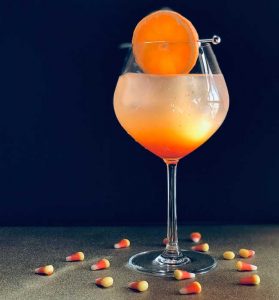 1 ounce OM Coconut & Lychee Liqueur
1 ounce Aperol
1 ounce mango juice
Directions:
Build in a steamed wine glass filled with ice. Top with soda water. Garnish with orange wheel. Decorate with candy corn!
Recipe courtesy of Ombassador Angela @ glitterbarcart (Santa Fe, NM).
Tanteo Morgue-rita
Ingredients: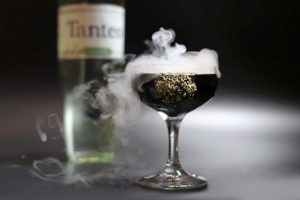 2 oz. Tanteo® Jalapeño Tequila
3/4 oz. Agave Nectar
1 oz. Fresh Lime Juice
1 Tbsp. Activated Charcoal Powder
Directions:
Add all the ingredients in a shaker. Shake well and pour into a Tanteo Jalapeno Salt rimmed, ice-filled Coupe Glass.
Green Zombie Punch
Ingredients: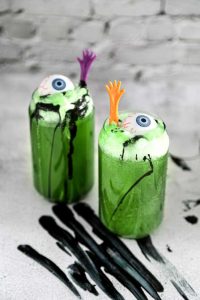 6 oz. Smirnoff No. 21 Vodka
22.4 oz. (2 bottles) Smirnoff Ice Green Apple
18 oz. green apple soda
1/2 gallon lime sherbet
1/4 tsp. black food color
2 tablespoons water
Candy eyeballs
Directions:
Pour Smirnoff No. 21 Vodka and two bottles of Smirnoff Ice Green Apple into a punch bowl and stir together until blended. Float scoops of lime sherbet on top of punch. Pour green apple soda over scoops to create foam. Mix food color and water. Drizzle foam with black food color mixture and garnish with candy eyeballs before serving. Variation: This can also be made without the sherbet and black spray, and with candy eyeballs on a skewer in each glass. Serves 4-6
Recipe courtesy of Smirnoff.
Fiery Fieri
Ingredients:
2 oz Santo Mezquila
1 oz Agave Nectar
1.5 oz Fresh Squeezed Lime Juice
0.5 oz Guy Fieri's Bourbon Brown Sugar BBQ Australian Aromatic Bitters
Garnish: Chipotle Chili Sugar Rim
Directions:
Rim 10oz glass with chipotle chili sugar blend, fill with ice and set aside. Fill mixing glass 2/3 with ice and add Mezquila, agave nectar, lime juice, BBQ sauce, and Australian bitters. Cap mixing glass with shaker tin and shake vigorously for 10-15 seconds. Strain contents from shaker tin into rimmed 10oz glass and serve.
Bloodhound
Ingredients:
1.5 oz. Balcones True Blue 100
1.25 oz. Blood Peach Puree
.5 oz. Ginger Puree
.5 oz. Lemon Juice
Directions:
Shake all ingredients with ice and strain. Serve over cocktail ice into a rocks or Collins glass and garnish with lemon curl.
Smoke, Mirrors and Colors 
Ingredients: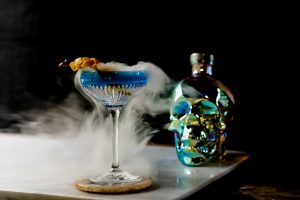 1.5 ounces of Crystal Head Aurora
1 ounce of dry vermouth
½ ounce of mezcal
Directions:
Add all ingredients to mixing glass; stir. Strain into a coupe glass. This cocktail has dry ice: use with caution and do not ingest.
Spooky Sips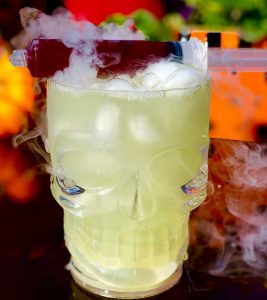 Ingredients:
2 oz. Tequila
3 oz. Raspberry Simple Syrup (boil fresh raspberries with simply syrup)
2 oz. Cucumber Juice
2 oz. Lime
Directions:
Topped with Taffer's Mixologist's Cucumber Jalapeno Sparkling Craft Cocktail. Muddled jalapeno if you're feeling spicy!
Recipe courtesy of Taffer's Mixologist x @frontporchcocktails 
The Redemption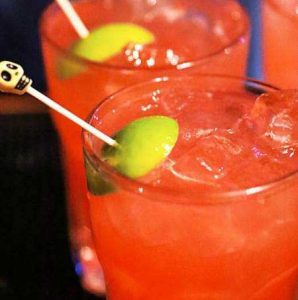 Ingredients:
2 oz. Santo Tequila Blanco
1/2 oz. PAMA Pomegranate Liqueur
1 oz. House-made fresh lemon sour
1 1/2 oz. Clementine and Peach flavored sparkling soda
1/2 oz. Blood orange soda (floater)
Directions:
Combine all ingredients but the blood orange soda in a shaker. Shake and strain over a tall rocks glass filled with ice. Add floater of blood orange soda. Garnished with a slice of blood orange on a skull skewer.
Krak-O-Lantern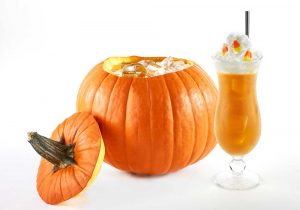 Ingredients:
1 part Kraken® Original
1/2 parts brown sugar and clove syrup*
1/2 part water
1/4 parts allspice dram
1/2 cup pumpkin puree
*Brown Sugar and Clove Syrup:
1. Make brown sugar and
clove syrup using 1:1 brown sugar to water.
2. Simmer with a handful
of cloves for 10 minutes.
3. Strain and allow to
cool.
FOR GARNISH:
Whipped cream, grated cinnamon, corned candy and/or cinnamon stick – optional
Directions:
Combine all ingredients in a pitcher. Stir thoroughly and pour the cocktail into a hollowed-out pumpkin. Ladle into glasses with ice and garnish with whipped cream, grated cinnamon, corned candy and/or cinnamon stick.
Passionate Souls Paloma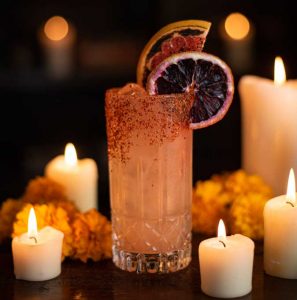 Ingredients:
1 1⁄2 oz. Corralejo Reposado Tequila
1⁄4 oz. Simple Syrup
3⁄4 oz. Lemon Juice
1 oz. Passion Fruit Pureé
5 Dashes Cayenne Tincture
3 Drops Angostura Bitters
Top with Grapefruit Soda or Grapefruit Beer
Rim with Tajín
Rocks Ice
Directions:
Combine all ingredients except for grapefruit beer into a cocktail shaker, shake thoroughly. Rim the Collins glass with Tajín, then add fresh rocks ice. Hawthorne and fine strain the cocktail over rocks in the glass, then top off the cocktail with grapefruit soda or grapefruit beer. Garnish with a dried blood orange wheel and a torched grapefruit half-moon.
Smoke Show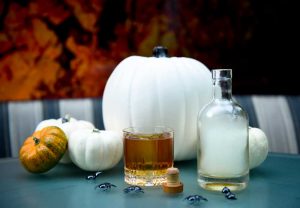 Ingredients:
2.5 oz bourbon
1/4 oz grade A maple syrup
1/4 oz water
2 dashes orange bitters
1 dash angostura bitters
Directions:
Stir all ingredients in cocktail tin with ice, strain into small bottles. Insert applewood smoke into the bottle. When ready to serve, pour over ice in glass, or one large cube and see the smoke billow up from the glass.
Recipe courtesy of Courtesy of BOA Steakhouse in Los Angeles.
Reyka Vodka Pumpkin Spice Latte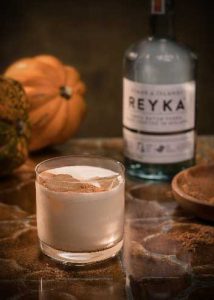 Ingredients:
2 parts Reyka Vodka
1 part Coffee Liqueur
1 part Heavy Cream
1/2 tsp. of Pumpkin Pie Spice
Glass: Rocks
Garnish: Pumpkin pie spice dust
Directions:
Shake. Combine all ingredients into cocktail shaker with ice and shake. Serve on the rocks.
Wicked Witch Shots
Ingredients: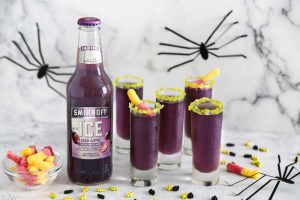 Sanding sugar
Corn syrup
1 cup water
1 package (3 oz.) grape gelatin
1 cup Smirnoff Ice Grape
.75 oz. Smirnoff No. 21 Vodka
Gummy worms & candy bugs
Directions:
Pour sanding sugar on a small plate. Rub the rim of each shot glass with corn syrup, and press the glass upside down into the sanding sugar to rim the glasses. Pour water in a saucepan and bring to just under a boil. Add grape gelatin mixture and stir until dissolved, then remove from heat. Add Smirnoff Ice Grape and No. 21 vodka, stirring well. Pour into shot containers and refrigerate for 2 hours. Cut gummy worms in half and place in each shot, allowing part of the worm to stick out. Let shots sit two more hours before serving. Sprinkle with candy bugs. Yields 12 shots.
Recipe courtesy of Smirnoff.