As late summer days mellow into crisp, cooler ones, there can be nothing more inviting than a tall, frosty apple cider—with or without carbonation.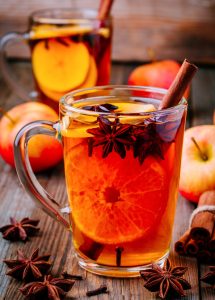 Like farm-fresh apples, there are numerous cider varieties with their own flavor profiles and aromas. Between long-established large-scale producers and artisanal producers, this category is ripe for the picking.
"In 2019, the smart bar has room for more than one cider," says Greg Hall, Founder of Virtue Cider, based in Southwest Michigan and former Brewmaster at Chicago's Goose Island Beer Co. "What's cool is it's not just a single flavor but now a whole category: sweet ciders, dry ciders, rosé ciders, fruity ciders. Dry ciders, (which are trending) such as our flagship dry Virtue Cider Michigan Brut, are more complex, drinkable, versatile, and a great base for cocktails."
A Category Ages to Maturity
If the evolution of cider sounds remarkably similar to that of craft beer, it is no coincidence. The proliferation of ciders has enabled the overall category to find new audiences as well as new opportunities for on-premise accounts to enjoy a harvest of profits.
"Cider is becoming more popular with Americans because it is a little bit lighter than wine and beer, says Peter Yi, Co-Owner and Cider Maker at Brooklyn Cider House in New York City. "It is a refreshing [beverage] option that is a little bit healthier and less taxing on the body. Ours is very food friendly because it goes through a third type of fermentation, which pickles the ciders and imparts the acidity."
While cider is a new experience for many consumers, it has a storied history as one of America's first craft beverages. Although its growth was stunted by the onset of Prohibition and mass production failed to capture the essence of older recipes, an interesting set of converging circumstances brought it back in a big way. Producers cite the gluten-free movement, the craft beer boom, and the more recent trend of low-ABV cocktails. All of this and more has propelled cider forward with momentum even Sir Isaac Newton could appreciate.
Between the efforts of imports such as Strongbow (U.K.) and Rekorderlig (Sweden) and the proliferation of independent American cideries, cider is here to stay.
Michelle Larkin, Founder of Pittsburgh's Arsenal Cider House with husband Bill, notes, "The craft beer boom made people more willing to try new things. Now that so many awesome craft cideries are open, the industry is really feeding its own frenzy. The production
of seasonal offerings, the 'local farm supporting aspect' of the small cidery, and a generation of people demanding more quality [in what they drink] than their parents did contributed to this boom."
Kaaran Gaffney, Brand Communications for Rekorderlig Cider USA, credits the increased number of accounts carrying the brand to it being a "crisp, refreshing lighter style alternative to beer." Gaffney also notes the pear- and apple-based line has great appeal because it is gluten-free and vegan-friendly. European pears and apples and pure spring water from Vimmerby, Sweden give it provenance. This makes it "appealing to a wider consumer and meeting the needs of a more conscious consumption."
"I think [cider's popularity] is based on the fact that more producers are making ciders using traditional methods, with fresh pressed apples instead of concentrate," explains Adam Diskin, Co-Founder of Diskin Cider in Nashville with partner Todd Evans. "Having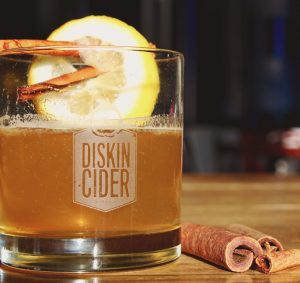 more craft ciders and producers throughout the U.S. has generated a lot of interest, especially in producers like us in a non-apple growing region. People find it interesting that we can pull resources from the more traditional apple growing regions of the country to make ciders that are truly local products."
Evans finds that interest also comes from craft beer enthusiasts. "A lot of our cider drinkers are also more likely to be craft beer drinkers than wine drinkers even though we're essentially making wine with apples instead of grapes," says Evans. "This is especially interesting when one considers that wine drinkers tend to be very loyal to either their brands or favorite type of wine."
Innovation at international brand Strongbow comes from its practice of selecting different varieties of apples and pears, according to David Smith, Strongbow's Brand Manager. That diversity, in turn, has enabled the brand to evolve into a global entity that appeals to the changing American palate, especially as some recipes blend different varieties to create a specific taste profile for a release within the portfolio.
"We are especially excited about the re-release of the classic Original Dry, available on tap in September 2019, to deliver the fresh, crisp taste on-premise," says Smith. "As consumer tastes shift toward drier, less sweet options, bringing back Original Dry and making it available on tap for our on-premise customers is an essential innovation that we're confident bartenders, managers, and consumers will appreciate."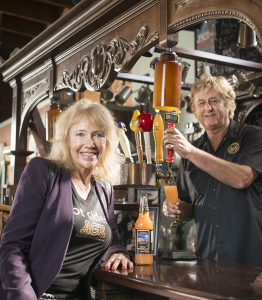 In contrast to long-established Strongbow, ACE Cider opened in 1993 to emerge as the first cidery built in California since Prohibition. Simon House, Vice President of Sales for the family-owned company, recalls his father had somewhat of a steep climb in the early days as cider was not understood by the American public. He traces the category's growth spurt to the gluten-free movement, providing customers with gluten sensitivity an alternative to beer. However, the advent of craft beers and craft cocktails meant there would be more customers open to trying something new, prompting an interest in creating new expressions and reinventing old ones.
"Since our company was founded, we've been a proponent in experimenting with different ingredients to create new flavors and cider styles," says House. "We believe cider will evolve like craft beer in that there will be new innovations and styles. We expect for the cider segment to grow, and you need innovation for more consumers and on-premise accounts to stay excited about the category. Even though we're sticking to natural ingredients, if we only made straight-forward apple ciders and stopped there, the creativity of all producers would be limited, and there would be no potential for growth."
Sean Gardner, General Manager at Hell or High Water in Louisville, Kentucky, factors in the on-premise perspective. "As craft beers and cocktails have grown in popularity, they have also become more hopped, more complex, and challenging to the palette," says Gardner. "Ciders, being light and sweet, offer the average Coca-Cola drinker a means of entry and participation in the craft beer and cocktail scene. It's an 'unfussy' option for someone who's joining friends in an unfamiliar setting."
Seeds of Change
The challenge for cider producers of any size, especially with more of them entering the market, is to show their accounts the benefits of not just adding cider, but adding their particular cider to the menu.
"On-premise operators are looking for brands that sell, with high consumer awareness, a reputation for quality," says Strongbow's Smith. "In 2018, when consumers began messaging on Twitter and Facebook to 'Bring Back the Original British Dry,' and, 'Call me when the old recipe is back,' Strongbow brought back Original Dry, the less sweet original formula on trend with today's taste preferences. On-premise operators also appreciate Strongbow's pipeline of innovation that meets evolving consumer taste profiles with flavors like Rosé Apple and that leverages current trends while delivering consistently high-quality cider."
Diskin and Evans suggest bars have at least one tap dedicated to a cider so a gluten-free option is available. As taps are in the customer's eyeshot, they also suggest having two taps if the bar already has regular cider-ordering customers: One with a cider brand that sells well for them, and a second handle with an artisanal brand like Diskin Cider, offering numerous flavors that can be rotated.
Likewise, Arsenal's Larkin recommends her accounts dedicate one or two taps in ten to be a cider product, noting, "This is what we are seeing in the field with our bar customers, and they keep on ordering!"
For those who can't dedicate any taps to cider, Evans recommends offering a selection of ciders in cans to generate interest.
Virtue Ciders' Hall agrees with the idea of having two taps along with bottles or cans available. "Start with a dry cider you can pour straight or blend into cocktails," he says. "Next, choose a fast-moving cider, maybe off-dry or a popular flavor like Rosé. Round out the list with special bottles [or cans] of fruit ciders, barrel-aged ciders, and French Cidre."

As there are many flavored ciders expanding the category, a critical way to help accounts differentiate their brand from the others is through a side-by-side taste test, which points to their emphasis on natural ingredients instead of essences, flavorings, and more sugar, resulting in a product that is more "premium" and that will resonate better with customers.
Evans says that a lot of clients and bar managers are also looking at ABV numbers. "Leaning towards ciders with higher ABV content will enable them to charge a premium price for the ciders," he says. "While it is easy to make a cider that's 4% ABV and covered up with flavorings, if you can keep the ABV numbers between 5% and 7%, accounts can charge a premium price for those."
An Apple a Day…
Independent American producers across the board are adamant about using traditional cider production methods and fermentation, which are free of added sugar or flavoring. This not only makes ciders "healthier," but it allows drinkers to enjoy a purer drinking experience.
"Cider has a place among those wanting 'better-for-you' drinks as cider is made from apples and the sweetness comes naturally from the fermented fruit and not from added sugar, corn syrups, and the like," says House.
Diskin and Evans point to smarter consumers wanting to understand what they are putting in their bodies. "When they understand the process of cider making, they can also know exactly what they're drinking," says Diskin.
Arsenal Ciders makes sure that what consumers are drinking is the best possible quality. "We strive to be clean and consistent with every batch and are not hesitant to flush something down the drain if it doesn't meet our quality standards," says Larkin.
Import Rekorderlig, meanwhile, is keeping the pulse on American customers by announcing that all seven of its flavors are now vegan. The company replaced the gelatin used to filter the cider with a vegan gelatin substitute (Vega Gel).
The Apple (or Pear) of the Bartender's Eye
Several producers we spoke with find ciders a perfect way to tap into the low-ABV cocktail movement and a solid means for a bar to expand its customer base and menu offerings. Yi says some of his ciders can substitute for gin, rum, or even mezcal, and with that, his bartenders are looking to create pickled cocktails using pickled seasonal fruits and vegetables such as radishes, beets, and carrots.
Virtue Cider's Hall explains that because many cocktail recipes call for citrus or shrubs for acidity, cider can fit the bill. "It is naturally tart, making it a natural cocktail foundation," he says.
House agrees and notes that mixologists are open to working with ciders in new ways. "Cider has a natural sweetness and bubbly component, which can work in a variety of recipes," he says. "They can also replace syrups or artificial sweeteners or juices to create something with just the right amount of sweetness for a more refreshing and balanced cocktail."
Gaffney, meanwhile, says Rekorderlig's pear base makes it a versatile mixer. The "Rekorderlig Perfect Serve" on-premise promotion shows off this idea by pouring each flavor of chilled cider over ice and garnishing it with mint and fresh fruit matched to its specific flavor profile.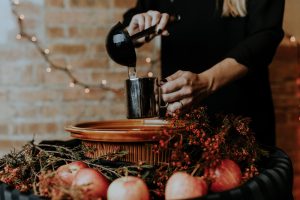 Gardner took his location into account when incorporating ciders into his bar program. "As a speakeasy, our focus is primarily on craft cocktails, and beer and wine account for a very low percentage of our sales, maybe 5%," he says. "That said, many of our guests have been touring distilleries and drinking hard liquor all day. Offering ciders gives those folks a refreshing, easy-drinking option without the need to change venues."
Diskin Cider's flavors play as ready-made cocktails that happen to be naturally "mixed" with the fermentation of fresh-pressed juice and aging techniques. Top sellers include Blackberry-Vanilla-Port and Tart Cherry-Bourbon, while a honey jalapeño cider with a craft margarita vibe is in the works.
"To demonstrate the versatility and flexibility of our ciders, the staff at our tasting room makes cocktails to show how they can work as mixers and serves a full menu of foods to show pairability," says Diskin.
By Elyse Glickman
Photos (top to bottom): Shutterstock.com, Ace Cider, Virtue Cider