Ingredients: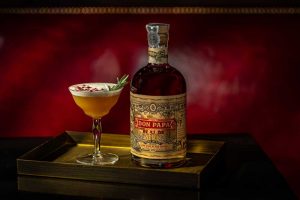 1 1/12 Don Papa Rum
1 oz apple juice
1/2 oz spiced maple syrup
1/2 oz lemon juice
1/2 oz egg white
Directions:
To make the spiced maple syrup, combine 2 cups maple syrup, 1 cup apple juice,
1 stick cinnamon, 1 tbsp cracked green cardamom pods, and 1 tsp pink peppercorn in a saucepan. Bring to a simmer while stirring before removing from heat. Allow to cool and strain. Combine all ingredients with ice and shake vigorously. Finely strain into a chilled cocktail glass. Garnish with pink peppercorn and rosemary sprig.
Recipe and photo courtesy of Don Papa.