For many bars and restaurants, menu changes happen seasonally, but COVID-19 has become its own season—necessitating changes by the week, day, or even hour depending on inventory, reduced staff, and regulations.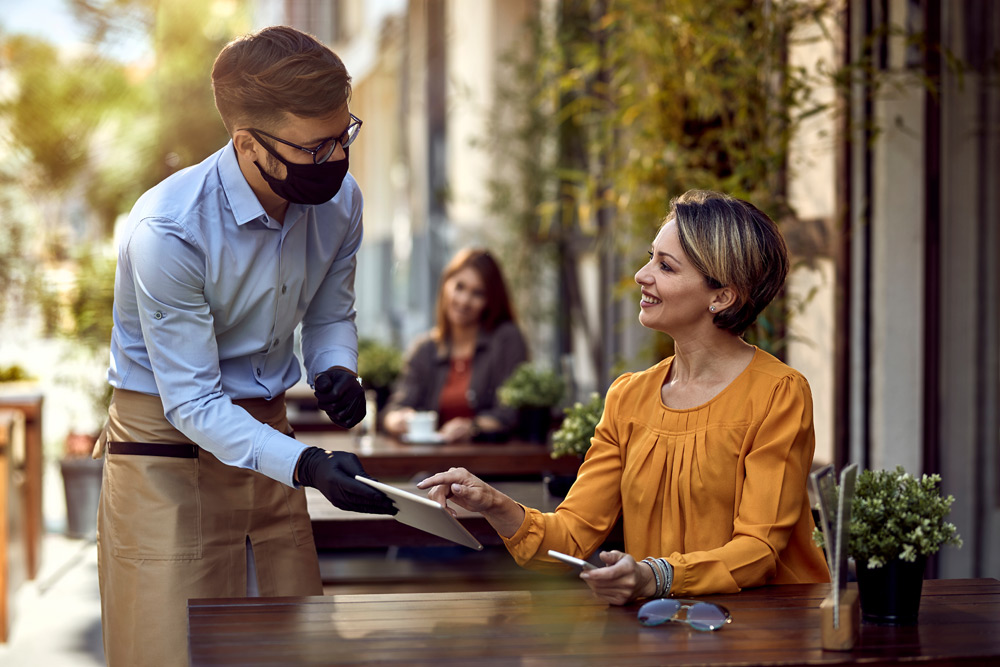 While change can be challenging, it can also be beneficial, and for many, COVID-19 has led to some menu updates that will stick around long after the pandemic.
"It is so important to remember that with every challenge is an opportunity. This slower time has allowed all of us to truly fine-tune what we do and concentrate more on our craft," says Collin Pierson, third-generation managing partner together with Michelle Durpetti of Gene & Georgetti, a Chicago-based, old-school Italian steakhouse. "The beauty of this period in time is that trying new things is absolutely a necessity and is encouraged. Don't be afraid to innovate for fear of customer sentiments changing. Remember that every single customer's perception of what we do is changing by the month during this time."
Joe DePinto, director of Sales at Barpay, a standalone solution for contactless QR code menus, mobile ordering, and mobile payments, agrees. "You can either look at this as a terrible time or you can look at this as an incredible opportunity to try new things," he says, touting the benefits of technology especially. "I think overall the service industry has been somewhat reluctant to adapt technology, but now with the current situation, they're starting to see technology can save you money, and it actually is a little bit easier for the customers as well.
"The places that will allow technology to help them are going to have a better chance at success, and I think they're going to see a lot more benefits."
Both Barpay and Gene & Georgetti have chosen to use this pandemic as a time to pivot to new menus, new offerings, and new ways of serving guests.
Gene & Georgetti
Pre-pandemic, to-go menus were never a source of revenue for Gene & Georgetti, but once COVID-19 hit, the restaurant knew takeout needed to become a big part of the business model.
Gene & Georgetti created a separate website solely dedicated to take out, delivery, and associated menus, directing customers in a straightforward manner to the best ways to order and support the restaurant.
To help separate themselves from area takeout competition, the restaurant created a curated menu that included easy and affordable weeknight options and lunches such as pastas and shareable plates. "As an old-school Italian steakhouse, the a-la-carte style menu still lives on, but feeding our community has made us look at new ways of doing that," says Pierson. "We now have a happy hour menu [offered Sunday to Thursday], as well as a Roman-style pizza called 'pinza' with ingredients that rotate weekly.
"We also have a Taco Tuesday menu, which has been incredibly popular," he continues. "Prime steak tacos are something we have always done in the kitchen for family meal, and it was a great progression to offering it to our customers."
When the restrictions on dining stretched into summer, they pivoted to a summer catering menu. Most recently, they changed over to fall offerings with a $50 Thanksgiving menu and heartier dishes. The restaurant also expanded its online ordering in the wake of Chicago implementing a ban on indoor dining and a stay at home order in November in response to rising COVID-19 cases.
Gene & Georgetti also created a grocery-to-go called Ida's Pantry with items like uncooked prime meat offerings. The restaurant went even further with The Bar Ida window, which resurrects a 400-plus-year-old tradition. "The Bar Ida window was created out of necessity to make up for the lost revenue with indoor dining staying at 25% throughout the summer. What started as an idea for a little wine window (reminiscent of the "buchette del vino" wine windows that helped citizens have access to safe drinking wine during the 1600's plague in Florence, Italy), turned into a full-blown coffee business," says Pierson. "We partnered with Italian coffee maker Lavazza in creating a window menu, with Italian-style coffee drinks, most importantly, at affordable prices."
For the menu, Gene & Georgetti drew inspiration from the family's Tuscany heritage as well as Italian grocers. "We decided to keep things simple: some great coffee and some daily baked fresh 'cornetti,' which are Italian-made croissants filled with delicious fillings like apricot, dark chocolate chunks, or almond cream," says Pierson. "For the fall, we added more items like muffins…and fall/winter drinks like pumpkin spice latte, peppermint mocha, and more." The window also serves up a variety of cocktails.
Barpay
Creating new menus or making changes to existing ones has become a lot easier thanks to the rise of digital menus. COVID-19 has pushed for the need for contactless experiences, and physical menus have given way to QR code-based digital offerings. Barpay provides easy-to-setup, PDF-based, QR-code generated menus to bars/restaurants.
"Previously, you would have to take your print menu, get everything reprinted, and then redistributed to customers," says DePinto. "Now, if you have a special you want to run on a Sunday, you don't even have to create a menu. You can just create a file, upload that to Barpay, and there it is."
Aside from flexibility, digital menus also offer ways to capture customer data that physical menus cannot. "On a normal, physical menu there's nowhere to get a customer's email address. There's nowhere to have them follow you on social media or leave you a rating," says DePinto, who explains that Barpay's digital menus include links to a venue's social media as well as an email input box. "It's another way to capture some other data and then be able to retarget them from the venue's perspective later on."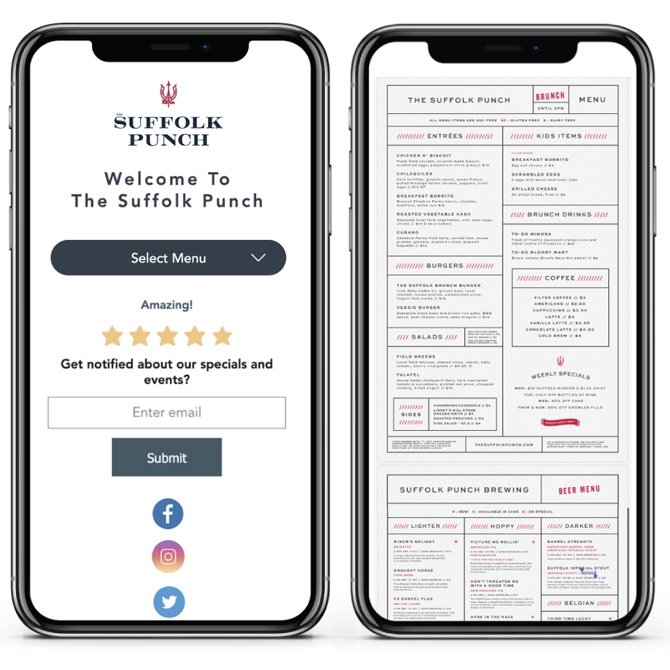 Since digital menus can be accessed from anywhere, even before a patron arrives at a bar, they offer the opportunity to get customers spending before they even sit down, especially when used in conjunction with Barpay's order and payments platform. "If you have the order and pay system, you can have customers already placing drink orders," says DePinto. "That's another sale. Instead of having to wait five minutes for that drink, it's there."
Like anything new, QR code menus may take some getting used to for customers. DePinto says it's important to first display them successfully. "We have templates that we send to customers for window displays, hostess stands, table tents, or table stickers," he says. "It comes down to the décor of the venue and how they want to display it."
Barpay polled its customers on the most successful ways to present the QR codes, and the results found that hostess stand displays and table stickers are most popular.
Training staff to prompt guests to use the QR codes also goes a long way. "If you're implementing the technology, reinforce it," says DePinto. "If people are told this is how we do it, they don't really question that. Whereas if you give them the option, they're probably going to revert back to what they're used to."
With all the benefits, DePinto doesn't foresee establishments reverting from digital menus back to physical menus, even after the pandemic ends. "We have owners everyday telling us, 'I'm never going back to hard menus,'" he says. "It's a better way to do it."
By Ashley Bray
Photos (top to bottom): Shutterstock.com, Gene & Georgetti, Barpay.