When creating the Modern Prometheus cocktail recipe, Banzarbar Head Bartender Eryn Reece was inspired by the novel Frankenstein. She says:

"During quarantine this year, I had quite a bit of time on my hands and finally got around to reading a book I've always been intrigued by: Mary Shelley's Frankenstein. After learning that the publication of Frankenstein in 1818 represented a massive glass ceiling-shattering moment in literary history, I knew she and her major work would be the inspiration for my Knappogue cocktail. I wanted to create something spirited and strong that utilized ingredients that would have been found in London around that time. To me, Knappogue has a lot of fruit and nut notes, with a warm and buttery spice finish. I chose Madeira because along with Port and the sweeter varieties of sherry, it was a dominant drink among moneyed Londoners at the time. The Earl Grey infusion creatively fills in the flavor, adding a bit of citrusy brightness. Pimm's – another quintessentially British ingredient (first introduced in 1840) – adds excellent bracing herbal notes. Two other herbal, bittersweet liqueurs, Yellow Chartreuse and China China, provide balance to the sweetness of the Madeira. The crown jewel of the drink is a rinse of absinthe, both for its powerful herbal notes and its association with the Romantic artists of the period. Cheers!"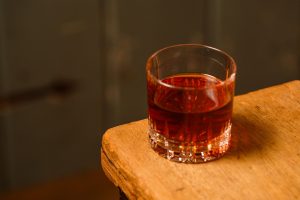 Ingredients:
1.5 oz Knappogue Castle 12 Year Single Malt Irish Whiskey
.75 oz Earl Grey Infused Madeira*
.75 oz Pimm's
.25 oz Yellow Chartreuse
1 tsp Bigallet China China
.5 tsp Giffard Apricot
Absinthe
Directions:
To make the Earl Grey-Infused Madeira, use 3 tbsp Earl Grey Tea to every 1 (750ml) bottle of Madeira. Let infuse for 30 min. For the cocktail, strain and rebottle. Give a rocks glass an absinthe rinse. Combine all ingredients in glass. Stir.
Recipe courtesy of Eryn Reece, Head Bartender at Banzarbar, NYC. Photo by Alex Staniloff.