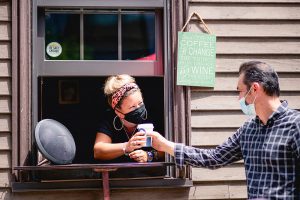 Gene & Georgetti, Chicago's original steakhouse since 1941, announced that it would be utilizing one of its two windows on the Illinois side of the building for a walk up coffee & cocktail window. G&G is now serving Lavazza coffee drinks, Italian breakfast pastries, breakfast sandwiches mom would approve, afternoon cocktails to go, and more.
"I am the third generation in this family. Gene was my grandfather, and our very first trip to Italy together was when I was 5 years old. He had a love for Italy, its language, history and tradition that he shared with me whenever he could. We still have family in Tuscany, and visiting them was a highlight of my childhood and even young adult life." Says Michelle Durpetti, daughter of owners Marion & Tony Durpetti.
"After making my holy communion in Italy, and spending summers there in school during high school it was no surprise to anyone when I decided to transfer to school in Florence. I was an Italian language and art history major and being in the birthplace of the Renaissance was exactly where I wanted to be! It was also my way of paying homage to Gene whom I lost at a young age. Studying the language and the history kept me connected to him."
It would also come in handy later in life, in the middle of a global pandemic. How so? A little history about the Wine Window that inspired the coffee window you see today at the restaurant.
In the 1559 Cosimo 1 de'Medici decreed that Florentine families could sell wine out of their palaces versus only in taverns or inns. Buchette di Vino, or wine windows were born. Exclusive to Florence, and handy because people could knock on the wooden shutters and have their bottles filled directly. Over 150 still exist today.
"Although Florence has such wonders like the Duomo and the Uffizi among so much else, the wine windows are a treasured part of Florentine Architecture and a small detail of a city that I love," says Durpetti.
When Coronavirus made its way to the US and across the globe, Michelle knew that ingenuity would be key to survival for her family's now 79-year-old restaurant.
"I know how much my parents want to see it make it to 80 years old. We used to cheers all the time and say it would outlive all of us, now we just pray it can survive the year. That is a daunting reality to process when restaurants are your life, your livelihood and your legacy."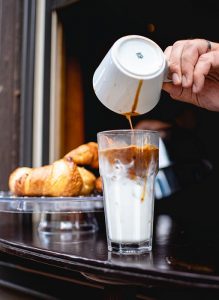 Durpetti's grandfather Gene, opened the restaurant in 1941 with his partner, Alfredo "Georgetti" Federighi (Georgetti was his nickname after an Italian cyclist at the time). …"The rich past of the restaurant is also the story of my family," says Durpetti.
"Having lived in Italy and studied so much of the history and language it was always a goal of Michelle's to re-infuse some of that back in to the Gene & Georgetti brand. She has been determined for some time to take all the she loves about our family traditions and Tuscan lineage and bring it back to Gene & Georgetti. When Coronavirus hit the restaurant industry it went from being a brand evolutionary strategy to a plan for survival. And the coffee window was one of the first ideas that she had," says Tony Durpetti. "Admittedly, we all thought it was a little nuts, but she would not give up on it…"
"This pandemic has taught us now more than ever that necessity is the mother of invention," says Tony, "like every restaurant out there we have had to think on our feet and be creative while staying true to our core brand values. I trust Michelle to follow her vision and stay true to the values that we have cultivated within this brand since 1941…"
And just like that, the walk up window was born.
"Ring the bell, and we have a variety of Italian specialty coffees ready to go including cappuccino, latte and fresh cornetti (Italian croissants filled typically filled with chocolate, apricot jam, or vanilla cream) every morning! It is so fun. My husband, Collin Pierson, works the window most mornings and it has been so much fun to connect with so many of our River North neighbors!" says Michelle. "I did not know if we would get a permit for outdoor dining. I did not know, and still do not know what is going to happen next week or next month, or even tomorrow. When I first pitched the idea to my husband he was the first one to really get it. It was his idea to connect with our coffee provider, Lavazza and see where we could take the idea.
"Having a little piece of Italy here has been comforting as much as it has been a great addition to what we are able to do right now as we fight for survival. Also, the coffee is darned delicious!" says Pierson. "This is an affordable local option for our river north neighborhood to enjoy Italian specialty coffees, pastries and some afternoon cocktails to-go. It is small business at its finest, inspired by Florence and infused into the story of Gene & Georgetti. I think that is a beautiful thing." "There isn't anything more Italian than afternoon aperitivo hour, where we find some of our neighbors out walking their dogs, stopping by the window to pick up a cocktail to-go, getting ready to start their evening." says Collin.
"Over the last 79 years, we have seen our fair share of evolution. And challenge. This location caught on fire in October of 2019. It was forced to close because of a global pandemic. It was broken in to during the civil unrest in our city this summer. It also opened at a time of war in 1941, and is built of scrap wood salvaged from the Chicago fire (the building is from 1874 and one of the oldest wood frame buildings in the city.) It survives with scars, and new experiences all the time, but it stands, just like my family." "For me, the silver lining to all the challenges that COVID-19 presents is that we feel more creative than ever. In fact, we are really inspired by our Tuscan heritage these days. Have you ever read the Decameron by Giovanni Bocaccio? It tells the story of several Florentines who fled the city during the plague of the 14th century. What followed was an explosion of ingenuity and creativity that contributed so much to Western Civilizations – it was the Renaissance. Later on in Florence's history the very wine windows that inspired this coffee window were used to bring the city through yet another plague in the 1600's. I find that incredibly inspiring."
"The restaurant industry is in my blood, and our collective resilience matches our tenacity as we work to create safe, welcoming, beautiful, delicious experiences in our restaurants. That is who we are, and right now we are fighting with everything we have to keep it. Both in Chicago, and in our Rosemont location. This is not about ego for us. This is who we are. We defend and protect this legacy always, and that is exactly what I am doing along with my husband, my parents and the people that make up the team in both of our locations. The reality is that we can be as innovative as we want, but the support of customers is what makes it all keep going. We are incredibly grateful for the ones who continue to support our businesses and we look forward to welcoming first timers as well! At the coffee window, and at the restaurants themselves."
Gene & Georgetti Chicago is open for breakfast, lunch, dinner, delivery and pick-up 7 days a week. Monday – Sunday 8:00 AM to 11:00 PM. Gene & Georgetti Rosemont is open for dinner Tuesdays – Saturdays from 4:00 pm – 11:00 pm and Sundays from 2:00 pm – 11:00 pm.
Photos courtesy of @soda fountain photography.