We are pleased to announce the official launch of Zaddy's, a new gin-based, low-alcohol, ready-to-drink, canned cocktail company founded in the San Francisco Bay Area, and now available throughout California. Zaddy's is introducing three new drinks, which bridge the gap between hard seltzer and canned cocktail, with the health-conscious drinker in mind. If you think you hate gin, think again.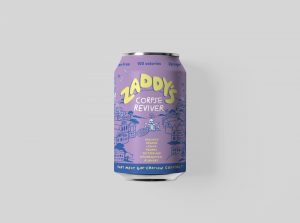 Zaddy's bubbly, flavorful, craft cocktails are revamped cult classics never-before-seen in a can. Zaddy Benham, co-founder of Zaddy's says, "We couldn't find any of our favorite gin cocktails in cans, so we decided to recreate low-alcohol, low-sugar versions of them in artful, recyclable packaging unlike anything else we've seen in the category." Authentically crafted with organic ingredients — containing minimal alcohol, sugar, and calories — that active, mindful consumers can drink during the day, without ruining the night (and vice-versa). Sourcing premium gin from Sonoma and fresh juice from California farms, Zaddy's is always free of any artificial flavors or high-fructose corn syrup. Each 12-ounce can is only 100 calories, 4.5% ABV, gluten-free, and contains no more than 3 grams of organic
cane sugar.
Zaddy's is entering the marketplace with three crushable canned cocktails, now available in select stores for a suggested retail price of $11.99 for a four-pack and $2.99 a can. 12-packs and 24-packs are also available for purchase through the Zaddy's website for $45.39 and $81.76 and can be shipped anywhere within California. Zaddy's is distributed by RNDC.