A new year is upon us, but that doesn't mean we've left 2020 entirely behind. For one, our industry is still being greatly affected by the ongoing pandemic.
According to the National Restaurant Association's 2021 State of the Restaurant Industry Report, restaurant and foodservice industry sales fell by $240 billion in 2020 from an expected level of $899 billion. As of December 1, 2020, more than 110,000 eating and drinking places were closed temporarily, or for good. The eating and drinking place sector finished 2020 nearly 2.5 million jobs below its pre-coronavirus level.
But it's not all doom and gloom, as the industry also learned some valuable lessons last year that we are going to want to bring into the New Year with us. We spoke with Hudson Riehle, senior vice president, Research, for the National Restaurant Association, about what trends will define the hospitality industry in 2021.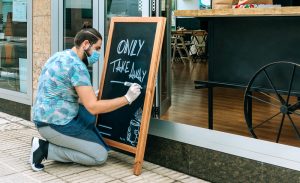 Mixing the On- and Off-Premise
As restaurants and bars faced—and continue to face—capacity restrictions and closures, one of the major avenues of sustainability in pandemic times has been the focus on off-premise channels, which include takeout, delivery, curbside pick-up, etc. "63% of restaurant traffic at the beginning of [2020] was off-premises," says Riehle. "And in the second to third quarter, that moved up to the 80-90% range."
As vaccines hopefully help to slow and put an end to the pandemic, Riehle expects that off-premise traffic percentage to drop as the on-premise gains back share, but he says it will be a while before it reverts back to a pre-pandemic 63%.
Part of the reason for this is that off-premise options were already continuing to grow. In fact, in the Association's 2030 report, which took a look at the industry ten years from now, the second-highest ranked trend was that off-premise opportunities would continue to drive industry growth.
The data supports this claim. The Association's 2021 Report says 68% of consumers are now more likely to purchase takeout from a restaurant than before the pandemic, and 53% of consumers say takeout and delivery is essential to the way they live.
One of the biggest boons of the off-premise model for bars/restaurants has been the ability to sell to-go alcohol and cocktails. "That obviously is one of the most major developments for the restaurant industry regarding alcohol probably since the Prohibition era," says Riehle, noting that states continue to pass legislation extending or making to-go alcohol permanent. "Fortunately, it appears that some communities will likely allow that delivery aspect to continue post-pandemic."
According to the National Restaurant Association's research, consumers were interested in to-go alcohol even pre-pandemic, so this off-premise trend has a ready consumer base. According to the Association's 2021 State of the Restaurant Industry Report, 35% of off-premises customers—with millennials leading the category at 53%—are more likely to choose a restaurant if it offers the option of alcoholic beverages with the to-go order.
Off-premise channel opportunities continue to be bolstered by COVID-19. "The pandemic has basically accelerated many of those trends that the 2030 study pointed out," says Riehle. "Consumers, and particularly older consumers, have really gotten much more confident and familiar with using online ordering from a desktop, smartphone, through an app. And that familiarity obviously will act as an amplifier of sustained usage of that off-premises market."
Third-Party Apps
Speaking of apps, a big part of navigating delivery and to-go for bars/restaurants has been setting up an ordering process for customers. Since many consumers are no longer turning to restaurants for the socialization factor due to the pandemic, restaurants must focus on their ability to fulfill a need for convenience. This has led many establishments without their own online ordering system to turn to a third-party app like UberEats, DoorDash, etc.
The hospitality industry's relationship with these apps has been mixed. For one, they offer exposure and a platform to reach more guests. On the other hand, the fees add up and can take away from the bottom line of an already struggling bar/restaurant.
At the end of last year, the National Restaurant Association released Public Policy Principles for Third-Party Delivery in an effort to provide a framework for the relationship between third-party apps and bars/restaurants as well as guidance for lawmakers developing public policy. Some of the seven principles include:
Restaurants deserve transparency on fees (including commissions, delivery fees, and promotional fees) charged by third-party delivery companies.
Third-party food delivery contracts need contractual transparency, and issues surrounding fees, costs, terms, policies, marketing practices involving the restaurant or its likeness, and insurance/indemnity should be clear.
As a best practice, third-party delivery companies should offer restaurants access to anonymized information regarding orders from their restaurant that originate on third-party platforms.
In its 2030 report, the Association also brought up concerns about third-party apps severing the direct connection between bars/restaurants and consumers. The Association recommends that bars/restaurants use specialized, unique menu items to defend against brand disintermediation. The Association also says to consider food-delivery packaging, as it becomes an increasingly important touch point for brand interaction with consumers in delivery and takeout orders.
Ghost Kitchens
As takeout, delivery, and other off-premise channels grow, the definition of a bar and restaurant will change. According to the 2030 report, the highest ranking future trend is the rise of the delivery-only bar/restaurant through virtual restaurants and "ghost kitchens."
"Even the term location has become somewhat dated because in many ways the industry now looks at points of access and what these virtual ghost kitchens, and even shared kitchens, allow are additional points of access for that meal solution to be delivered in a much more efficient and productive manner," says Riehle. "Also there's the aspect of product integrity over transformation time."
The development of virtual restaurants or bars could also be driven by rising rent and labor costs. The 2030 report forecasts that like other industries that have moved online, virtual bars/restaurants would likely see a relative lowering of costs (such as staff and rent) and of other barriers to entry in launching a restaurant.
"The industry is so large, and so diverse, and so fragmented, that the ability to develop and expand these virtual kitchens will only continue to gather momentum," says Riehle. "And technology is a very important enabler of that."
Technology & Data
In the National Restaurant Association's Public Policy Principles for Third-Party Delivery, another principle put forth was that restaurants have a right to know and determine when and if their food was delivered through an app, which is dependent on data. Riehle says it's important this is made available to bars/restaurants so that they know "who the customer is and that the food and beverage when delivered meets expectations." He continues, "Basically all the attributes with an on-site experience are looking to be available for that off-premises experience as well."
As bars/restaurants aim to meet the changing demands of customers, data will become even more important. And as more and more tech-driven applications and equipment are implemented in bars/restaurants, more of this data will become available. "In the end, good business decisions are made on good data," says Riehle.
He explains that much of the hardware/software now available allows for the collection of very detailed data that can be used with processes such as artificial intelligence to not only predict ordering trends before they occur (for example the weather impact on ordering) but to also ensure the consumer is satisfied with the meal solution. "Even though the pandemic has dramatically dropped the number of viable restaurants in America, the industry still remains extremely competitive," says Riehle, "and if the price paid for the value received for that most recent experience doesn't meet their expectations, they are quite quick to vote with their feet."
Riehle sees technology implemented in three ways in bars/restaurants: in the front of the house; in the prep, kitchen, and management areas handled by the back of the house; and through smartphone marketing and loyalty systems.
Fortunately, Riehle doesn't see this advancement in automation and technology replacing the workforce. "In general, when you talk to restaurant operators, the increased usage of technology allows for a reallocation of labor in that operation or at that brick-and-mortar location. It generally does not culminate in staff reductions. In the end, restaurants are a hospitality business, so it allows a greater focus on that staff as well as the management to enhancing that customer experience," says Riehle. "When there's an extremely labor-intensive industry, such as the restaurant industry, and when technology is applied toward that industry, it really does boost the productivity and efficiency, not only of the industry but of specific operations."
Pent-Up Demand
A silver lining to all of this is that most consumers are ready to return to bars/restaurants when they feel safe enough to do so. According to the National Restaurant Association's 2021 report, in late April 2020, 83% of adults said they were not eating on-premises as often as they'd like—a jump from the 45% reported in January 2020. Riehle believes it will be the missing socialization factor that helps to drive consumers back in.
"Part of the challenge in that environment is going to be the employment situation, or rather lack of employment, which means that the income growth and the income spend is not where it will be prior to the pandemic," says Riehle. "Growth of income is one of the most important macro-economic indicators that coordinates with restaurant industry sales."
With consumers making less, Riehle says marketing is more important than ever. "When we talk to restaurant operators, we emphasize how important it is to continually nudge and incent that consumer into the decision to use foodservice, a meal solution away from home," he says. "But now, in this environment, and the competition among other spending categories, it's important to get that dollar into the food bucket, and then from the food bucket into the food away from home bucket."
Pre-pandemic, Americans allocated 51% of their spend to food. That dropped to a high 30% at the start of the pandemic and has since climbed back to a high 40%. Riehle is confident that number will continue to climb as the pandemic hopefully ebbs. "In the end, the consumer likes the restaurant industry, wants to use the restaurant industry, so as incomes and employments pick up, they will definitely step up their re-patronage of the industry."
By Ashley Bray