Two Stacks Irish Whiskey, inspired by Irish distilleries and merchants of old and contemporary global brands of new, proudly announces the launch of "Dram in a Can" in the U.S. this March. The 100ml, 86-proof can is a complex blend of light and dark grain, pot still whiskey, and peated malt.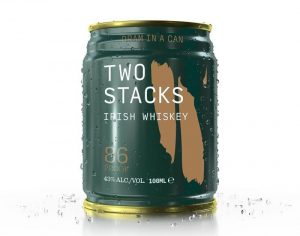 Imported by High Road Spirits, Dram in a Can will be available nationwide with a suggested
SRP of $18.99/4-pack.
"We spent a lot of this year in lockdown developing Dram in a Can," says Shane McCarthy, one of the founders of Two Stacks, along with Liam Brogan and Donal McLynn. "We want to offer access to premium Irish whiskey in smaller quantities – allowing more experimentation and sharing among friends whenever and wherever. A four-pack of Dram in a Can is meant to be enjoyed at a dinner party, on a camping trip, after a hike,
or skiing. Some may even be trying Irish whiskey for the first time."
The whiskey in the can will also be available as a 750ml bottle, called Two Stacks Blended Whiskey. A third release, Two Stacks Blender's Cut, is bottled at 64% cask strength and is the highest proof Irish whiskey on the market.
Two Stacks' sweet and delicate blend is matured in the finest ex-bourbon, Oloroso sherry, and virgin oak casks before being brought down to proof and can. Dram in a Can is one
of only a small number of Irish whiskeys using peated malt in its blend, giving a beautifully rounded experience when drinking. It is non-chill filtered and has no added coloring.
"Two Stacks Irish Whiskey has ambitions to become a globally recognized independent bonder, blender and bottler of the most innovative whiskey creations, both in terms of liquid and packaging," says Brogan. "Our initial launch showcases Ireland's first 5-part blended whiskey, and the Dram in a Can is a new global first for packaging straight whiskey in a can."
The U.S. launch will be marked by a virtual St. Patrick's Day celebration on March 19, 2021, in collaboration with Stories & Sips' Facebook and YouTube Live channels. The online "Lock-In" will bring together local Irish musicians and bartenders showcasing cocktails and suggested serves, and is a way for Two Stacks to share their story and have some light-hearted fun with new friends across the U.S.