Looking to add some cocktail recipes to your menu guests will fall in love with this Valentine's Day? Try some of the recipes below. Looking for even more to fall in love with? Check out our other post full of Valentine's Day cocktail recipes.
Pomegranate Ginger Bubbly
Ingredients: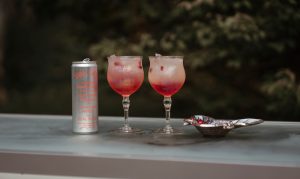 1/2 can Spicy Ginger Volley
1/2 oz. triple sec
Juice of 1/2 lime
pomegranate juice
Directions:
Combine first three ingredients in a glass. Top with pomegranate juice. Garnish with an orange and/or lime wheel and pomegranate seeds.
Recipe courtesy of Volley.
Genever Daisy
Ingredients: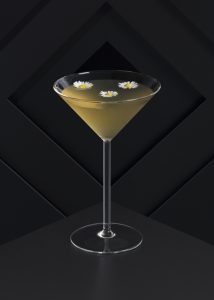 2 oz Bols Genever Original
0.5 oz Bols Maraschino or Orange Curacao
0.25 oz of rich sugar syrup (2 parts sugar:
1 part water)
0.25 oz lemon juice
Directions:
Shake all ingredients and fine strain into a pre-chilled coupe glass. Top with sparkling wine. Garnish with lemon peel.
Photo and recipe courtesy of Bols Genever.
Besos de Mezcal
Ingredients: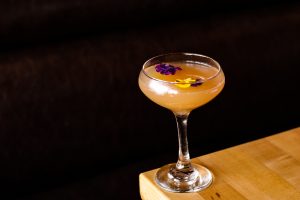 ¾ oz fresh lime juice
½ oz John D. Taylor's Velvet Falernum Liqueur
½ oz Ancho Reyes Verde
¾ oz Liquid Alchemist Tamarindo
2 oz Mezcal Los Javis Joven
Directions:
Add the mezcal, lime juice, Falernum, Tamarindo and Ancho Reyes into a shaker. Fill with ice and shake. Open the shaker and double strain into a Coupe glass. If available, garnish with a Pansy flow.
Recipe courtesy of Madre.
Sparkling Pomegranate Punch
Ingredients: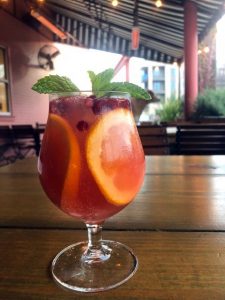 For the vanilla-ginger syrup:
2 Tbsp. The Perfect Purée Ginger, thawed
1 cup water
1 cup granulated sugar
1 vanilla bean
Combine all ingredients in a pot and cook over low heat until sugar dissolves. Cool.
For the punch:
1 bottle semi-dry champagne
8 oz. pomegranate juice
8 oz. ginger beer
4 oz. orange juice
2 oz. vanilla-ginger syrup
Garnish: orange wheels and pomegranate seeds (optional)
Combine all ingredients except orange wheels and pomegranate seeds. Place orange wheels in a wine glass, add ice and pour punch. Top with pomegranate seeds.
Recipe by By Suki Otsuki. Photo courtesy of The Perfect Purée.
Is This Love 
Ingredients: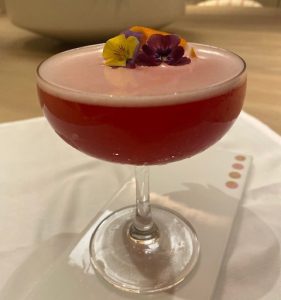 1 ½ oz gin
¾ oz hibiscus syrup
½ oz orange liqueur
¼ oz lemon juice
Directions:
Combine ingredients. Top with Prosecco, garnish with dry hibiscus.
Bartesian's Skinny Cosmo
Ingredients: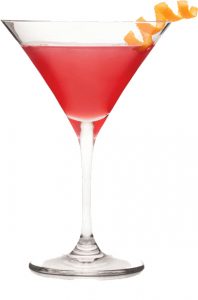 5 oz. diet or low sugar cranberry juice
1.5 oz. vodka
1 tsp. lime juice
Fresh orange slice for garnish
Directions:
In a martini shaker, combine cranberry juice, vodka and lime juice together with a handful of ice cubes. Shake 10 times. Pour the contents into the martini glass. Garnish with orange for the perfect Cosmopolitan.
Recipe courtesy of Ryan Close, CEO and founder of Bartesian.
Heartbreaker Highball
Ingredients: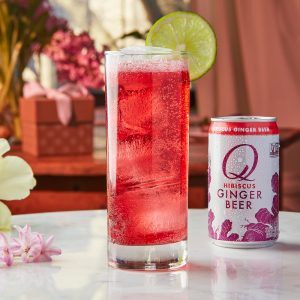 5 oz Q Mixers Hibiscus Ginger Beer
1.5 oz Irish whiskey
2 oz cranberry juice
2 lime wedges
1 lime wheel (garnish)
Directions:
Build cocktail in a highball glass and garnish with a lime wheel.
Recipe courtesy of Q Mixers.
Let the Love Flow Mocktail
Ingredients: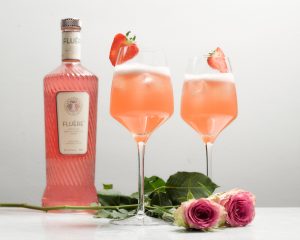 1 ¾ oz. Fluère Raspberry
1 oz. quality apple juice
½ oz. fresh lime juice
2 teaspoons strawberry jam
3 oz. soda water
Directions:
Shake everything except the soda water hard over ice. Strain into a wine glass, there should be a bit of foam, and add ice. Top with soda water, stir gently, and garnish with half a strawberry on the rim.
Recipe courtesy of Nikulás Hannigan, Global Brand Educator, Fluère.
Recuerdo Mezcal Besito
Ingredients: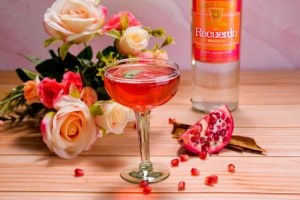 1.5oz Recuerdo Mezcal Joven
1oz pomegranate Juice
.5oz cinnamon syrup (1 cup water, 1 cup sugar, 1-2 sticks cinnamon – break apart the cinnamon sticks and heat alongside the water and sugar to a gentle boil and reduce to a simmer for 1-2 minutes while stirring. Pull off the heat and allow to sit 30-60 minutes to infuse the cinnamon. Cool and strain the cinnamon.)
prosecco
pomegranate grains
peppermint leaf
Directions:
Shake the Recuerdo Mezcal, pomegranate juice and cinnamon syrup over ice, strain into a chilled coupe glass, top with chilled prosecco, and garnish with the pomegranate grains and a peppermint leaf.
Strawberry Coconut Fizz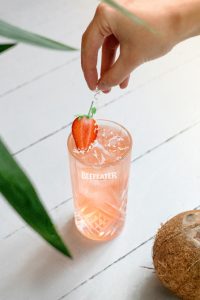 Ingredients:
1 ¾ oz Beefeater Dry Gin
3 ¼ oz Coconut Water
Strawberries
3 Mint Leaves
¼ oz Agave Syrup /Honey
Soda
Directions:
Muddle strawberries and mint leaves. Add Beefeater Dry and coconut water and shake with ice. Fine strain into glass. Top with ice and soda water. Garnish with strawberries.
Recipe courtesy of Beefeater.
Love Cocktail
Ingredients: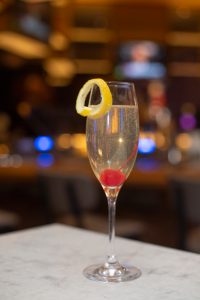 Domaine De Canton Ginger (Ginger Liqueur) – ½ ounce
Simple Syrup – 1 ounce
Champagne – 5 ounces
Garnished with cherry and lemon twist.
Directions:
Build in champagne glass ginger liqueur & simple syrup then garnish. Serve with split of champagne. Guest top each glass with champagne.
Cocktail courtesy of THE STRAT.
Rosa's Ruin
Ingredients: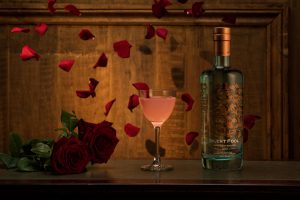 35ml Silent Pool Gin
20ml Cocchi Rosa
15ml Lemon Juice
10ml Sugar Syrup
2.5ml Punt e Mes
Directions:
Shake with plenty of ice and strain into a martini glass. Garnish with a single rose petal.