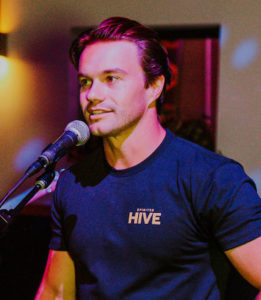 Spirited Hive is a new line of ready-to-drink (RTD) craft cocktails made with quality spirits, all-natural ingredients, and organic honey that resulted from what Founder & CEO Jack Espy likes to call a "happy accident."
At the height of the pandemic, Espy was mixing up some quarantine cocktails for friends and made his go-to cocktail—a Moscow Mule. At least, what he thought was a Moscow Mule. His friends loved the cocktail, asked for the recipe, and Espy was soon informed that there is no honey in a Moscow Mule.
Despite the error, a light bulb went off in his head. He started doing research into cocktails and canned cocktails and discovered that, at the time, there were no canned cocktails that were using honey. In fact, many had artificial ingredients and sweeteners.
So Espy, a recent graduate who had lost his real estate job thanks to the pandemic, decided to pursue his idea for a canned cocktail sweetened with honey, and Spirited Hive was born.
Now, Spirited Hive offers a range of canned cocktails: Rosemary and Lemon bourbon cocktail, Ginger & Lime tequila cocktail, and Cranberry & Lime cocktail. The brand also recently announced it is an official RTD partner of the NFL's Tennessee Titans and all Nissan Stadium events. Spirited Hive is also a RTD partner of MLS's Nashville Soccer Club and Nashville Sounds minor league baseball team.
We recently spoke with Jack Espy about Spirited Hive, canned cocktails, and how the company can help on-premise locations. See below for the full Q&A.
Bar Business Media (BBM): Why did you choose to sweeten the cocktails with honey?
Jack Espy (JE): I'm obsessed with honey. For breakfast, lunch, and dinner, I'm always using honey. And I think I thought there was honey in a Moscow Mule just because I love it so much.
BBM: What else distinguishes Spirited Hive from other canned cocktails?
JE: Our quality ingredients from the other flavors that we use to our quality spirits. For our vodka, we're using a six times distilled corn vodka. We're using an aged bourbon from one of the oldest distilleries in Kentucky. And then we're using a blanco tequila from Jalisco. And we're adding in a nice gin in for our gin cocktail.
We also have unique flavor combinations. A lot of these flavor combinations we're using you don't see a lot of out there. The amount of times I see a rosemary cocktail are very limited. I think we're one of the only canned cocktails using rosemary.
BBM: Tell us more about the new gin cocktail you're releasing.
JE: I used to hate gin. And it's funny because gin is such an interesting alcohol base because it can be so complex. You can have dry gin, you can have all these different types and add these different junipers to them, and there are all these really unique combinations. And I found that now my favorite cocktail is a Tom Collins. I didn't know that there was gin in it when I first tried it. I thought there was vodka. I found out it was gin, and I said let's see what we can do here, let's see if we can make a honey-based version of the Tom Collins, which is actually a Bee's Knees. So the Spirited Hive Gin is going to be a Bee's Knees. It's sparkling water, gin, and then we infuse lemon into the honey to make a lemon-infused honey syrup. Then we use lemon juice and that's really about it. So it's very, very simple but very refreshing. A lot of people are a little scared of gin. So we didn't want to do something too crazy for the gin. Just keep it more simple.
BBM: How can Spirited Hive canned cocktails benefit bars?
JE: This isn't your normal canned cocktail or seltzer. This is a little more higher end. You can just have it out of the can, but for the best enjoying experience, crack it open and pour it over ice. It really is just a cocktail, but in a can.
A lot of these "canned cocktails" aren't really like that. Either they smell weird if you pour them on ice, or they just don't taste as good. Whereas these have the quality of a cocktail so you can pour them over ice. So that's something that we're trying to get more in the on-premise  to relieve some of the bartenders. Instead of making a drink behind the bar that takes time, you can just crack it open, pour it over ice, and give it to customers. So that will relieve the bartender and also add another drink to the repertoire of the bar—you get four new drinks.
We're going to be coming out with some promotions for fall into winter because it's definitely a little bit harder for sales in wintertime around canned cocktails; they're such a spring and summer drink. We're trying to come up with fun ideas for the on-premise to see sales continue to go higher throughout fall and winter.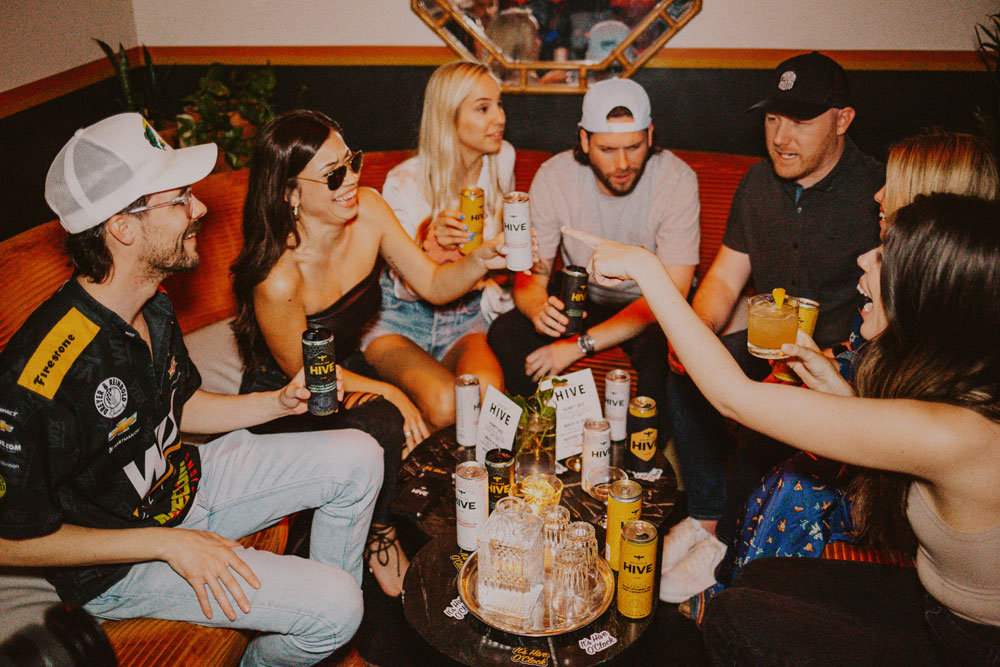 BBM: Tell us more about the brand's concept of the "hive."
JE: This company was made with friends, for friends, so our ethos is, who is your hive? Who is your community? Who are you going to connect with and drink with?
And that's also a lot of why we did these sports deals with the National Soccer Club, the Sounds, and also the Titans because there's so much camaraderie around sports and also this community aspect around Hive as well.
All photos: Sean O'Halloran