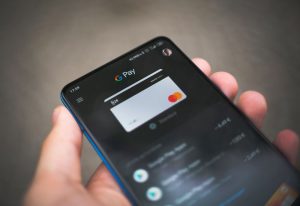 As bars and restaurants reopen to a harsh reality, it's time for owners to consider new ways to operate. Adjustments and enhancements to POS systems will be an unavoidable part of this process.
"Right now is the time to try something new," says Joe De Pinto, co-founder of Barpay. "We know that technology can help us."
Contactless Payments
Customers are demanding a more sanitary experience from beginning to end, which means avoiding processes like passing a credit card back and forth. Contactless mobile payments are the future. De Pinto says, "The concept has gone from nice-to-have to more of a necessity."
Michael Russo, chief technology officer at Shift4 Payments, emphasizes that the ability to take contactless payment will be an important feature for bars and restaurants going forward. Handheld mobile devices prevent a server from needing to take a credit card back to the POS. Russo says, "You need mobile devices that are fast to use, responsive to use, and reliable."
Shift4 Payments' SkyTab is a mobile payment processing device with a 4G card, which allows it to be used even in areas without WiFi. The device also works for outdoor dining areas or even in the parking lot for takeout orders, where the customer can pay by tapping their phone or credit card while sitting in their car. If the customer does not have a credit card with tapping capability, they can still insert a chip card into the device's slot without touching the device.
Barpay is an app that provides multiple services, including an ordering and payment platform. Customers download the app, and it stores their credit card payment information, similar to apps like Uber or Airbnb. They can browse venues with Barpay near them on a map and view the menu, hours, phone, and get directions.
Once the customer is within a certain geofence radius of the venue, they can open a tab and place an order. While placing the order, they request either table service, delivery, or pick up at the bar. Meanwhile, the bartender receives the order via a small Epson thermo-receipt printer that prints out a slip with the order summary. When the customer arrives, they can simply show their phone with the matching order number to the bartender and pick up their food and drink.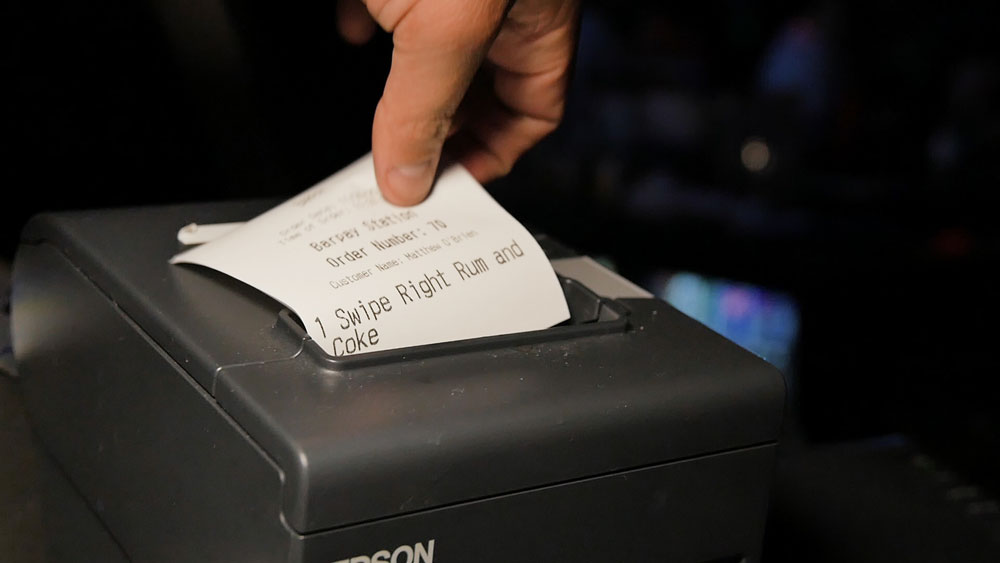 The Barpay system does not replace the traditional POS, but complements it. It's ideal for allowing some percentage of customers to enter and pay for orders remotely, which can reduce the wait time for customers and the time spent by staff entering orders. It's especially useful for a bar's busy hours.
The only cost to the venue is the initial cost of the printer. Barpay works with venues to match or beat their credit card processing fees. The app gets revenue from sponsored logo placement on its free digital menus. In addition, for crowded or busy venues, Barpay gives customers the option to pay more for a "Fast Lane" option. De Pinto explains, "It gives people who value their time more than their money the ability to purchase their way to the front of the line." Barpay receives a percentage of the Fast Lane fee.
QR Codes
Another promising avenue for promoting the contactless experience is QR codes. Many smartphones now come with QR code readers, making this formerly clunky technology a newly easy way to pull up a website.
Shift4 Payments will soon release the ability for customers to pay with QR codes. Checks printed from the POS system will have a QR code at the bottom. Rather than offering up a credit card, the customer can scan the QR code with their phone and view the bill online. They can then pay using their credit card or another payment method, such as Apple or Google Pay. Russo says, "That's completely touchless from the standpoint that the guest doesn't touch anything."
QR codes can also connect customers with an online ordering site. Shift4 Payments offers this functionality with its SkyTab Takeout online ordering service. This takes the concept of online ordering, which traditionally occurs from the customer's home, and brings it in-venue. The venue can print a QR code onto a table tent, allowing customers to bring up the online ordering site at their table without ever touching a menu.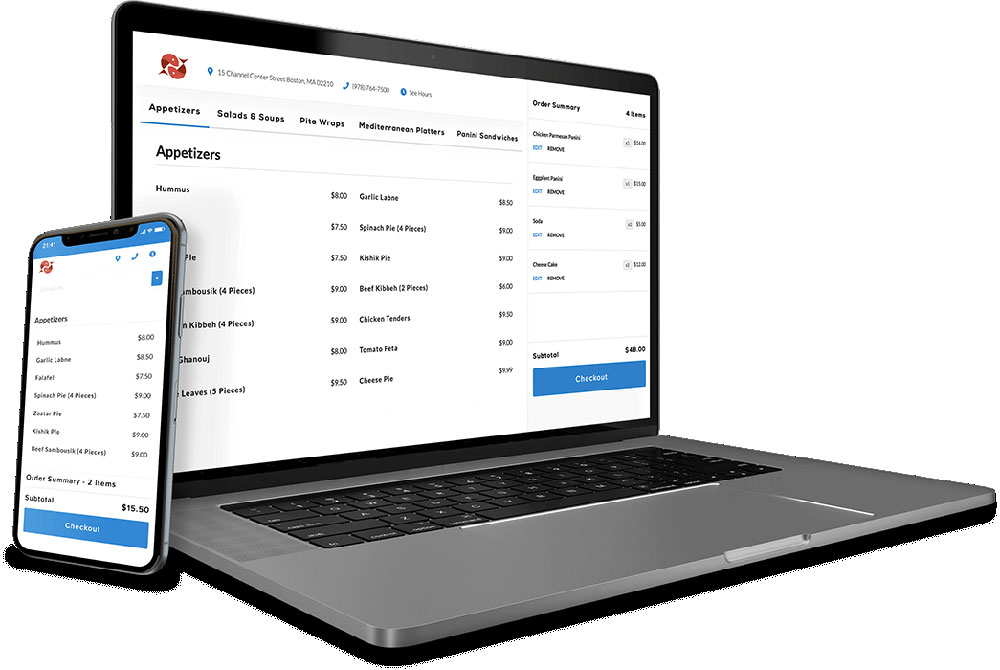 Barpay also offers the ability to convert a bar's menu into a contactless, digital experience via QR code. Owners can create a free account at barpay.com/menus, upload a PDF of their menu, and a QR code linked to that PDF is automatically generated. Additionally, the website provides a formatted template for window displays and table tents, giving owners a fully functioning contactless digital menu ready for display in less than five minutes.
Shift4 Payments is making its mark not just through technology, but also direct financial support to local businesses affected by the pandemic. The Shift4 Cares program allows customers to visit cares.shift4.com to search for a restaurant and purchase gift cards. Shift4 will contribute an additional 5% to that restaurant. Shift4 has committed to contributing up to $10 million in total. The initiative has the potential to raise more than $200 million to put back into the business community.
Back to Basics
Eric Elwell, CEO of 2TouchPOS, encourages bar and restaurant owners to reconsider the cost assumptions of running their businesses. In many states, indoor dining areas face reduced seating capacities due to restrictions aimed at facilitating social distancing. This requires a recalculation of how much revenue your business can bring in based on a lower number of customers, which can affect staffing and the variety of menu offerings.
According to Elwell, with fewer customers, the math is simple: "You have to charge more." It's ultimately a choice between raising prices or going out of business. And Elwell speculates that customers will understand the need to increase prices. Everyone is aware that businesses are struggling, and they're in a state of mind to support their favorite places.
Bar owners should also look to reap the data from their POS systems and complementing apps, which can provide insights on customer behaviors and popular menu items. From there, the data can be used to more accurately market to your customers.
Harnessing the power of geofencing can also be useful in attracting new guests. De Pinto gives the example of a bar getting a new IPA on tap. The bar can send a push notification or email targeting any Barpay users within a certain radius, informing them of the new offering with a $1 off coupon. This targeted marketing has the potential to attract Barpay users who haven't been to your bar before.
Delivery
With the potential decline of in-venue customers, delivery has become an important avenue for sales. Services like GrubHub can take care of the delivery aspect, but it's important to take into account that the fees can be hefty. For GrubHub, the fee is between 10-30% of the order. Elwell recommends taking that into account when setting your GrubHub prices. For example, if you sell an entrée for $30 and it's delivered through GrubHub, you may only get about $20. To make up for the lost revenue, the entrée should cost $40 on the GrubHub platform.
If delivery becomes a major sales channel for your establishment, it's worth considering using a dedicated order entry and delivery package like the one offered by 2TouchPOS. "Delivery's not hard when you use software to manage the process," Elwell says.
For effective delivery management, you need to assign orders to a driver and keep track of which drivers have left and which have returned.
In this new business landscape, bars and restaurants cannot depend upon a single sales channel.
Elwell says, "I think of it as a table." Different sales methods represent different legs, such as dining in, take out, and delivery. A business's table cannot stand upon a single leg. In a year where the only norm is change, the best strategy is to get creative to make sure your establishment stands solidly on multiple legs.
By Emily Eckart
Photos (top to bottom): Mika Baumeister on Unsplash; Barpay; Shift4 Payments.