Want to make sure your restaurant is getting the most out of its menu? Then you need to understand the core tenets of menu psychology .
Decades of research on how customers interact with menus have revealed some simple tricks that all types of restaurants, from fast food to full service, use to stimulate appetite, steer customer attention, and upsell high-margin items. Read on to learn how menu psychology can help maximize your next menu! And keep in mind, many of these tips still apply whether you're using digital menus or paper menus.
If you're looking for an easy way to create a professional-looking menu that follows menu psychology, consider DIY design tools like MustHaveMenus. They make it easy for restaurant to design gorgeous menus and marketing materials with 5,000+ menu templates and an intuitive drag-and-drop editing tool.
Fun with Fonts
More than a way to dress up your typeface, fonts actually convey information about your dish at a glance. Your font choice makes the first impression before your customers even have a chance to read the description, setting the table and influencing their opinion.
Here are what common fonts and typefaces communicate:
Italics convey a perception of quality.
Rounder typefaces are associated with sweeter tastes.
While Angular ones are associated with sourness or bitters.
Wines labeled with a difficult-to-read font are more liked by drinkers.
Communicating with Colors
Colors have powerful and often subconscious effects that you can use to subtly influence customer decision-making. Keep this in mind when choosing colors for subheaders or background details of different sections on your menus.
Greens imply healthy and fresh, so they work well for vegetarian dishes, salad bars, smoothies, etc.
Oranges, reds, and yellows are appetite stimulants, so consider using them for headers and background colors.
Blues are refreshing and work well for drinks and refreshments.
Red creates a sense of urgency, so you can use it to draw attention to high-margin items, specials and promotions, big announcements, etc.
Pricing Tricks
You'd think customers think extremely logically when it comes to pricing. After all, it's just numbers right? Pretty straightforward.
But that's not the case at all. It turns out, very small price differentiations can have huge impacts on how customers view the value proposition, even if you're only dropping it by a single cent.
Here are some time-tested strategies every restaurant should be using.
Drop the price by a cent – at a glance, 5.99 seems much more palatable than 6.
Get rid of the dollar sign all together. Customers don't need to be reminded that they're spending money. The number 12 next to a dish makes the whole transaction feel more abstract and less real than $12.
Place higher-priced items at the top of sections to make the ones that follow seem less-expensive. By the end of the section, your high-margin, prime-placement items will feel like steals.
Menu Real Estate
Understanding how customers read a menu is important to figuring out how to arrange and place your high-margin items and promotions. Just like it's important to understand your grill's hot spots to perfectly cook a batch of steaks, understanding where the eye is drawn to on a menu can help maximize your layout.
Generally, customers read menus like they would a book – left to right, top to bottom.
There are hot spots, however. Eye-tracking studies have shown that people tend to look at the top right corner first, so that's the best place to put high-margin items or promotions you'd like to draw attention to.
When it comes to long lists of menu items, you need to factor in customer attention span and decision fatigue. Splitting the menu into more sections and subsections helps keep the customer from feeling overwhelmed, especially if you have long descriptions. Three to seven items per section is the optimal range, but customers will take the time to read through more if you're a fine dining establishment.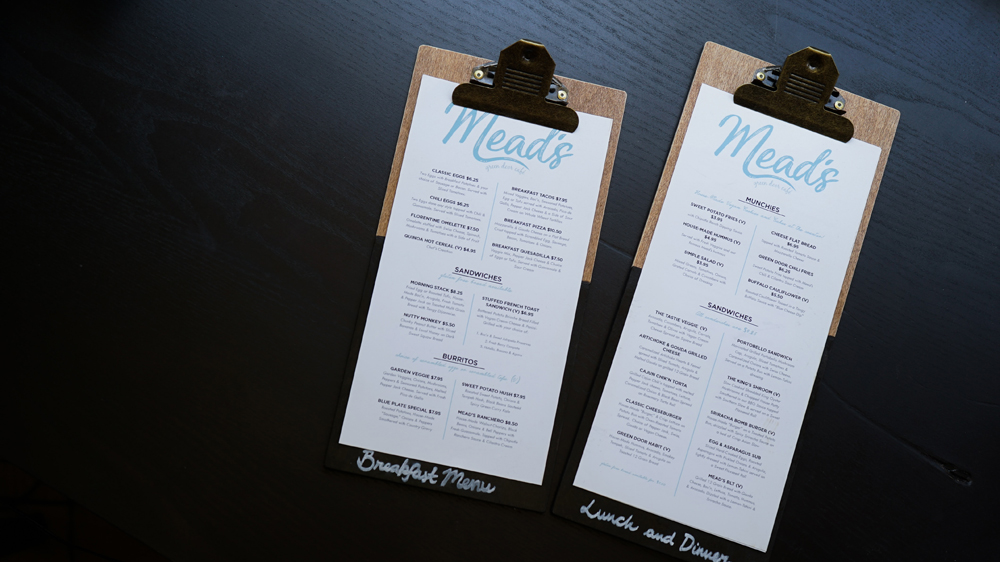 Visual Signals
Colorful visuals can highlight and set apart the areas or menu items you want customers focusing on.
Boxes, bursts, frames, underlines, logos, and highlights are all effective ways to break up the text and signal to your customers that an item is worth their attention.
Images can accomplish this as well, but they carry more risk. Menu imagery is often associated with fast food restaurants and family chains. Not the worst thing, but something to keep in mind if you don't want to create that association in the minds of your customers. Plus, you run the risk of an unappetizing photo, or on the flip side, customers feeling cheated when the dish doesn't match the mouth-watering photo.
Names and Descriptions
Strong adjectives and precise wording can act like a garnish for your menu items, dressing up bland names to make them unique and appealing.
Giving menu items descriptive names can increase sales up to 27%, especially if the name alludes to the item's origin or relation to your restaurant ("cookies" vs. "Grandma's home-baked zucchini cookies"). It adds authenticity to the product, which customers associate with quality.
Extensive food descriptions with longer words give the impression of quality so customers are willing to pay more.
By Mark Plumlee, who writes about tech and design trends for restaurants. He can be reached at

[email protected]

.