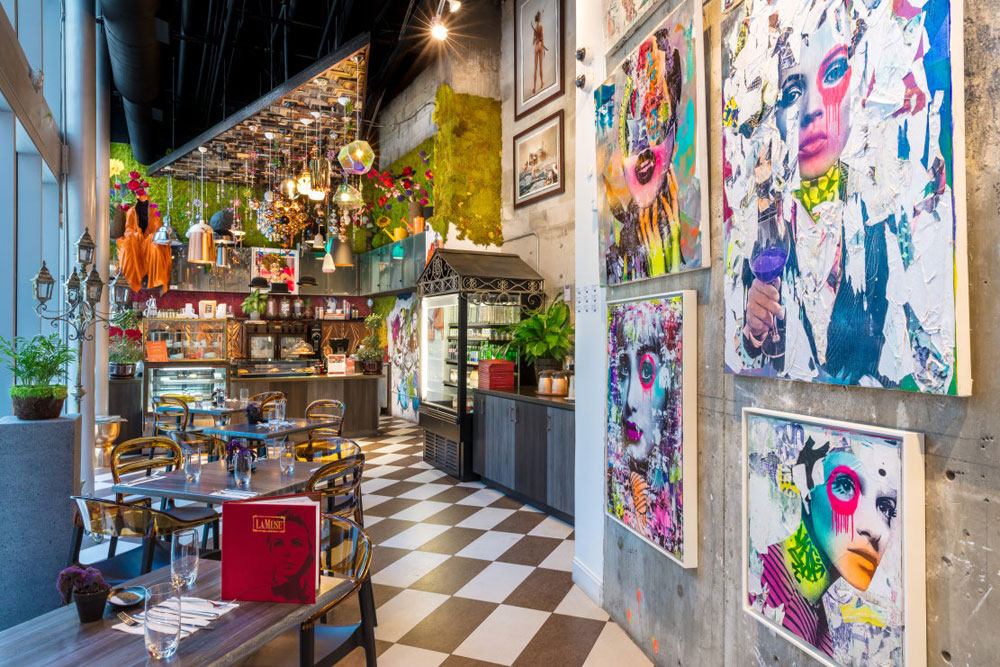 It's often said that crafting cocktails and decadent dishes is its own art form, and LaMuse Restaurant takes this to the next level.
The contemporary restaurant lives inside the Avant Gallery at the EPIC Hotel in downtown Miami, an indoor/outdoor space that originally opened in Miami Beach in 2007 and has become known as the city's premier contemporary art gallery.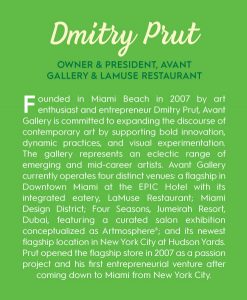 Dmitry Prut, Owner & President of Avant Gallery and LaMuse Restaurant, is guided by the search for something "different and not derivative" when curating the pieces, and the gallery has featured the likes of Skyler Grey, Florian Eymann, Jacqueline Suowari, Will Kurtz, BNS, and more.
"I love art, I love business, I love working with creative people and artists of course, and being able to build a special brand in this market segment is very rewarding given all the challenges you encounter on the way," says Prut. "I'm not sure how and why I was so fortunate to find this path—but I'm happy and lucky that I did."
Now a collection of art-inspired cocktails and dishes are also on display at LaMuse, which is open seven days a week and offers breakfast, lunch, brunch, dinner, a cocktail lounge, and catering, as well as private event experiences.
"There was an opportunity to have an F&B element in this location, and I thought it could be a great way to enhance the guest experience of Avant Gallery's clientele, and at the same time allow those that come to dine to discover the gallery," explains Prut. "Both the gallery and the restaurant present a symbiotic way to tell the story about art, iconic artists, and muses."
Here, art doesn't imitate life—"Art is life™" according to the gallery's tagline. "There is no hard transition between Avant and LaMuse," says Prut. "Its one fluid space and art exists everywhere."
The restaurant is truly a feast for the senses with art on the walls, surrounding the tables, and outside on the lush terrace where patrons can enjoy the Miami weather. Prut and his team selected furniture and other décor items that work with the artistic, inspirational atmosphere.
"I like design that complements art, and together with our team, we cherry picked pieces that worked with the vibe," says Prut.
Artwork can also be found on and in the menu's selections—starting with the cover of the menu, where American socialite, actress, and fashion model Edie Sedgwick, Andy Warhol's muse, is pictured.
Upon opening the menu, patrons will find cocktails and brunch, lunch, and dinner entrées inspired by the world of art. Many permanent dishes are named after artists and muses—like Brigitte's Burrata & Tomato, named after actress Brigette Bardot and featuring handmade Italian burrata, roasted campari tomatoes, pesto, balsamic reduction, and naan bread.
The Audrey Bowl, featuring fingerling potatoes, smoked salmon, avocado slices, campari tomatoes, and topped with two poached eggs, was named for Audrey Hepburn, who loved smoked salmon and potatoes.
French photographer, poet, and painter Dora Maar gets a nod in Dora's Deviled Eggs—classic deviled eggs available in trout roe, lump crab, or plain varieties and all artfully presented.
Indeed, the presentation of the food and drinks are a form of art in themselves—engaging art and the culinary world in conversation on the plate, in the glass, and in the experience of the guest.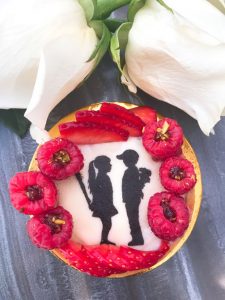 "Some of our dishes do look like a work of art, and of course this is all part of the effort to continue telling the story revolving around art," says Prut.
The presentation of desserts especially shines here. For example, the Art Tart®— a seasonal dessert inspired by famed street art icon Banksy—combines nutella, cream cheese, fresh raspberries, raspberry reduction, and pistachio dust, and features a Banksy illustration.
The Chocolate Cloud dessert includes three layers of chocolate mousse with caramelized hazelnuts topped by a whimsical pink cotton candy cloud.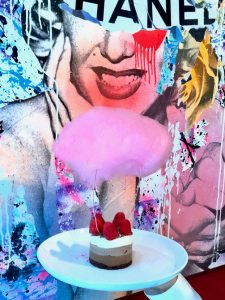 LaMuse rotates seasonal items and specials into its menu as well. Sometimes they coincide with special events.
Take the over-the-top $5000 dinner for two the restaurant created to coincide with the Art Basel Miami art fair, which included a lobster for two encrusted in and surrounded by edible, 24-karat gold. It was served with Bourdain risotto, black caviar, champagne, and dessert. The dinner even included a piece of artwork valued at $4200.
Artists and their muses are also featured on the cocktail menu, which artfully presents everything from Bloody Marys to margaritas to punches to mules. Andy Warhol gets a nod in the pink-hued guava punch, featuring sake, guava purée, citrus, and honey simple.
Artist Frida Kahlo is honored with a margarita that includes tequila, agave simple, lime, orange bitters, a lavender sprig garnish, and black salt.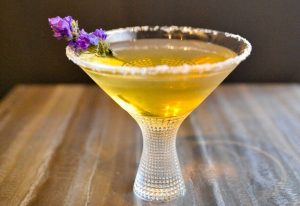 "We researched what famous artists and muses liked to drink, and sometimes they are inspirational cocktails, but all in all the idea is to continue telling the story of Avant and LaMuse, art and muses, inspiration, and popular consumption through the drinks," explains Prut. "We also have seasonal cocktails and specials, for instance, we create cocktails that are inspired by concurrent art exhibitions."
The cocktails are all wine-based and use products from Premium Blend, a Miami-based company that offers an entire line of wine-based liquors and liqueurs. (Note: See our Behind the Bar column featuring Premium Blend and the use of wine-based substitutes in the June 2019 issue.)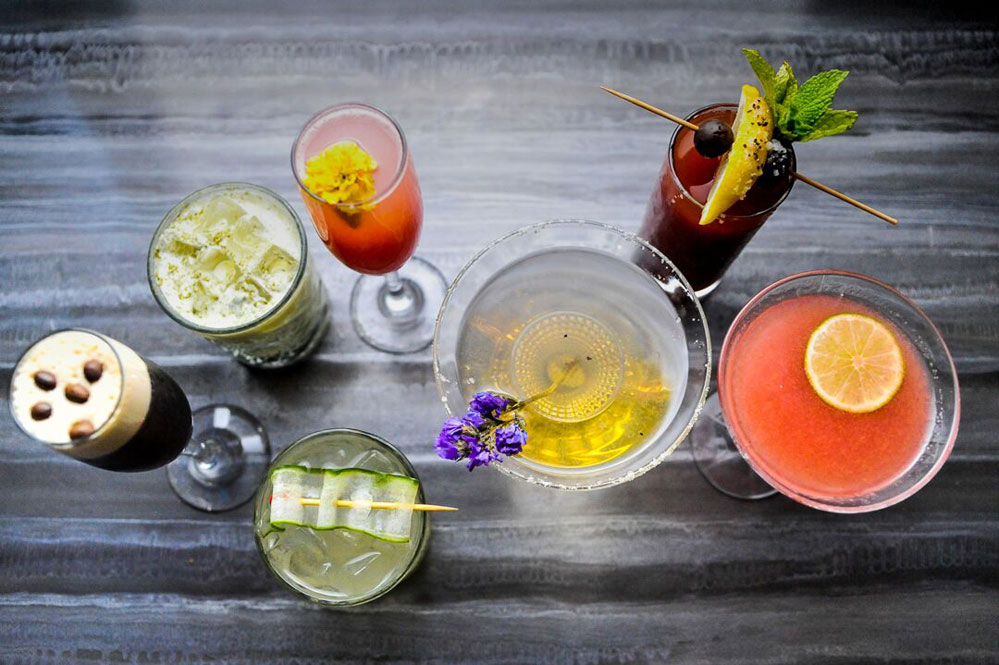 Premium Blend's wine-based products—which offer substitutes for everything from whiskey to gin to tequila and more—allow LaMuse to offer cocktails with their beer and wine license. "This location only offered the opportunity to do a 2COP [Florida beer and wine consumption on-premises] license, which is limited to fermented spirits versus distilled, which are higher ABV," says Prut. "So we had to get creative with our hand-crafted cocktail program that wows folks.
"Being in Miami and located in a hotel, it's crucial to be able to offer alcohol. Mimosas, rosés, and Bloody Marys for brunch are an absolute must."
A variety of wines, TeaPunch® Sangrias, and proseccos and champagnes are also available.
By Ashley Bray
Photos: LaMuse Restaurant & Avant Gallery.