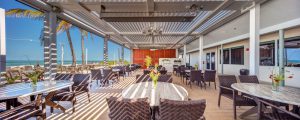 The summer months mean lighter drinks, longer nights, and a lot more requests to sit outside. An outdoor area can be a boon for bars once the weather changes—it attracts patrons, increases your seating capacity, and leads to longer stays and larger checks.
Before all that can happen, however, you must make sure your outdoor area is properly set up so that your guests are comfortable and you strike the right aesthetic. Here are three companies with products for plenty of fun in the sun.
Cultivating Comfort
First and foremost, your outdoor area must be comfortable, and this includes providing temperature control through shade, heating, and cooling options as well as insect control. Luckily, there's a company in the business of comfort: A-NIKS Outdoor Comfort Solutions.
"A bar owner who makes the financial commitment to patio space intends to maximize profits in that space. To that end, they should be thinking about ways to lengthen the time of year their patio can be comfortable for their patrons outside of the timeframe that Mother Nature makes it comfortable," say Owner Al Erturk and National Sales Manager Jim McMahon. "Identifying the issues, such as sun and heat or rain and cold, that are keeping the patio from peak usability will dictate the solutions we suggest."
Whether a bar needs heating, cooling, or both, A-NIKS has a variety of solutions. "'Conditioning' the patio space will increase check average and customer spending as well as elevate the guest experience," say Erturk & McMahon.
For cooling, the company offers its TurboCool™ technology, with combination options that include heat and lighting. The units can be wall mounted, post mounted, replace ceiling fans, or users can opt for the CoolRox™ model for ground placement. A complete line of fan misting and mist lines are available as well. On the heating side, A-NIKS offers a full line of outdoor electric and gas heaters, including fire tables and torches.
"Our outdoor cooling in high humidity delivers a 10- to 15-degree temperature drop, and in arid climates, as much as a 30-degree temperature drop," say Erturk & McMahon. "Our heating can deliver up to 30-40 degree temperature rise when installed properly, although most clients' budgets and circumstances are looking for 15-25 degrees.
"Models are determined depending on the space, i.e., square footage, ceiling height, and mounting options available."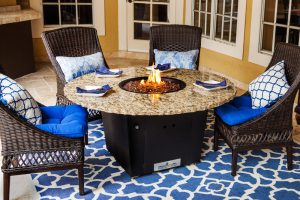 A-NIKS' Firetainment Fire Tables offer the dual purposes of heating and entertainment. "Customers perceive a bar with fire tables as higher end and since most everyone enjoys a fire, a fire table can bring strangers together to give the bar a more social atmosphere," say Erturk & McMahon. "Some bars will offer the seating around Fire Tables on busy nights as part of the bar's VIP/loyalty program."
Each location differs, but most bars limit fire tables to around 25% of their patio space. "Installation is very easy if the bar opts for propane canister operation," say Erturk & McMahon. "If the bar wants to supply gas directly from the street or a large tank on property, then cutting the floor open to install the gas pipes is required."
(Note: Turn to page 23 for more on heating/cooling equipment.)
Shade products can also help in controlling the temperature outdoors. A-NIKS offers a wide variety of products, including shelter systems and retractable roof structures. For the sides of patios, retractable screens and rising glass panels are available.
Shade solutions include the SHADEMASTER Canopy, a retracting scalloped sail that provides sun control and light rain control, and a full line of commercial umbrellas, including options designed for high winds.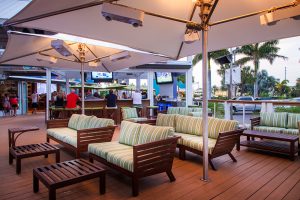 "Specific models are based on the needs of the bar owners so we ask plenty of questions," say Erturk & McMahon. "For example, are they trying to shade only or do they want rain protection as well? Does the bar owner want to mount heat or cooling to the umbrella? Does the bar owner want the umbrellas portable or fixed? Does the bar owner want the umbrellas branded with logos?"
Insect control can also go a long way in creating a comfortable outdoor space, and A-NIKS offers a system designed to give a 90% outdoor reduction in a variety of insects.
A-NIKS stresses that location matters, however, and certain venues—especially those located in malls or concrete surroundings—are not suitable for the service. "We are generally looking for locations with some kind of landscaping features to be of benefit to our restaurant customers," say Erturk & McMahon.
TV Tune-Up
Once a comfortable outdoor area has been set up, make sure your guests have all the same entertainment options outside that they would have at an inside table—including access to a TV.
"Bringing sports and entertainment to outdoor spaces can dramatically increase attendance, drive increased productivity, and enhance the overall customer experience," says Josh Litwack, Director of Commercial Sales for SnapAV, which manufactures SunBriteTV®.
But you shouldn't put just any TV screen outside when the unit will be exposed to the elements, bright sunshine, and wide-ranging temperatures. SunBriteTV® offers
a line of all-weather televisions and accessories designed for outdoor use.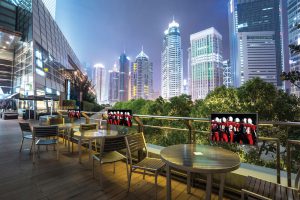 Litwack says choosing a TV specifically geared for outdoor use comes down to three things: performance, durability, and safety.
Performance. SunBrite TVs offer 50% to three times higher brightness, reduced glare, and a sharper picture than typical indoor TVs. Features include 4K commercial-grade anti-glare screens with high-dynamic range. This provides an ideal viewing experience
in brighter outdoor environments.
Durability. SunBrite TVs are designed and warrantied to handle rain, snow, dust, insects, salt air, humidity, and extreme temperatures. They include a weatherproof case that is gasketed, powder-coated aluminum, and weatherproof media compartments. In most cases, they can be left outdoors year-round.
Safety. SunBrite TVs are engineered for safe, permanent outdoor installation. Indoor TVs are not designed for exposure to weather and specifically warn against it due to potentially dangerous consequences. SunBrite TVs also include professional-grade control options like IP control & HD-BaseT.
SunBriteTV offers a number of television models for bars to choose from. "The main considerations are the amount and severity of sun exposure the TV will receive at the install location and whether the TV will be in a high-traffic outdoor area with significant risk of screen impact," says Litwack.
As for the number of screens to install, Litwack says it comes down to vantage point. "Ideally, bars should deploy enough outdoor TVs so that patrons have a great view of sports and other video entertainment from any popular outdoor vantage point," he says, explaining that SunBriteTV works with independent professional integrators and installers nationwide to install television units.
Achieving an Aesthetic
Your outdoor space's design should be a natural extension of your interior, or it should have its own aesthetic.
ShimmerScreen®, manufacturer of decorative ball chain curtains, offers a simple, easy way to craft an appealing aesthetic outdoors.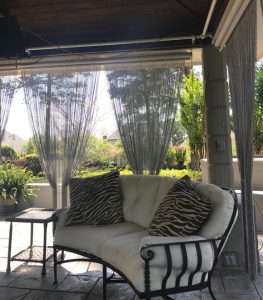 The company offers a variety of bead styles and finishes, but its stainless steel material is best suited for outdoors. "We manufacture our stainless steel material in the round style," says Jim Taubner, President of ShimmerScreen. "The round style is the most popular option, and we offer a variety of sizes."
The curtains can even be powder-coated in custom colors to match an existing design or a brand color.
ShimmerScreen can be used to divide a space or simply for aesthetics. "ShimmerScreen is a great way to create a division of space without closing off the area completely like a wall or fabric. Many clients have used ShimmerScreen to help define a private section or dining area," says Taubner. "It is also commonly used as backdrops, lighting fixtures, or unique design elements."
Installation is quite simple, and bar owners can choose between curved, single, wall mount, or double track options.
By Ashley Bray
Photos (top to bottom): A-NIKS (first three photos); SunBriteTV; ShimmerScreen.