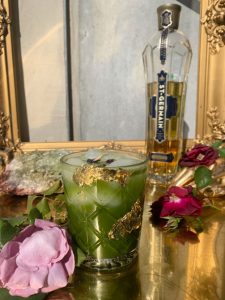 Ingredients:
1 part / ½ ml ST-GERMAIN® Elderflower Liqueur
1 part / ½ ml Grey Goose® Vodka
1/2 part / ¾ ml fresh lime juice
1/2 peeled kiwi cut into pieces
1 teaspoon of matcha powder
Sparkling water or wine
Directions:
Put all ingredients together. Muddle kiwi (you can utilize a fork for this!). Shake with ice, strain into a vessel with or without ice. Top with sparkling water or wine.
Created by Pamela Dylag (@pameladylag)