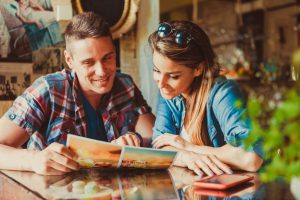 Designing your bar's menu should be a fun and exciting task, but it is also a potential turning point for your venue's long-term sustainable success.
Every glass and plate needs to deliver a visible, positive emotion and also must hit a variety of senses, in addition to a variety of food and beverage "strategies" that align with your overall concept and its core statements.
To develop an epic menu takes an enormous amount of effort, but it can become a template for success that can be repeated quarter-after-quarter and year-after-year with the right structure, programs, planning, and mindset.
If you've developed a conceptual plan for your bar, you would have shaped your idea into a tangible form with character, heart, and soul—giving your concept a visual personality. Using these characteristics will help you define the style and size of your food and beverage menu.
Research & Development is the first, fundamental step towards a winning menu concept. While we can't create your menu for you within this article, we can prepare you for the questions you need to answer.
Ideal Customer Profile. Guests are more educated today about beer, cocktails, spirits, wine, etc., not to mention where their food is (or should be) coming from. Consumer knowledge has forced concepts to elevate their food and beverage strategy, and yours should be no different.
You need to first understand everything you can about your ideal target customers; their age bracket, spending habits, entertainment budgets, food and beverage budgets, their desired experiences, choice of flavor profiles, how they prefer to be marketed to, and how they go about their average day-to-day lives. What does that customer look like for you and your brand? How many of them exist within three to five miles of your venue? How can you exceed their elevated expectations?
Day-Part Strategy
Once you understand your ideal guests, you then need to maximize each operating moment by looking at your mornings, lunch periods, afternoons, dinner hours, and late night day-parts. Can your bar introduce a strategic food and beverage menu that targets specific timeframes throughout the entire day at a high level of expertise without diminishing storage and overall productivity? Can you offer elevated coffees and reduced alcohol volumes during the day and an enhanced cocktail program at night? What about your happy hour strategy? Remember, once an hour (moment) goes by, you never get it back again!
Competitive Analysis
How does your ideal customer profile match up against the profile of your hyper-local competition? What levels are you competing on in terms of value, pricing, guest experiences, flavor profiles, production, marketing, etc.? What strategies within your menu can you create that will position you to crush your competition? How can you differentiate your food and beverage menu in a way that will both attain and retain customers? Like your ideal customers, find out what you can about your competition in terms of market share, perception of value, quality of service, local marketing, competitive advantages, and of course, their menu.
Sensory Management
Using this accumulated content and data, you can begin to develop a menu that will focus on a variety of senses. Your bar needs to remember that you don't just sell food and beverage—you sell experiences through the enhancement of guest emotions. Each and every item on your menu should enhance the visual, olfactory (smell), gustatory (taste), and even auditory (music, ambience, the sound of cocktail shaking) senses of your guests. Each item should meet at least three of these senses. How can you make your cocktails, nachos, and chicken wings, for example, the absolute best in your neighborhood? This type of mindset towards planning is what will make your menu (and concept) different from your competitors!
Skill Set
You should have a vivid understanding of your menu concept by this stage. What skill set is needed among your staff to execute this style of menu? Is the labor pool in your community strong enough to pull from to meet your criteria? Is your training plan developed in a way that it consists of proper job descriptions, on-boarding methods, communication strategies, and ongoing training programs? Keep in mind, your bar is "only as good as its worst bartender"—everyone, and this goes for all positions, must be trained consistently to maximize the potential of both your menu and overall venue.
Vendor Selection
Your choice of suppliers equally plays a large factor in the success of your menu. Transparency, traceability, and accountability must be a top concern when deciding on vendors to ensure all products (both food and beverage) entering your bar are not only safe and sustainable for your customers, but also for your community. Are they in a position to consistently deliver the quality product and ingredients you need each and every time? Can they grow with your brand in terms of quantity? Will suppliers and ingredients need to change based on seasons? Are there partnership opportunities with your vendor that will allow you to collaborate on future events and marketing initiatives? Do your due diligence for the betterment of your brand.
Economic Factors
Now that you understand your vendors, competitors, labor needs, and ideal customers to execute an epic menu, the next step is to formulate your pricing strategy. Keep the mindset that "every drop (and bite) counts." Cost out every ingredient used, develop fundamental inventory processes, and create a balance in your menu that will drive the perception of value within your pricing strategy. Your pricing needs to reflect your target market, your competitive analysis, your quality of ingredients, and the quality of skill needed to execute your menu. All of your work should start coming full circle.
Ergonomics
Now that you know the core of your menu, you can plan the remaining components around your bar and kitchen equipment, its square footage, and the productive layout of your stations and back bar in terms of staff movement, pivot points, mise en plus, and point-of-sale. Remember, there is a cost in time to execute your menu; how can you maximize productivity within your bar based on your desired menu? What could an additional five drinks an hour per bartender mean to your bottom line over the course of a year? Look into and analyze each menu item and the staff movement required to deliver that item. Menu Engineering. From recipe documentation to menu layout (size and presentation), the development of ice programs, creation of unique food and beverage pairings, product mix, sales mix, product education, and story-telling; your menu engineering strategy is arguably the most important aspect once you're operating. You and your team need to consistently review your menu's positioning, productivity, and profitability on a weekly, monthly, and quarterly basis through the use of sales reports, guest feedback, and team meetings.
Menu Activation
Once your team is trained on executing the finalized menu, it's time to launch an awareness campaign. A successful menu launch includes building plenty of buzz for the one to two weeks leading up to the official launch. It also means developing a specific, measurable, and unique marketing plan for your new menu. This should include the likes of photo/video content, social media and other public relations, and a menu launch party with tasting events.
Whether you're developing your first bar menu or re-engineering your current one, you must also position yourself to be open to change. Adapting to change in consumer behavior, labor dynamics, operating cost structure, hyper-local competition, and supply chain management will all play a factor in how your menu performs now and in the future.
Not adapting to change shows that you've become complacent. How many bar menus have you seen that haven't been changed in years? How many bars have you seen close their doors over the past year that seemed to be an icon in their respective neighborhoods for decades?
This is often not a coincidence.
Your menu and concept must remain "fluid." Understanding the economy, human resource management, and socio-economics will position you to adapt and make sustainable business decisions year after year, starting with building the fundamentals of your number-one marketing tool: your epic new menu.
By Doug Radkey, Founding Partner and Lead Strategist at Key Restaurant Group, a speaker at leading industry events, and the author of the recently released book Bar Hacks. KRG is a creative North American start-up planning, development, and support agency for bars, restaurants, brewpubs, lounges, hotel F&B programs, and more.