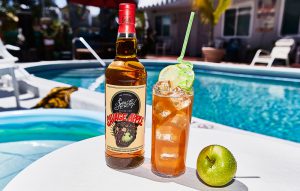 Recognized for its independent spirit and bold, smooth taste, Sailor Jerry Spiced Rum introduces Savage Apple, a 70 proof apple-flavored spiced rum, marking the first new liquid innovation since the launch of the original Sailor Jerry 19 years ago. With an SRP of $15.99, Savage Apple will launch initially in New York and Florida, before rolling out across the country this fall. Sailor Jerry Spiced Rum was made to honor the godfather of old-school American tattooing, Norman "Sailor Jerry" Collins, his philosophy and his passions. Savage Apple reflects those same ideals, but with a more playful offering that pays tribute to Norman Collins' more amusing side.
True to the traditional notes of vanilla and cinnamon in Sailor Jerry Spiced Rum, Savage Apple adds a bold, in-your-face flavor of fresh, lively apple and cinnamon – Best served chilled, this all-in rum goes down smooth. "Savage Apple is an amazing addition to the Sailor Jerry story. This is the first new product we've ever released, and it is a fantastic liquid; one we know our fans will enjoy for its quality and bold nature," said Anthony Bohlinger, Sailor Jerry Brand Ambassador.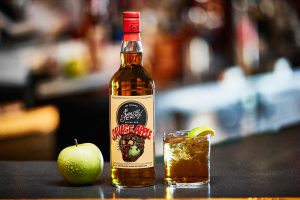 Norman "Sailor Jerry" Collins was a Navy vet who built his rep inking soldiers and sailors in WWII-era Honolulu where he established his legendary tattoo parlor. He used his love for tattooing as an outlet of self-expression and choosing to live "outside the lines." The Savage Apple bottle design, like the liquid inside, honors Collins and his creative works, reflecting his unapologetic, savage attitude with original tiger flash marking the bottle wrap.
"This summer, Savage Apple is ready to hit bars, beaches, backyard BBQs and more," added Bohlinger. "The combination of delicious apple, cinnamon and bold rum is damn good, and we can't wait for you to try it."
Photos: