The Wine & Spirit Education Trust (WSET), the largest global provider of wine and spirits qualifications, has announced that its much-anticipated new Level 3 Award in Spirits is now live, with the first courses in the UK and USA open for booking.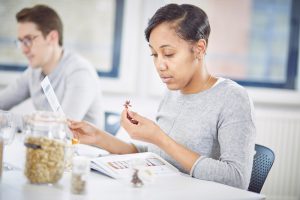 The WSET Level 3 Award in Spirits has been developed in response to the global growth of the spirits industry and the resulting demand for advanced level, brand-neutral spirits category knowledge. This new qualification will build on the Level 2 Award in Spirits, providing greater detail on production choices and their impact on style and quality. It will also cover a broader spectrum of world spirits, including the key Asian spirits: Shōchū, Baijiu and Soju.
Content for the Level 3 Award in Spirits includes technical information covering the principles of production – from creating a sugary liquid to fermentation, distillation and post-distillation options – and in-depth coverage of the Scotch, Cognac, Armagnac, Caribbean Rum, Tequila, Mezcal, Vodka and Gin categories. As with other WSET Level 3 qualifications, the exam will include both a blind tasting exam and a written paper comprising multiple-choice and short written answer questions. The course requires a minimum of 84 hours study time.
Course developer Nick King DipWSET, WSET Product Development Manager, Spirits and Sake, comments: "The spirits industry has been crying out for a more advanced qualification in spirits. Candidate numbers for WSET spirits qualifications (Levels 1 and 2) have grown significantly in the last 10 years (from 540 in 2009 to 6600 in 2019) and are now taught in 33 countries worldwide reflecting growing global demand. We are delighted to now be able to offer the industry a Level 3 Spirits qualification that develops candidates' knowledge and understanding of the category in great depth and also builds their tasting skills, teaching them to identify the structural and aromatic elements that make up a spirit and to make a compelling quality assessment."
The following courses are now available to book:
USA
WSET School London
All these courses will be led by course developer Nick King. Places are limited and demand is expected to be high so early booking is advised. We recommend that candidates for this course have the WSET Level 2 Award in Spirits.
Further course dates will be coming online in early 2020 through our network of Approved Programme Providers and will be updated here.