Building on the success of its GP-100 Glass Polisher, Bar Maid Corporation released a new CP-7000 Cutlery Polisher. This pair of polishing machines makes glassware and cutlery polishing fast and easy, while reducing labor costs, risk of injury, and unhygienic handling associated with hand polishing.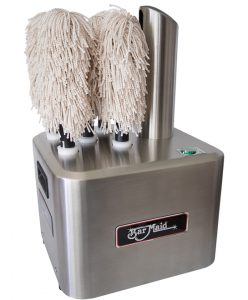 Bar Maid's top-selling GP-100 Glass Polisher is fast and efficient, at least five times faster than hand polishing, easily paying for itself with huge labor savings and more sanitary than using a bar rag to polish glassware. But since its release, the number-one reason customers say they are buying it is… SAFETY! With the GP-100 there's virtually no glass breakage or associated injuries resulting in considerable savings in glassware and potential Workers Compensation claims. Many major hospitality chains now specify it. Bar Maid now offers a 2-Year Limited Warranty on GP-100 Glass Polishers (requires registration with Bar Maid).
The PH-5S standard polishing machine heads are so versatile they polish most sizes and shapes of glassware. For customers who need to polish tall glassware, Bar Maid offers the GP-552 long polishing machine heads that are sold separately and included on the GP-100-LB model glass polisher. The specialized champagne flute polishing head is perfect for polishing tall champagne flutes.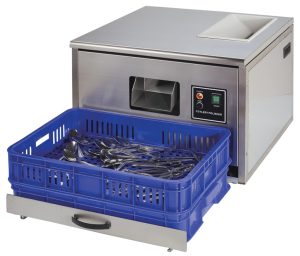 While the GP-100 is key to sparkling glassware, Bar Maid's new CP-7000 Cutlery Polisher is indispensable for quickly turning wet, clean cutlery into dry, spot-free, sparkling cutlery. Water-spotted cutlery can make patrons question its cleanliness. The CP-7000 can polish up to 4000 pieces/hour depending on the operator and cutlery being polished, removing water spots and eliminating unsanitary hand polishing.
"These glass and cutlery polishing machines are the perfect polishing partners," says George Shepherd, president of Bar Maid. "Busy restaurants, hotels and banquet providers are going to love the time-saving efficiency and sparkling results."
Simply insert 8-10 pieces of cutlery in the top chute every 5 to 10 seconds. Cutlery vibrates through warmed organic granulate (150-170˚F) drying and polishing cutlery. UV-C exposure sanitizes before cutlery exits helping to eradicate any potential bacteria remaining from the washing process. Polished, dry, sanitized cutlery exits from the side chute into a clean bus pan or rack, ready to impress your customers.
CP-7000 Cutlery Polisher has a relatively small footprint to fit most work tables. Use the handy CP76 Wheeled Cart to increase ease of portability for cutlery polishing.
Other New Products for 2019:
Rimmer Refills – Margarita and Bloody Mary Salts in a bulk bag are a hassle to work with, often spoil or get "lumpy" from humidity. Rimmer Refills are the perfect solution with a sealed storage bag containing 10 perfectly portioned refill packs for Glass Rimmers. Available in 4 varieties: Hawaiian Black Lava Salt (CR-103HBL), Natural Key Lime Salt (CR-103KL), Natural Margarita Salt (CR-103W), Bloody Mary Salt (CR-103BM).
Liquor Pourer Caps – Convenient, low cost covers for Bar Maid's 285 style pourers. Extended with a "grip spot" making it easy to put on or off. CR-285CAP
pH Test Paper – 3 – 5.5 for foodservice applications in a convenient dispenser. DIS-402
Chlorine Sanitizer Test Strips – 100 quantity in an economical vial. DIS-303