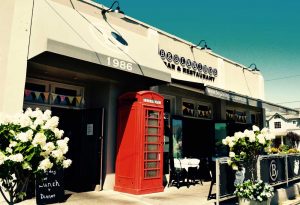 The meaning behind the name of the bar and restaurant Beginnings is three-fold.
First, it represents the new beginning the establishment represented for Owners Ben and Heather Freiser when they opened in the spring of 2016. Heather, who has a background in literature, always wanted Ben, who has spent over 20 years in the restaurant business, to open a literary themed restaurant. When a location opened in Atlantic Beach, New York, the couple decided to turn the idea into reality.
Secondly, the name is a nod to the literary theme and the framed first pages of famous books that make up the décor.
The bar also features a bookcase that opens to reveal the bathroom, a bar that looks like a card catalog (complete with the names of regulars on some of the drawers), and lots and lots of books.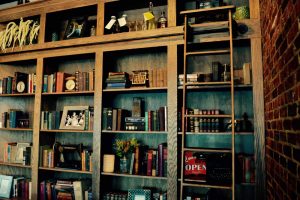 Many of the books are from the Freiser's home while guests have donated others. The owners have even received some books as gifts—including a coveted copy of the Handbook for the Recently Deceased from the movie Beetlejuice, which the Freisers have had to move to a secure location as guests keep trying to steal it. "It's good to see people like books as much as we do!" laughs Heather.
Lastly, the name is a play on the venue's location at the beginning of Long Island—it's the first restaurant at the start of the South Shore. It's also a nod to the restaurant Muse @ The End in Montauk at the other tip of Long Island.
Now, the Freisers can add a fourth meaning to the Beginnings name—the rebirth of the bar and restaurant in the wake of the COVID-19 shutdowns.
The day before Beginnings was to celebrate its fourth anniversary, the Freisers got notice that they would need to shut down due to COVID-19. They quickly transitioned to takeout and delivery, but it wasn't a familiar model. "We were not a takeout place before," says Heather.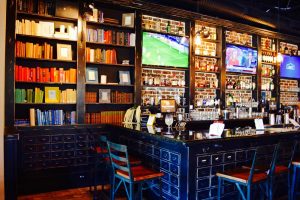 With all area establishments moving to takeout and competing for the same customers, the Freisers realized they couldn't survive on a normal takeout menu alone. "We needed to separate ourselves from the others, and we decided to stick with some of the same themes that we were doing in-house when things were normal and offer it for takeout," says Ben.
One of the concepts they transitioned was their Friday night dinner and a movie. Prior to the pandemic, Beginnings would show a movie and offer a three-course menu to complement the viewing.

"Every Friday we were recommending a different movie for our guests to watch at home, and then we were offering a three-course menu to complement it," says Ben, who explains some of the first movies they recommended were Goodfellas and Jaws. "Then we decided to go a little more family friendly, and we did The Goonies. And it was working. People were sending us pictures and tagging us watching the movie at their house."
Trivia was also popular, so every Saturday night the owners livestreamed themed trivia and sold accompanying cocktails. "Some places were doing trivia, but nobody was doing a menu or a theme with it," says Ben, who notes themes came from trending topics during quarantine, such as the show Tiger King.
Offering cocktails to-go was a boon for the bar/restaurant. "Cocktails to-go has helped us and tons of other businesses immensely," says Heather.
She explains that Beginnings was one of the first restaurants in the area to offer to-go drinks in pouches. They offered their usual cocktails, which are split into "The Canon" (classic cocktails like the Old Fashioned, French 75, Manhattan) and "Advanced Reading" (housemade concoctions named after literary figures and novels). In addition, they added selections that would be appealing to the beach community on the go. New offerings include a frozen lemonade and the Adult Capri Sun, which is a twist on rum punch.
When area restaurants caught on to the pouch trend, Beginnings pivoted to a new idea. "It was like how do we stay one step ahead and continue to make people excited about what we have to offer?" says Heather. "It was trying to create those special experiences for them."
Their next idea combined alcohol and ice cream thanks to a partnership with Tipsy Scoop, a Brooklyn-based maker of handcrafted, liquor-infused 5% ABV ice cream in flavors like Dark Chocolate Whiskey Salted Caramel, Vanilla Bean Bourbon, and Cake Batter Vodka Martini.
Beginnings had considered bringing in Tipsy Scoop prior to the pandemic, but once COVID-19 hit, they decided they had to try it. "It was the best thing we ever did because it's become something that's going to be with us as things get back to some sort of normalcy," says Ben.
Beginnings uses Tipsy Scoop to make ice cream cocktails like the pour over You're So Cool, which is vanilla porter poured over Tipsy Scoop's Vanilla Bean Bourbon with peach slices added in. They also make boozy ice cream sandwiches.
The Freisers kept the ice cream in three freezers in the dining room, but as they reopened for indoor dining, they had to move them. One freezer was relocated behind the bar. "The other two were much more tricky," says Ben. "I had to hire an electrician and have him install two dedicated lines outside behind our kitchen. This is a temporary fix, as having them outdoors is not ideal permanently. We're looking at having a contractor build a dedicated room for freezer and storage."
When Beginnings was able to reopen for outdoor dining only, they set about completely restructuring their outside. They had a small porch they used in the front of the restaurant, but they expanded and set up an outdoor dining area in their parking lot for a total of 15-17 tables outside. They also created a new pathway and entrance that brought guests around the building to enter the bathroom versus having them walk through the inside.
A walk-up, takeout window bar helped keep guests moving and eliminated crowding, but when it was time to open for indoor dining, they got rid of it to make more room for seating.
With the social distancing guidelines for indoor dining—even in light of Long Island's recent move to Phase 4, which allows for more indoor occupancy—Beginnings can only fit tables for about 40 guests, which is 50+% less than their pre-pandemic occupancy.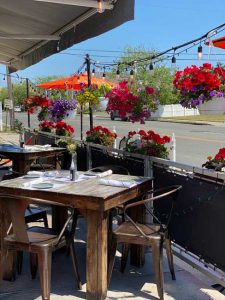 Since there is no waiting area and no congregating allowed, Beginnings gives preference to call-ahead diners while those waiting for a table often have to wait in their car or go down to the beach and wait for a text that their table is ready.
The new occupancy levels have also affected Beginnings' food menu. Prior to the pandemic, the venue rarely changed its menu offerings. But now that they're printing paper menus daily and trying not to overstock food, offerings can change day-to-day. "I'd rather run out of an item and then take it off the next day and deal with that inconsistency," says Ben.
One thing that hasn't changed is Beginnings' dessert options, which were always a priority on the menu. "I feel like people are ordering desserts more during this," says Heather, who explains customers will frequently order a bunch of desserts and cocktails to-go since food is required with any takeout alcohol orders.
The move to Phase 4 also allowed Beginnings to host private events again, which made up a big part of their business pre-pandemic. "We are now allowed to host group events up to 50 guests as long as we are following and enforcing these rules: No more than 10 guests at a table. Every table must be six feet apart. On your feet masks on, in your seat masks off. No passed food items so everything needs to be served tableside," explains Ben.
In addition to occupancy restrictions, Beginnings has also found challenges in making sure guests comply with all of the new regulations surrounding dining out. "It's that balance between providing really great, exceptional service and making sure people are happy and then enforcing rules and regulations, which is new territory for us," says Heather.
To add levity, the staff wears matching masks and shirts that say, "Spread kindness, not germs." Extra masks are kept on hand for guests, and signage throughout explains the mask mandate.
As the Freisers navigate the phases of reopening and their own rebeginning, they're remaining nimble. "Each day I'm writing down notes," says Ben, "and seeing what works, what didn't work, and I'm then reevaluating."
By Ashley Bray
Photos: Beginnings