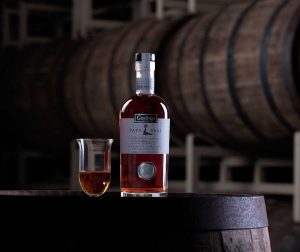 According to the Distilled Spirits Council, rum accounted for $2.3 billion in sales in 2019, with the ultra-premium rum category growing more than 6% year over year. Today, the ultra-premium rum segment continues to expand with a new offering from Goslings Rum – Papa Seal Single Barrel Bermuda Rum – an extremely rare release that pays homage to the brand's time-tested traditions. A family-owned business for eight generations, Goslings Rum has remained committed to honoring blending and aging techniques that have been passed down for over 165 years. Beginning this October, only 1,500 bottles of Papa Seal 2020 will be available for nationwide shipping via Flaviar.com and Caskers.com and for in-store purchase in 16 states, retailing for about $199 per 750ml bottle.
Considered the "Father of all Rums," Papa Seal 2020 is blended from pot and column distilled rums ranging between 10 and 21 years aged in hand-selected, once-used bourbon barrels with medium char. Each blend is married in American White Oak and aged for an additional two years in Bermuda's humid, salty air, guaranteeing more balanced and intricate flavors. The aged barrels are then filtered and bottled independently at 83 proof. While the exact flavor notes will vary barrel to barrel, drinkers can expect a lavish yet mellow palate with hints of caramel, spice, vanilla, and dried fruit, with a clean and well-balanced finish that lingers in the mouth. This prized rum is best enjoyed neat at room temperature or over a quality cube of ice.
The first iteration of Papa Seal arrived in fall 2018, with about 2,500 bottles of the over 15-year-old spirit available in select regions throughout the United States. Like its predecessor, each bottle of Papa Seal 2020 will feature its barrel number, bottle number, and bottling date hand-written on its label. Housed in an elegant display box with a slide-out tray, open view window, and satin finish foil label, Papa Seal is ready to be gifted to appreciators of rum and sipping whiskies alike.
"Goslings Papa Seal is one of only a handful of single barrel rums currently on the market and is a complex and beautiful sipping nightcap," says E. Malcolm Gosling, seventh-generation rum maker and CEO of Goslings International Limited. "We hope that Papa Seal joins Family Reserve Old Rum, our original annual premium release, as the entry for many people to discover the vibrancy of sipping rum in the same way as a fine whiskey, brandy, or cognac. This first iteration of Papa Seal was lauded as 2019 Rum of the Year by the Caribbean Journal, and we anticipate that this even more remarkable bottling will receive additional accolades from rum experts."
Papa Seal will be available at select retailers in Massachusetts, Rhode Island, Connecticut, New York, New Jersey, North Carolina, South Carolina, Florida, Tennessee, Virginia, Texas, Colorado, Nevada, California, Illinois, and Washington, D.C. The Goslings portfolio also includes its flagship Goslings Black Seal Rum, Goslings Gold Seal Rum, Goslings 151 Proof Black Seal Rum, and premium Goslings Family Reserve Old Rum, all of which are available in all 50 states as well as North American and European Duty Free, the Caribbean, Canada, Australia, United Kingdom and most of Europe, and many other international markets.