By Elyse Glickman
While restaurants and bars are reopening, life for their owners and management is not business as usual. The quarantining and shutdowns of the past 18 months have prompted workers in all fields to weigh their options. This, in turn, has resulted in the demand for better and safer work conditions, improved pay, and training that's relevant to how this very different restaurant landscape is shaping up. Owners and management, meanwhile, are sensing they need to change course dramatically to keep up.
"We live in an incredibly fast-paced society, and the pandemic has seemingly made it more so," observes Connor McRaith, bar director at Lanea in Santa Monica, CA. "As a busy society, we've become increasingly dependent on the service industry even as we simultaneously take out many of our frustrations with everything going on in the world on service industry workers. It feels like much of the grace that people had for others is just completely gone. I truly wish it weren't that case. I understand where the hesitancy is coming from and honestly, I don't blame them."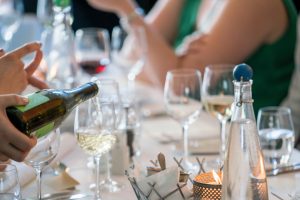 Peter Demos, CEO of Demos' Brands and Demos Family Kitchen, says that in this time leading up to the holiday season, his company normally has 500 employees. As of November 2021, it was down to 350 in his five bar/restaurants across Tennessee. This prompts him to recall instances over the history of his family's businesses when his father assumed economic downturns and unemployment upticks in the 1970s, 80s, and beyond were the worst of times.
"I would love to say I have the answer, but in reality, 2020 has taught us that nobody has the answer," Demos says. "We have to learn how to adapt not only to our circumstances and how we manage the restaurant, but also learn how to manage ourselves emotionally. It's a tiring time within the restaurant industry, but in the process of adaptation, we've got to focus on getting through this day."
While owners and employment experts have different perspectives on how and why the worker pool is changing, a simple way to think about this phenomenon is as a trend with a lifecycle. Just as different spirits and recipe trends emerge and fade, so will staffing trends. That said, a common denominator is that effective communication between management and employees (and prospective employees) can not only slow service leaks now but fortify business operations when the "new normal" takes shape.
Tales From the Front
While industry-specific hiring professionals offer common sense hiring suggestions, owners and management working on the frontlines are observing some of the same things but note problems run a bit deeper in finding those who are truly serious about going back to work. Demos says one of his biggest annoyances with using the social media and internet announcement strategy is that while the ads are getting noticed, a significant number of applicants have other motives not quite related to securing work.
"We have found that many people are interviewing for three purposes," he explains. "They want to change jobs because they're unhappy with their last workplace, either because they were made to work too many hours, or felt like their concerns were not being heard. The second category is people who are interviewing to get their previous workplace to pay them more money. And the third includes people who are applying to tell their local unemployment office that they're looking for a job, even though they're not interested in taking the offer when we give it to them."
"Top concerns of the people we've interviewed recently have to do with health and making a living wage," says McRaith.
In response, Lanea's management provides all staff with disposable medical masks when they come in for their shifts, requires all guests to wear a mask while entering and walking around the restaurant, and implements other safety protocols such as providing available hand sanitizer, COVID test kits, daily deep cleaning of the venues, and UV light sanitizing filters placed throughout the space.
"However, the many reports about how customers have become more rude to workers is telling," says McRaith, who notes that customer behavior is one factor that slips beyond management's control at times. "It's been interesting observing our customers," McRaith continues. "Right after the pandemic [at its height], customers were wonderful, supportive, and tipping well—almost excessively well. However, when people started getting tired of restrictions, we started seeing a change. Because there's a staff shortage, along with rules with masking and vaccination, some customers have come in angry."
New Jersey-based David Burke, who achieved notoriety through his best-selling cookbooks and appearances on such shows as Top Chef and Iron Chef America, will tell anybody matter-of-factly that the fallout from the pandemic has shifted his priorities. He will not mince words when it comes to his thoughts on the push-pull between the labor shortage and what's needed to keep his restaurants operating.
"The labor shortage throughout this summer was terrible, but when [the government] ended extra unemployment [economic stimulus] payments, things improved," states Burke, whose culinary-influenced bar program has helped keep his name and reputation relevant post-pandemic. "However, it is economics that's now affecting us. We can't operate at full speed unless we can put the right people in the right positions. We may have bodies and the right numbers of team members, but it's hard to have the right people in the right positions all of the time. We've had to cut our hours and be closed two days a week at some locations. In one of my New York City restaurants, we had to close completely for a while because some waiters were demanding $20/hour plus tips. The cooks went to $25 when the minimum wage went to $15, and we're in a place where everybody's making money except the operators and owners."
Burke adds that in New Jersey the labor shortage affected some restaurants by prompting an increase in hourly pay for bartenders and waiters, which can also put a strain on a labor budget, especially with fewer customers coming in and the necessity for social distancing. This situation forced him to think creatively about how to utilize staff.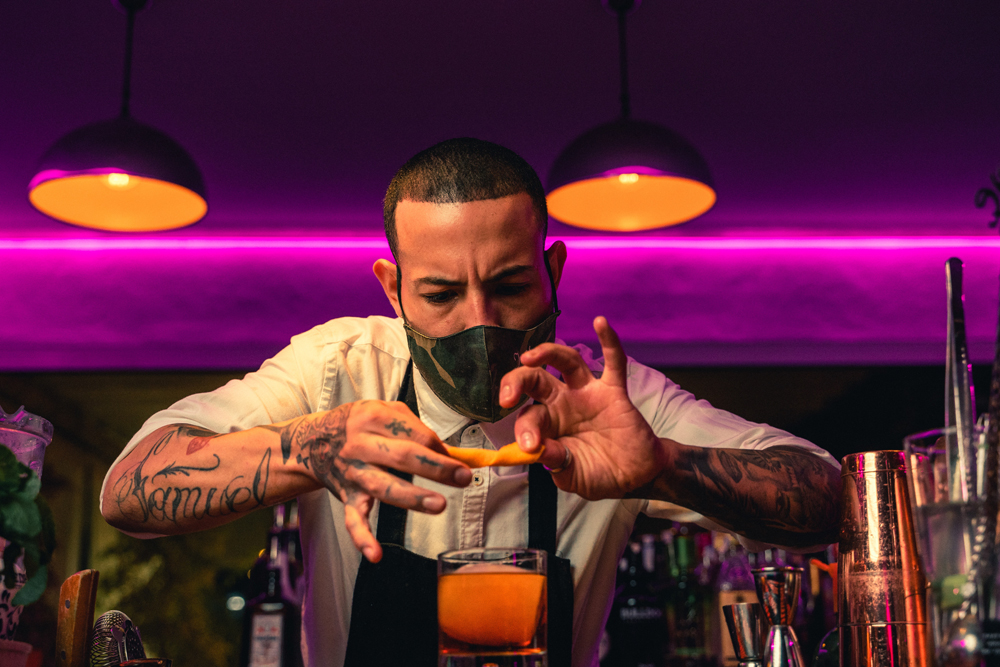 "As our restaurants are higher end, our waiters and bartenders do well based on higher tips, so we're generally in good shape," he continues. "However, the cooks, busboys, and dishwashers are harder positions to fill because people were making nearly as much money collecting unemployment as they would be working in those positions. Luckily, we have a culinary division in our company so we can loan out cooks, chefs, and sous chefs to our various venues when needed. We've had to fill openings by having chefs work as sous chefs and sous chefs work as line cooks for the past year."
Darnell Joseph, owner of Brooklyn restaurant IV Purpose, took the ultimate leap of faith by opening on Thursday, July 5th, 2020, in the middle of the pandemic. He staffed many positions (bartenders, along with his executive chef, sushi chef, and bussers through online platforms such as Craigslist, Facebook, and Indeed. However, he added in a more personal approach by scouting for talent at different restaurants and bars and through referrals of friends, family, and existing employees.
"When I talked to other [restaurateurs] in different parts of the country, they said that they tried social media and job hunting platforms, but got a lot of people who were not really serious about working and end up hiring two people from dozens of candidates," says Joseph. "With group chats that have as many as forty restaurants, everyone pretty much reported the same issue: Applicants not really interested in the job or showing their local unemployment office they were looking for work. To address this, when I vet our candidates, we give them a shot to go off resume in the interview and ask them how they would complete tasks in certain situations. By giving serious candidates an opportunity to show their work ethic and what they would do to help set our restaurant apart is much more telling."
Joseph also found it was a good strategy to, "Give somebody a shot over a day or a few days to see if they are capable and can really cut it."
Even so, the efforts yield only a handful of workers, but at least Joseph can be assured that those selected will have staying power. The longer trial period also has a test built into it to see if they can handle the increasingly common problem of aggressive customers—especially those not willing to wear a mask or show vaccination cards. His remedy is to have his workers remain calm and present the facts.
"When somebody asks to see the manager, we will print out and display information on what the mandates entail, and how they are being enforced," Joseph says. "In the early days, it was like the Wild West, and we had a few customers get confrontational. However, things have become a lot easier since. We also want our customers to know that our employees are trying to do their job and keep customers and themselves safe, and we fully support them in those efforts. To keep staff engaged and functioning like a team, we have monthly meetings where we brainstorm, and I encourage workers to bring in friends looking for work. If they get hired and they stay longer than three months, they'll get a bonus for that as well as successfully promoting our loyalty programs and specials. We try our best to incentivize employees as much as possible."
The View From the Executive (Recruiting) Suite
Bert E. Miller, CEO of Protis Global and MRI Network, a search and recruitment firm specializing in the hospitality and food and beverage industries, affirms that while the need to offer competitive salaries and benefits is still there, it has intensified in light of the pandemic. So too has the importance of an improved workplace culture where workers feel valued, cared for, and protected as there are issues that have arisen as a result of some customers not wanting to adhere to safety measures or being more rude than usual.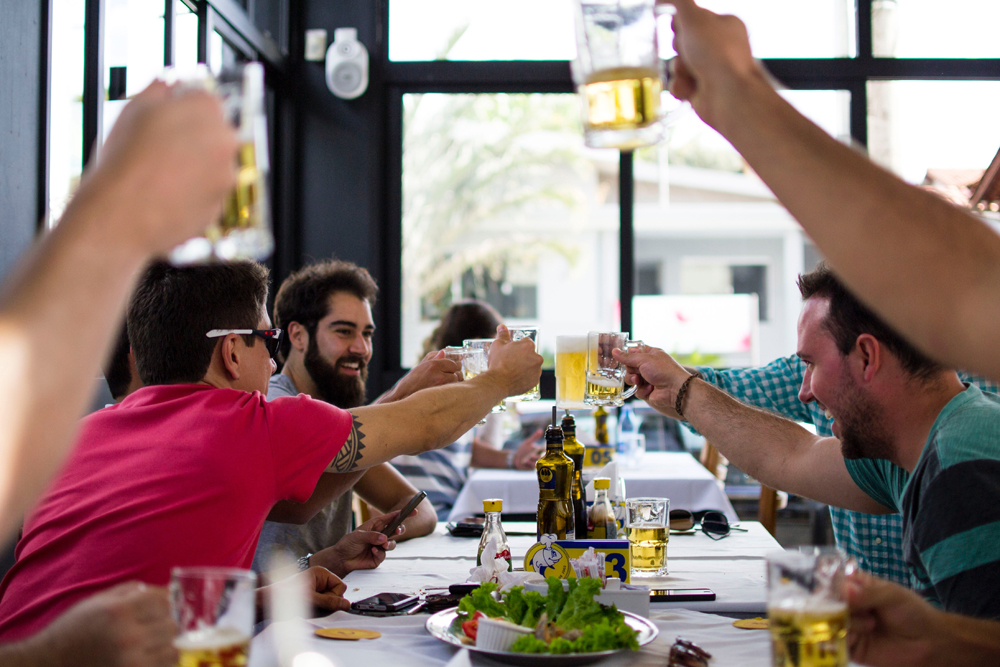 "[Even] if your wages are highly competitive, it is also important to create a great environment and have a solid, supportive value system in place," Miller advises. "Above and beyond pay, a high-quality workplace culture for your team members involves solid security to protect workers and guests, and even offering customers rides home when necessary. Do this, and your team members may be open to staying longer than they normally would."
Although 100,000 restaurants and bars have closed nationwide—many of them permanently—as a result of the pandemic, Miller says it's not the only reason that many talented workers left the hospitality industry. Those departures are also possibly because of work conditions worsening (particularly tied to safety concerns and unruly customers), lack of certain resources and services (such as childcare), and workers finding alternative sources of income. As a result, many are leaving hospitality altogether, and even with ambitious social media campaigns with "now hiring" announcements, prospective job candidates need far more than flashy promises.
"If I am going to work in hospitality, I will be looking for bars and restaurants with leaders, owners, and managers that have more progressive thoughts around fair wages, safety, and a quality work environment," continues Miller. "The world has a way of creating a level playing field, and those bars and restaurants which take a stand for educating and inspiring workers and becoming a voice and leader on behalf of workers, you will be communicating with [prospective workers] more effectively. Telling workers how great your restaurant or bar is doesn't provide them the inspiration or information they need to work for you. This is a big reason why a lot of social media hiring campaigns get a lot of resumes but end up being like a cat and mouse game where you get 100 resumes, six responses, and only two new hires for your efforts."
In addition to or in place of social media announcements and hiring events, one can turn to a company such as Phoenix-based Qwick, an employment agency/on-demand staffing platform that helps owners and management to fill work gaps. Qwick is noted for building an algorithm that matches qualified, vetted hospitality workers with restaurants, bars, and hotels, along with catering companies and event venues all over the country. According to Qwick CEO Jamie Baxter, with a worker pool of 200,000, it fills an average of over 5,000 shifts per week for client restaurants and bars across 11 cities. Baxter adds that many of those workers were recruited through referrals, word of mouth, and job boards.
With pandemic-era staffing, Baxter says that many of their workers are mainly concerned with safety and wages. "To address safety concerns, we ensure our 'Business Partners' [restaurant and bar clients] follow all safety and sanitation protocols issued by the state and regularly gather feedback from our 'Professionals' [workers and job seekers] about their experiences working with them," says Baxter. "To address wage concerns, we're committed to paying our Professionals a livable wage—in fact, $9.00 above hourly minimum wages in every city we operate in—by working with our [restaurant/bar clients]. As an on-demand labor marketplace for food and beverage professionals, we've found that when [workers] are empowered to make their own schedules and offered exceptional wages, they show up to work motivated and with high morale."
Joe Moody, who currently operates Guy Friday (a New York City catering/concierge service) and has consulted with high-end establishments such as Cipriani, Chelsea Piers, and Guastavinos, finds that based on his experience, workers are as worried about sanitary conditions as they are workplace morale. While he, along with Miller, are in favor of using hiring and referral incentives to draw new talent and retain existing workers, he notices workers are now particularly concerned about adherence to vaccination protocols. Many of a restaurant's clients, meanwhile, also want the staff to be "mercenaries" to ensure everybody who enters is vaccinated and wears a mask. Therefore, proper training needs to be done so they can do their job correctly but with kindness.
"It's not just about perks such as free meals for the staff, especially as my workers are people I have known for a very long time, and I've gained their mutual respect and loyalty," says Moody. "I offer referral fees, as my best people often know other good people who are dependable and reliable, and we're now in a position that we're always looking for talent now that we have to live with COVID.  We're faced with a labor force, and labor has the upper hand in negotiations. We need to do what it takes, as some workers need help with rides to work, others need childcare [and can't afford a caregiver], and some leave because of lack of opportunities [for advancement]."
Charting a New Course
Although Burke feels that the current labor situation can be so "out-of-control" that he's had to go as far as recruiting his gardener and housekeeper to work in his restaurants' kitchens, to keep the employees motivated at the front and back of the house he feels that a "farm team" approach to ongoing employee education is the way to go. For starters, he recently established a scholarship program for Brookhaven Community College's Culinary Education Center, which will pay tuition for one culinary arts student and one hospitality management student annually. He believes "acting as a coach" and making hours more manageable will bring out the best in his team members.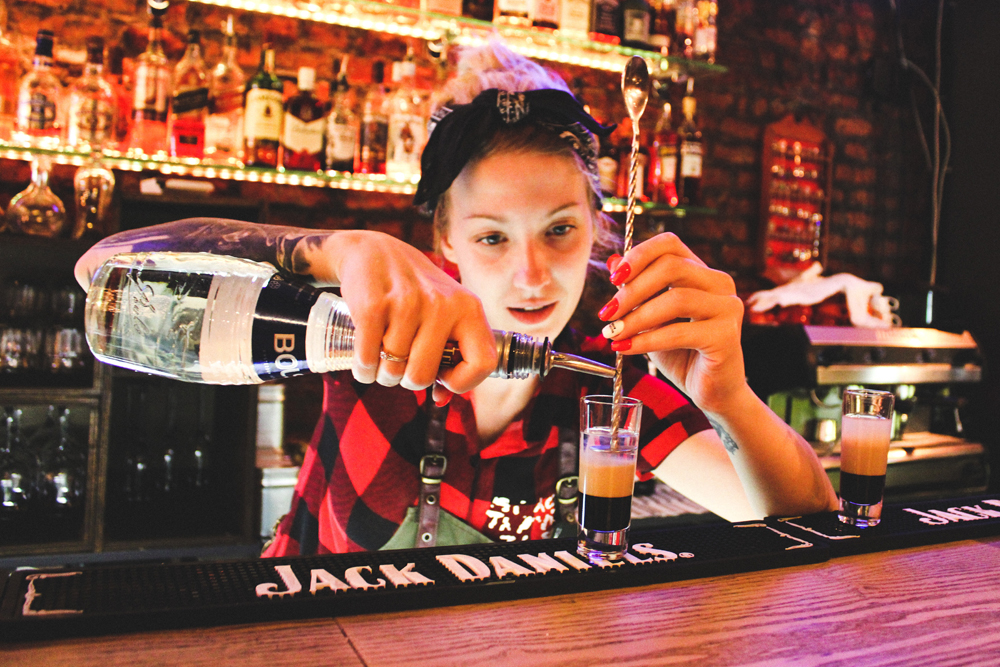 "When a restaurant's busy everybody works hard, but when things are slow, salaried people and owners work even harder. This means more training for newer employees and those down the chain to offset the slack. That said, when you train the right hires, you will get the fruits of your efforts. They appreciate it, and learning is a great motivator. We teach and respect people's time and hard work. We have to walk on eggshells in terms of how we speak to our employees, and you need a more jovial temperament than an angry one. When we have to speak loud because of background noise, we need to communicate we are raising our voices because of the background noise and not because we are angry. You won't hear curse words or angry words, but we have to be demanding because the employees need to know what's involved to do the job correctly—I like to think of it as my coaching voice."
To improve the bar program under these circumstances, Burke says that bartenders now need to increase their speed because bars are short staffed, with three working that area when there were once four. For this reason, he decided to offer simpler cocktails to guests, "While our drinks are great, we had to simplify the drink recipes because new hires won't have the time to learn anything complicated in the four days before they start their shift."
McRaith notes that most of his best candidates have come from current staff referrals or through other industry professionals' referrals. However, to retain the new hires and the existing staff, he's also about creating a work culture at Lanea where people enjoy working and helping one another come up with creative ideas to resolve a variety of problems, whether they're as old as the industry or a result of the pandemic.
"We're doing everything in our power to ensure that all of our staff's needs are met, as well as doing staff parties to give everyone a break and make sure no one's getting burned out," says McRaith. "As a bar just off the beach in Santa Monica, we need to ensure that any person we hire is able to deal with a multitude of situations with grace. They also must be able to de-escalate situations ensuring the safety of other guests and themselves. We like to encourage staff to be creative and come up with specialty drinks to continually feel a sense of pride in what they do and where they work."
Joseph agrees that having everybody's interests at heart is important, and it goes beyond having a competitive wage. "We try to work closely with everybody on our staff, from chefs and bartenders to bussers to learning more about their family dynamics and personal interests in order to understand their needs as well as create a very familial work environment," he explains. "How can we help them do their best work for us, whether they are exploring a career in hospitality, if they need help with transportation to and from work, or an assist with child care (we have a space in the restaurant where the children of employees can play or do homework during somebody's shift). I encourage their feedback so I can do my own job better. It's not about prying into somebody's personal life but helping them pad out the bare bones of what they will need to succeed and enjoy working here. We have two ex-cons that work for us trying to figure out their future careers, getting their first apartments, building their credit, and so on.
"To create camaraderie, we try to have everybody from the front and back of the house—the two owners, management, servers, dishwashers, and bussers—to work side-by-side with everyone and pitch in when we're short in a certain area, whether a dishwasher or busser needs an extra hand, or two servers can team up to get the orders out more quickly. While it establishes teamwork, it also helps us communicate that an employee can start as a busser, learn on the job, and work his or her way up."