The days are shorter, the nights are longer, and there's a chill in the air—fall is upon us! Stock your bar's cocktail menu with some of these cozy, seasonally appropriate fall whiskey cocktail recipes.
Buckwheat Honey Old Fashioned
Ingredients: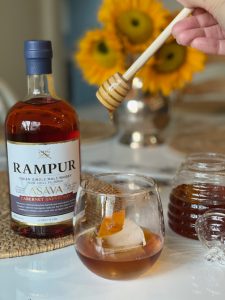 2 oz Rampur Asava Indian Single Malt Whisky
¼ oz buckwheat honey
2-4 dashes Angostura Bitters
Orange peel
Directions:
In the bottom of a large rocks glass, combine the orange peel, bitters, and honey. Muddle to combine flavors and release the orange oil. Add 2 oz Rampur Asava. Stir gently to combine. Add ice, and stir again to further combine the ingredients and chill to dilution.
Ballotin S'mores
Ingredients: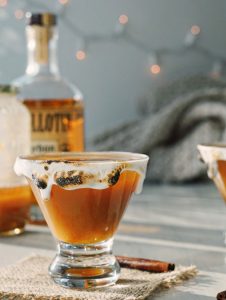 1 oz Ballotin Caramel Turtle Whiskey
1 oz Ballotin Bourbon Ball
0.5 oz Marshmallow vodka 2 oz heavy cream
Directions:
Shake with ice, and strain into a graham cracker rimmed glass.
Pendleton Whisky Orchard Punch
Ingredients: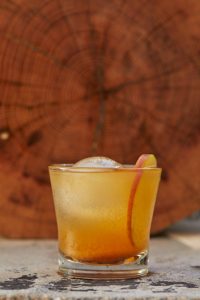 2 oz. of Pendleton Original
3 oz. of Apple Cider
1 dash of Angostura Bitters
Apple slice
Directions:
Combine all ingredients.
Recipe courtesy of Pendleton.
Ballotin Whiskey Kiss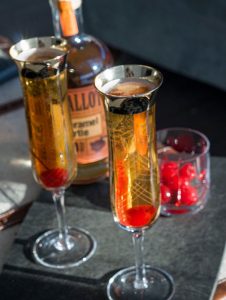 Ingredients:
1.5 oz Ballotin Caramel Turtle Whiskey
3 oz champagne or prosecco
Dash of bitters
Directions:
Stir Ballotin Caramel Turtle and bitters in a mixing tin with ice. Strain into a champagne flute and top with Champagne or Prosecco. Garnish with a cherry.
Spiced Pear Old Fashioned
Ingredients: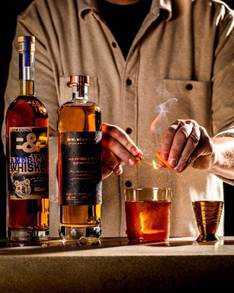 2 oz Breaking & Entering American Whiskey
3/4 oz St. George Spiced Pear Liqueur
4 dashes Angostura Bitters
Directions:
Stir all ingredients with ice until chilled, then strain into an Old Fashioned glass over ice. Garnish with a flamed orange peel.
Recipe courtesy of St. George Spirits. Photo by Nicole Parisi.

Rosemary's Cocktail
Ingredients: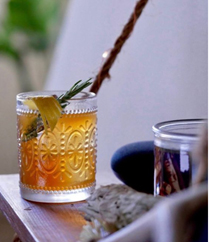 3 oz. Emerald Giant Redwood Empire Whiskey
1 oz. Rosemary Honey Syrup
3 Dashes Aromatic Bitters
Directions:
Stir all together with ice. Strain over cubes in rocks glass. Garnish with lemon and rosemary.
Recipe courtesy of Garrett.
Ballotin Caramel Apple Cider
Ingredients: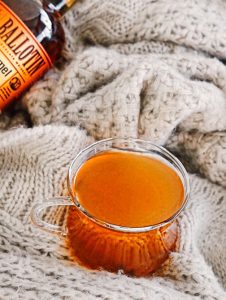 1 oz Ballotin Caramel Turtle Whiskey
2 oz Hot Apple Cider
Directions:
Fill a mug with hot apple cider, add one ounce of Ballotin Caramel Turtle. Garnish with whipped cream if desired.
Kilbeggan Spiked Irish Cider from Lookout Farm in Natick, MA
Ingredients: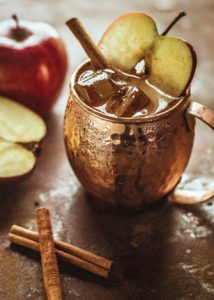 1 part Kilbeggan® Original Irish Whiskey
2 parts Lookout Farm, Farmhouse Hard Cider
2 parts Lookout Farm Apple Cider
Directions:
Add ingredients to mule mug over ice, stir with cinnamon stick to combine. Garnish with Lookout Farm apple slices and cinnamon stick
Fistful of PSL
Ingredients: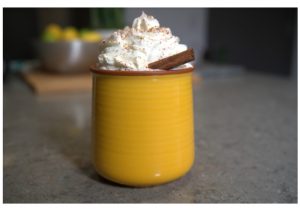 1 part of Fistful of Bourbon
2 cups of milk
2 tablespoons of pumpkin puree
1/2 tablespoon of pumpkin spice
1/2 cup of coffee
Directions:
Add all ingredients except for the bourbon in a warming vessel – this could be a pot on the stove for a few minutes or in a bowl, covered with Saran Wrap, cut 3 slits and microwave for 1 minute. Once warm, pour in Fistful of Bourbon and transfer into your favorite mug. Top with whip cream and dust with pumpkin spice.