Enter into Glenmorangie's unusual and delicious Winter Wonderland with the latest innovation from the brand: A Tale of Winter which just launched in the United States.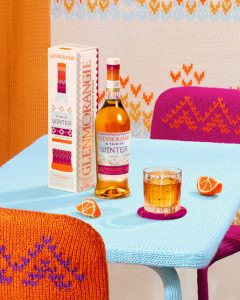 Inspired by his favorite wool sweater, Glenmorangie's Director of Whisky Creation Dr. Bill Lumsden began dreaming of a whisky that encapsulated the delight of snuggling up in a winter jumper by the fire while snow lay on the ground. Swirling with wintry aromas and tastes, A Tale of Winter brings Dr. Bill Lumsden's dream to life.
Finished in Marsala wine casks from Sicily – loved for their sweet and fruity flavors – the experience begins with light flurries of fruit and honey, building to torrents of cocoa dust, flakes of red pepper, and chunks of brazil nut toffee. It culminates in a feels-like-forever finish that swirls with cinnamon, ginger and clove.
Just in time for the holiday season, experience the snug and magical feeling that a Tale of Winter brings to the world of whisky.