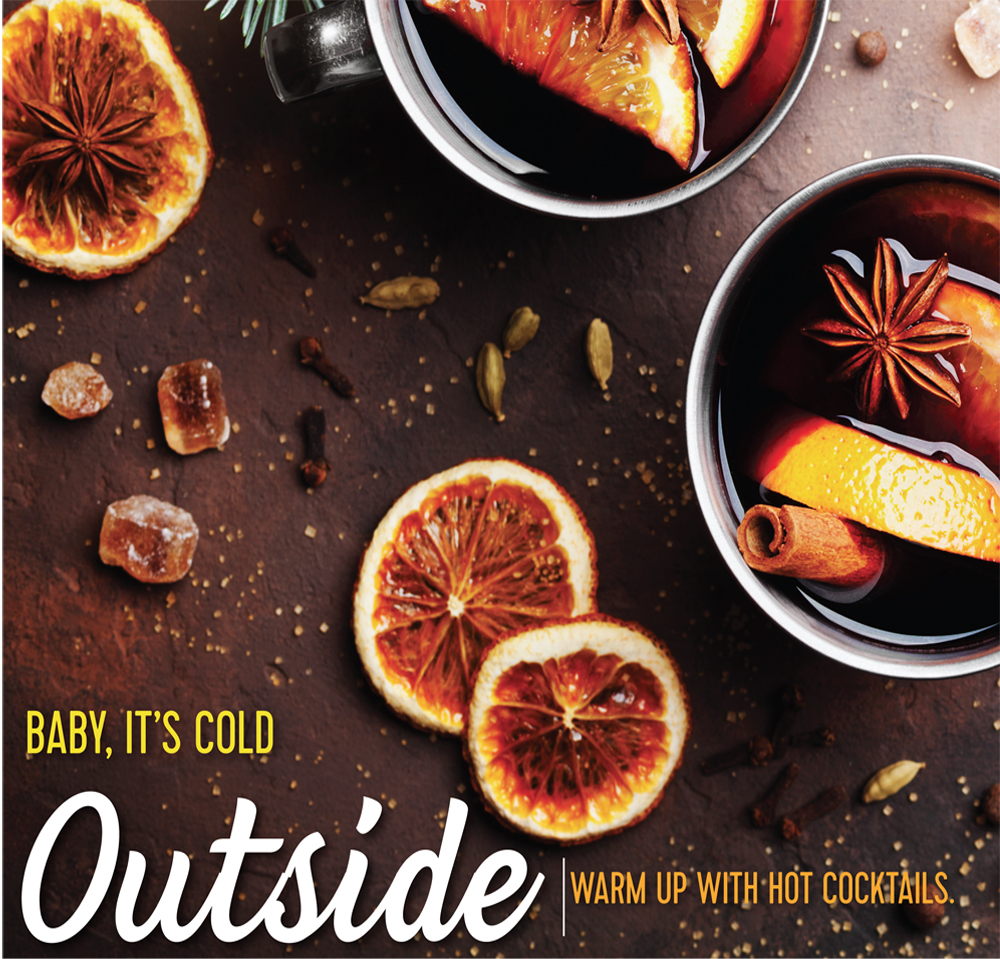 In the colder months, most people reach for a warm drink, and it's no different with winter cocktails. "We expect to see cocktails with depth of flavor, warmth, and spice continue to be popular, along with twists on classic cocktails that incorporate seasonal flavors like cinnamon, clove, and vanilla," says Patrick Natola, Beam Suntory Cocktail Consultant.
Brock Schulte, Bar Director at The Monarch, agrees. "Trending for this year I feel there will be a push for perfectly hot cocktails. What I mean by this is a hot cocktail that comes to the table and is hot, but not too hot that it burns you. One way of achieving this is by using a sous vide water bath to keep your batched cocktail or N/A mixer (coffee, cider, water, hot cocoa) at a perfect temperature. The glass should always be pre-warmed and then the temperature we hold our hot cocktails at is 176 degrees."
As for ingredients, winter cocktails often incorporate the flavors of the season and the holidays, including clove, cinnamon, citrus, maple, honey, and more.
Schulte says he also leans toward nut infusions, Concord grapes, currants, figs, and plums in winter cocktails. "I also like the use of dairy products and variants to change the mouth feel towards rounder, more full-bodied cocktails," says Schulte. "My favorites right now are crème fraîche, kefir cultured milk, Greek yogurt, and almond milk-based yogurts."
Darker spirits like bourbons, ryes, and whiskies steal the spotlight on winter menus, but Natola says rums are on the rise too. "Darker, aged rums, like Cruzan Single Barrel Rum, can contribute those rich and complex flavor profiles that people expect of a whiskey and work as a refreshing change to classic cocktails like an Old Fashioned or Hot Toddy," he says. "Of course, aged rums are also excellent in a seasonal take on traditional rum cocktails, like an aged rum daiquiri or seasonal rum punch."
Schulte also cites dark spiced rums as popular in the winter alongside more unique additions like apple brandy, Nocello walnut liqueur, Swedish punsch liqueur, Becherovka herbal bitters, and more.
"We're in such a golden age with cocktails that people are really adventurous and willing to give anything a try—the more unique the ingredients, the better!" says Natola. "Include your classics but also try incorporating those seasonal twists or unexpected ingredients and garnishes to give your customer a thoughtful and memorable experience."
Schulte reminds bar owners to remember that less can be more. "Most people overthink fall flavors, and the great thing about them is one or two pairings—like black tea and apple cider, red wine and pears, vanilla and cinnamon—and you can have a really great flavor-packed cocktail."
Check out the following recipes aimed at warming up guests this winter season.
---
Cruzan®




Maple Leaf
2 parts Cruzan® Estate Diamond® Dark Rum
1/2 part Maple syrup
4 dashes Bitters
2 dashes Apple bitters
Ground cinnamon
Stir ingredients over ice and pour in a rocks glass over a large ice cube. Scrape fresh cinnamon on top as garnish.
---
Cruzan®




Holiday Rum Punch
2 parts Cruzan® Single Barrel
3 parts Blood orange soda
1 part Orange juice
2 parts Pomegranate juice
2 parts Club soda
Combine all ingredients in a punch bowl and stir for 30 seconds. Serve over ice with a blood orange slice for garnish.
---
Cruzan® Hot Toddy
1 part Cruzan® Aged Dark Rum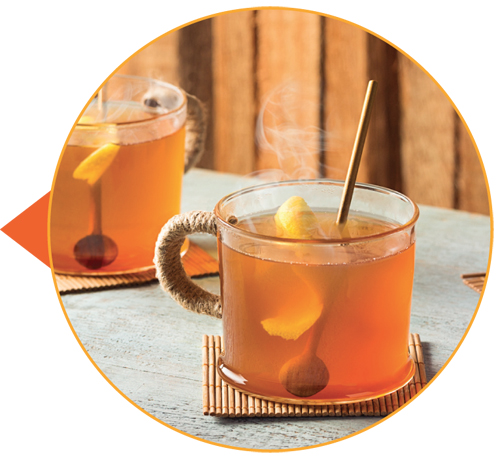 1 tbs Honey or sugar
1 large Lemon peel
Prepare a mug by rinsing it with boiling water and pouring the water out. Add the sugar or honey and the lemon peel and pour in an ounce of hot water and stir until the sweetener has dissolved. Add Cruzan® Aged Dark Rum and top off with more boiling water.
---
Purple




Emperor
¾ oz Old Weller Antique 107
¾ oz Absolut Elyx
¾ oz Joto Yuzu Sake
¾ oz Aronia berry-Black garlic coulis
1 bspn Crème fraîche and pinch salt
Hard shake all with ice and double strain into a classic coupe. Garnish with lemon zest and discard.
Brock Schulte, Bar Director, The Monarch
---
King Palm 2.0
1.5 oz J. Rieger & Co. Midwestern Dry Gin
½ oz Kefir whey
½ oz Coconut water
½ oz Cinnamon-lemongrass Syrup
¾ oz Red wine
Whip shake with pebble ice and double strain into a Collins glass. Slowly insert single Collins cube and float the red wine on top of the cocktail.
Brock Schulte, Bar Director, The Monarch