Over the past few decades, every genre of bar rose or fell based on how effectively it delivered conversation-starting beverages and ambiance. The events of 2020, however, shifted almost every bar-related conversation. While local laws and health departments have long mandated sanitary practices and maintenance standards, more stringent enforcement is another thing that puts bars (figuratively and literally) into a life-or-death situation above and beyond profit loss.
Companies specializing in services and products to help hospitality businesses update or improve sanitizing are getting word out that their approach to a higher level of cleanliness is needed to ensure survival going forward.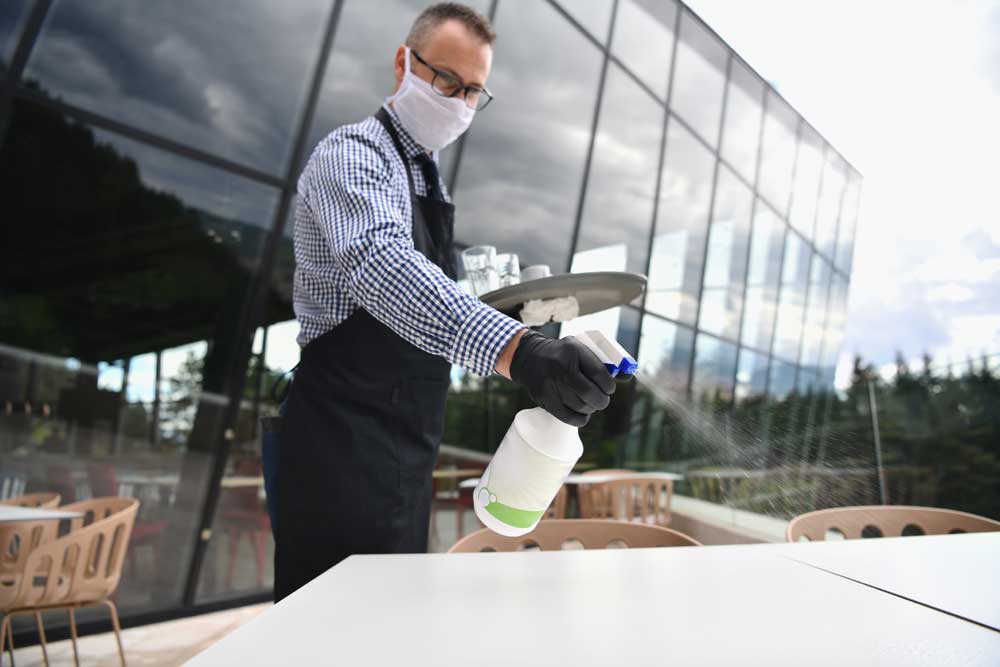 "A clean workspace is not a luxury, but something that all responsible business owners need to provide for their employees," said Gary Bauer, president of JAN-PRO, offering franchisee clients one-time EnviroShield cleaning services prior to reopening as well as a full range of products that include HEPA-rated vacuums that filter out 99.9% of particles from the air and microfiber cloths that are color coded to reduce cross contamination. "We hope that [clients] let our professionals help bar/restaurant owners and management keep their offices and facilities safer for their employees. As many standard cleaning routines alone may not provide the protection that employees now need, our advanced technology brings a definitive peace of mind, enabling them to return to work with confidence."
Bauer points to EnviroShield's electrostatic sprayer as the game-changing element, allowing disinfectant to reach more areas on a microscopic level. "The disinfectant receives an electric charge, which helps it bind to surfaces and reach areas that traditional sprayers and applicators cannot," he explains. "In combination with surface treatment that helps prevent bacteria and viruses from living on the surface, results can last up to six months."
Even with sanitation innovation coming to the fore, however, some experienced bar industry veterans argue that effective sanitation is less about the latest gadgets and services and more about stepping up existing practices.
Gun Control and Other Maverick Pro Tips
In their restaurant/bar consultant capacity, Mixologist Tony Abou-Ganim and Chef Cory Lattuca (both noted for their culinary showmanship) are now applying their know-how to get a few important messages out. These include banning "bacteria bomb" soda guns and reminding management that no matter what cleaning agents and gadgets are out there, they're responsible for re-enforcing what once may have been an afterthought.
"Whoever said 'cleanliness is next to godliness' couldn't have been more on point with the bar business today," says Las Vegas-based Abou-Ganim, an industry stalwart for four decades. "One of the silver linings of the COVID-19 situation is that it opened everybody's eyes to the importance of cleanliness behind the bar. That includes everything from getting rid of the soda gun to sanitizing surfaces and seating areas between guest visits. The soda gun in particular is going to become a relic as bars look for steps they can take to ensure guest confidence. We're going to see every kind of bar, from tiny cocktail dens to neighborhood pubs to volume bars, get rid of the gun in favor of single-serve mixers from premium brands like Q."
"The most important [thing about the COVID-19 sanitation push] is that nothing has changed," argued Lattuca, now director of Training and Operations at Ignite Creative Services in Scottsdale. "Almost every restriction and recommendation that I see is already in place. It's now just a point of emphasis. Long before COVID-19, you were never allowed to bare-handle garnishes or open a screw-off top with bare hands. However, until now, there was an 'out-of-sight-out-of-mind' mentality, and a few things got lost along the way for the sake of convenience. We're getting back to basics, and everybody needs to treat everything at the bar, from the glassware to the ice to the garnishes to the straws, just like they would if they were working back in the kitchen."
Although presentation has been a big part of customer appeal since the onset of the current "golden age" of mixology, Abou-Ganim points to his cousin Helen David (who operated the health code violation-free Brass Rail in Port Huron, Michigan since 1937) and Orlando-based Southern Wine and Spirits rep Armando Rosario as standard bearers of meticulous "leave it better than you found it" cleanliness.
"There are many good habits all bar workers need to pick back up that have long been required by the U.S. Bartenders' Guild," says Abou-Ganim. "One is the use of tongs to handle garnishes, ice, and, whenever possible, glassware. As terrible as COVID-19 is, it is my hope that people will not only re-adopt these common sense practices but mandate them behind the bar and throughout the venue."
Abou-Ganim leads the charge by showing his restaurant clients how cleaner practices can be worked into showmanship in presentation. Beyond putting sanitizer on the glass washer and using ice made with purified water run through a reverse osmosis system, replacing the soda gun with high-end bottled sodas provides guests a "VIP/club service" experience while ensuring fewer hands touch cocktail components and glassware.
Lattuca is a big proponent of uniting safety and style by making PPE fashionable. At some of his venues, staff wear black gloves that look like a "cool, intentional part of the uniform." When done thoughtfully, converging sanitation and service enables bars to deliver a higher quality product while instilling customer and employee confidence.
"It's all about building habits and getting [staff] to automatically do things," says Lattuca, who mentions handwashing, sanitizing the counter, and changing out barware. "After a while, it should just becomes a force of habit."
While Abou-Ganim and Lattuca agree that not a lot has changed overall with cleaning agents and practices, what has changed is the emphasis on doing everything properly. In other words, if a manager is concerned about what may come up when a health inspector visits, chances are they need to rethink the way they approach sanitation. According to Lattuca, cleaning fluids need to rest on a surface (rather than having somebody dry it off quickly) to allow them to do the job. Abou-Ganim says that the right cleaning chemical, when diluted with some water, reassures customers that they're walking into a clean, safe environment.
Peter Klamka, founder of MORE Management (encompassing a members-only nightclub and some restaurants), took it upon himself to push bar consulting services to the next level by creating MORE Health, a concierge service for hospitality professionals in need of answers to their COVID-19 questions. Klamka retained the services of medical doctors—including some affiliated with Yale Medical School and Johns Hopkins with significant experience treating COVID-19 patients and advising state and local governments on reopening policies.
"The nightclub business as we know it is probably finished," says Klamka. "Until there's a vaccine, there's likely no way to put 1500 kids inside of a club, with bottle service and music, all pushed together next to each other. Although having outdoor and take-out service helped me get by, the fact is that allowing indoor dining is sort of like playing Russian roulette."
The genesis for MORE Health came to Klamka during the first lockdown, when he and his fellow restaurateurs were looking for information on how to safely reopen. He reached out to local officials for guidance and was frustrated when he received the same CDC materials toting the usual social distancing, handwashing, and mask wearing.
"As the existing information out there was not enough, and there was no rescue squad coming, we were left on our own to figure this out," says Klamka. "When you as a business person are responsible for the safety of your workers, your customers, and your family, the answers need to come from those who can give you realistic advice on cleaning practices and doing better than just passing health department inspections."
(Fluid) Ounces of Precaution
Stephen de Haan, founder and CEO of Atlanta-based Red Phone Booth Hospitality Group, LLC, would argue that more is more when it comes to being able to bring guests and employees back with confidence. He turned to Global Plasma Solutions to install Needlepoint Bipolar Ionization (NBPI) technology—also found in some of the nation's most prominent hospitals. It purifies the air in his bars and restaurants by eliminating airborne particulates, odors, and pathogens and by eradicating viruses, mold spores, and bacteria. He also added an extra level of sanitation by using MonoFoil-D, a nano-disinfectant fog covering an entire venue and continually disinfecting for 30-90 days. To assure proper social distancing, he worked with OpenTable to refine his bar's reservation system and accommodate guests for staggered arrivals.
Even with all that ground covered, de Haan can't take anything for granted. "It is important to us to know that all the 'touch points' in our facility are continually being cleaned," he says. "Since this is an airborne pathogen, it will settle on different contact services whether you've just cleaned it with bleach or Lysol or not. Once the product dries, it is no longer killing that virus or bacteria. By utilizing a system such as MonoFoil-D, we felt it would provide additional assurance that surfaces would continually be disinfected, reducing the possibility of transmission. We've also incorporated these precautionary measures into our opening and closing procedure with all of our venue's touch points, including every tabletop, door handles, and door knob. It's reassuring to know that we're doing everything we can to provide everybody the safest environment possible."
As the Red Phone Booth is a cigar lounge, de Haan points out that its concept put it "five steps ahead of most indoor businesses" by having a 100% direct outdoor air system.
"We're turning over the air once every six minutes for the entire facility," he continues. "To take things further, we really studied two different products to enhance this process. We looked at UV light and needlepoint BiPolar ionization (NTBI), which is 100% ozone-free that was shown effective against other viruses aside from COVID-19 well before this outbreak ever started. We pulled together the financial funds to have this installed on all of our HVAC systems. From there, we brought in an additional seven air purifiers to be prepared when we go back to being cigar-friendly."
More Clean-Cut Solutions
Tim Chatfield, co-founder & CEO of Jitjatjo, advocates for small, handheld, electrostatic sprayers like the company's EPIX 360, which can easily be leveraged by bar/restaurant operators. While this form of electrostatic technology itself isn't new, technological advancements allow users to increase effectiveness and use significantly less chemicals—reducing costs and providing a safer environment for employees and guests. The company's newest program, CleanDisinfect, specializes in supplying on-demand, certified cleaners in New York City, Chicago, and Washington D.C.
"Given new data showing asymptomatic people can unknowingly carry and spread the virus, the staff should work under the assumption that everybody could be sick," cautions Chatfield. "With that as a starting point, front- and back-of-house staff should take every precaution to prevent themselves from getting infected. Operators need to create, communicate, and enforce simple but effective protocols for the staff to follow in addition to ensuring staff are wearing appropriate PPE. Secondly, operators need to train and re-train on these protocols on a regular basis."
Chatfield adds that one of the most overlooked areas is the restroom, as it can be the most heavily trafficked area in an establishment. When paying extra attention to high-touch points, he suggests investing in his company's Antimicrobial Shield once a month, applied via electrostatic sprayers. When bonded to hard surfaces, it provides additional protection between regular disinfectant wipe-downs by forming a protective shield against viruses and bacteria.
Another option, AtmosAir Solutions' Bipolar Air Ionization systems, continuously works through a venue's air conditioning system. Tony Abate, AtmosAir's Vice president and chief technical officer, explains that the system restores the air's ionic balance to keep the air disinfected. "The ions flood into the space like little Pac-Men, eating up all of the contaminates such as viruses, odors, and gases and breaking them down," he says. "However, operators still need to stay on top of other methods that require active participation among the members of the staff, such as controlling traffic patterns inside of spaces, the enforcement of the mask wearing policy, and administration of the daily disinfecting process. You also need to put on your detective hat and imagine yourself as a patron and think about surfaces you may encounter. From there, you can target your disinfecting and cleaning effort."
Anybody seeking deeper cleaning can turn to a service like BioRecovery.com, a nationwide disease and biohazard cleanup company currently using Benefect Decon 30 for all COVID-19 cleanups.
"It is a nontoxic, totally safe, and 100% natural thyme oil-based alternative to many industrial-grade cleaning products," says Kevin Geick, a manager at the firm. "Regular, scheduled cleanings are our focus when offering training to bar staff on disinfection techniques. Many of them are already experienced in general cleaning techniques, so the key here is simply researching the best new products to use, and the frequency at which to use them. What we use to mitigate any residual odors are ozone generators."
Most bar managers and owners will have their work cut out for them when assembling their perfect post-COVID-19 survival kit, but greater peace of mind in the long-term is the ultimate goal. While customers may not notice all of the measures you put in play to get there, they will know you put effort into doing the right thing.
Sidebar: Ecolab Solutions
While Ecolab Inc. has been a global leader in water, food safety, and infection prevention solutions and services across many industries, the recent launch of the Ecolab Science Certified Program proves itself to be especially timely for the bar and restaurant industry.
Although many venues have opened up across the country, management is still balancing the pros and cons of reopening safely even with some local, regional, and national regulations in place, according to Tim Mulhere, Ecolab's executive vice president and president, Global Institutional & Specialty Services.
"We are wholly committed to helping our customers rebound and recover as quickly as possible, especially as their customers want them to as well," says Mulhere. "However, it is clear that in the these time defined by the COVID-19 pandemic, consumers want extra reassurance that the places where they eat, drink, and play are clean and safe, even if they have eaten there for years. The Ecolab Science Certified Program was created especially to provide an extra dimension of confidence and peace of mind for customers and clients alike."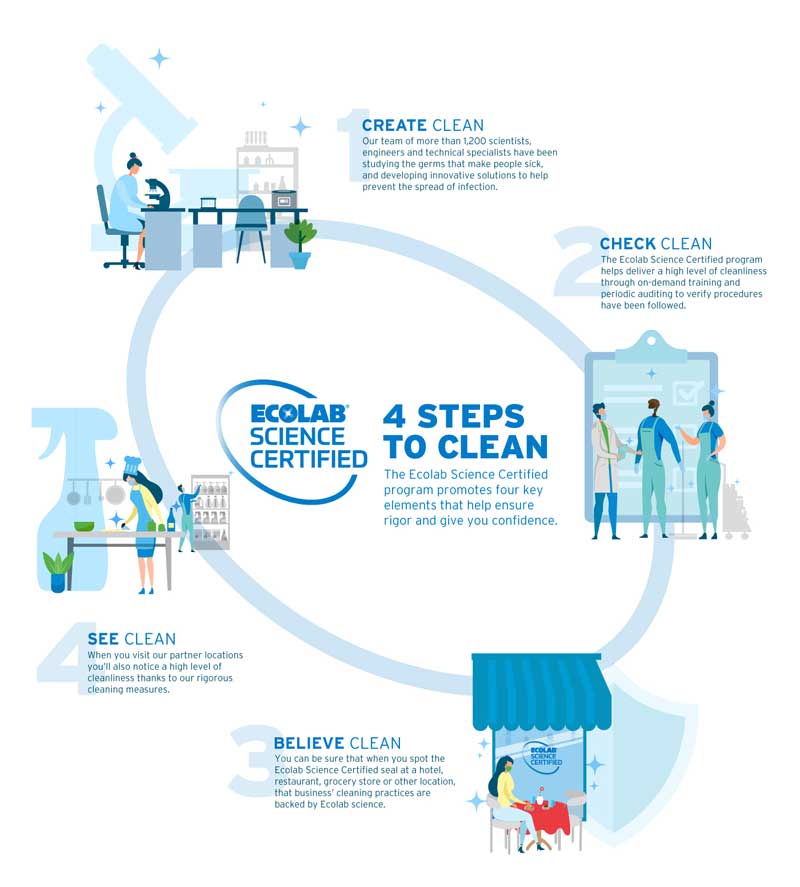 Mulhere details that through a comprehensive, science-based approach, Ecolab Science Certified forges together advanced chemistry with new public health training and audit verification to deliver a high standard of cleanliness for food and beverage safety. Its many facets factor in the most up-to-date proprietary protocols and standards that are tailored and scaled to accommodate different kinds of restaurants and bars based on their size and specific needs for cleaning and disinfecting.
"The program was developed in response to research reflecting customers of various businesses want to return to their favorite businesses, but will only be able to do it with confidence when they know those businesses have their best interest at heart," says Mulhere. "Customers will only feel safer knowing cleaning practices in a hotel or restaurant are verified by an external, independent auditor with cleaning expertise. Our insistance on using hospital-grade disinfecting products is an important step we take to deliver this to our clients."
These strict guidelines have personal meaning for Mulhere, who currently serves on the Board of Directors of the American Chemistry Council (ACC). He understands the role chemistry as well as conscientious application of good practices can play in keeping something like COVID-19 at bay.
"While standardized cleaning, hygiene and food safety protocols and procedures dictated by the CDC, U.S. Food and Drug Administration and local health department guidelines are a part of the service, the way these are carried out makes all the difference," he says. "Our comprehensive staff training is essential in reducing the potential for human error in following protocols and applying products correctly. A comprehensive hygiene and food safety audit conducted every year that reviews state and federal requirements and enforces correct product and equipment usage adherence to elevated protocols and documentation is intended to ensure businesses involving food and beverage won't have to rely on guesswork alone."
Sidebar: Slice of Life (Saving Practices)
Bob Hagmeier (owner of West Hartford, CT-based Harry's Pizza) has followed CDC and State of Connecticut guidelines. He's ramped up cleaning protocols, provided staff with proper PPE, switched to disposable serving pieces and removed all unnecessary items (especially from hard to clean areas, such as the back bar). From there, he installed the Aerus Beyond Guardian Air in May 2020 as a way of tying those efforts together.
He offers useful tips to ensure all the pieces work together fluidly.
Sanitation/disinfection requires pre-cleaning to be effective. Many products are a one step cleaner disinfectant and make the process simpler and faster, but be sure to follow the label directions and use clean clothes to ensure the best results.

Keep a container with the one step disinfectant/cleaner and a cleaning cloth handy, and change out the solution based on soil levels

A simple timer set for every hour can serve as a reminder to wipe down all high-touch surfaces.

Make sure to follow label directions and that products are labeled for food contact surfaces.

Citrus can be effective in masking the odor and slicing lemons, limes and oranges periodically as opposed to all at once at the beginning of a shift can help.

There are numerous products that have low or virtually no odor that are very effective.

Make sure the products you choose are EPA-registered and that ALL label directions are followed. Signage indicating enhanced cleaning and disinfecting protocols are in place can be helpful.

Customers with chemical sensitivities can and should be seated in areas with high air flow and away from the bar if possible.

Keep copies of the SDS and Label on hand in case anyone requests them.

Professional services can add an extra layer of security by bringing in improved equipment and processes. A weekly heavy clean with additional disinfection may be desirable during these times.
By Elyse Glickman
Photos (top to bottom): Shutterstock, EcoLab.